On April 27, 2018, U of T Engineering's newest building, the Myhal Centre for Engineering Innovation & Entrepreneurship officially opens its doors. What will students, staff and faculty find inside as they enter for the first time? In the second of a two-part series, we provide a preview of the building's upper floors. (Read Part I, which focuses on the lower floors.)
The Atrium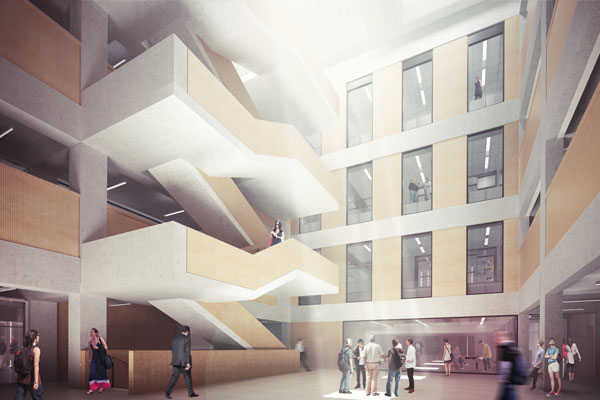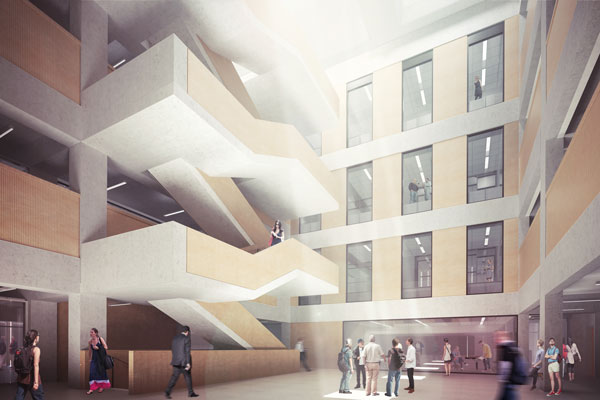 Sponsored by an anonymous donor, this dramatic space spans the top four floors of the building. Illuminated by a series of skylights, with floor-to-ceiling windows on two elevations and open to circulation space on two more, the atrium acts as a nucleus for the research, entrepreneurship and experiential learning activities that are the focus of the Myhal Centre's upper storeys. Like the foyer on the ground level, it is an ideal space to host receptions, career fairs, research demonstrations and other events.
The fifth-floor atrium opens directly onto the Bill Buckley Study Space, which includes everything a student needs to make the most of their time in between classes — power and wireless internet connections for laptops and moveable tables for collaborating on team projects.
Fifth floor — I, Robot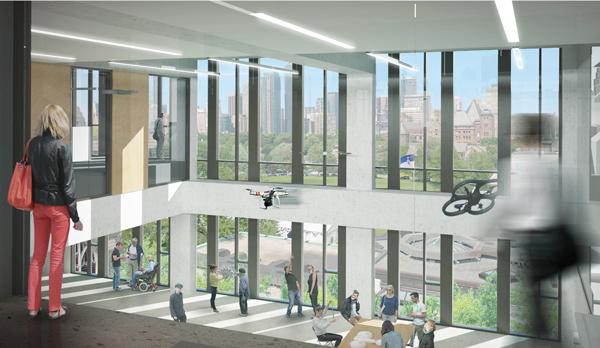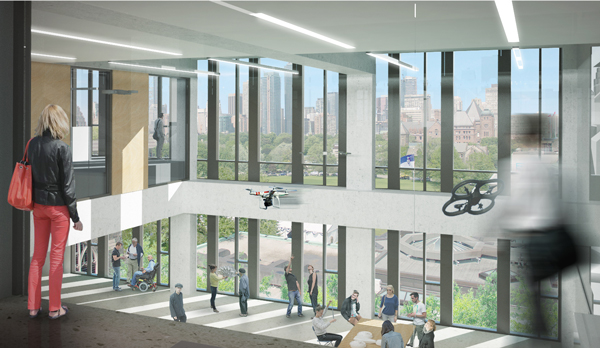 Visitors to this floor should not be surprised to find robots of all shapes and sizes, including drones, self-driving wheelchairs or assistive robots designed to help care for the elderly. The fifth floor is home to centralized lab space for the Institute for Robotics and Mechatronics (IRM), a network of more than 50 research teams from across U of T. The new facility will foster dynamic collaboration between these researchers, accelerating work on projects from nano-sized medical robots to unmanned vehicles for space exploration.
This level will also include dedicated space for collaborations between teams of students and industrial clients. In the past, student teams from U of T Engineering have worked with aerospace companies such as Pratt & Whitney Canada, government agencies such as Defence Research and Development Canada, and hospitals such as Sunnybrook Health Sciences Centre.
Sixth floor — Hatching new companies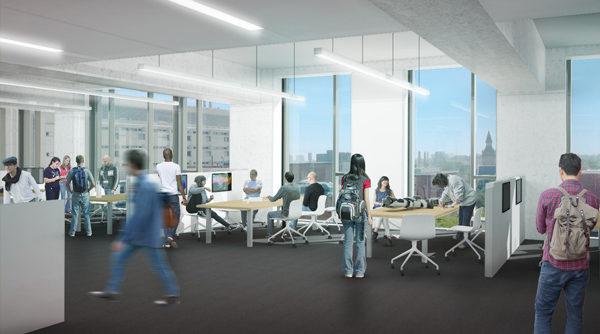 U of T Engineering's Entrepreneurship Hatchery nurtures a culture of entrepreneurship across the Faculty and beyond, providing a suite of resources that help students and graduate researchers translate their ideas and innovations into viable businesses. Since its establishment in 2012, the Hatchery has launched more than 50 startups that have collectively raised more than $9 million in seed funding.
A generous donation from Gerald and Geraldine Heffernan has created a new permanent home for the Hatchery, the Heffernan Hatchery Suite. This dynamic space — along with other flexible meeting rooms on this floor — will provide an ideal environment for Hatchery teams to meet with their mentors and get advice on everything from marketing to how to secure their intellectual property. Teams will also have access to prototyping equipment on the lower floors.
The sixth floor also includes the Ajax Alumni Attractor, which provides a home base for alumni visiting campus to deliver guest lectures, work with student teams or meet with faculty members to design new educational initiatives.
Seventh floor — Global engineering and leadership education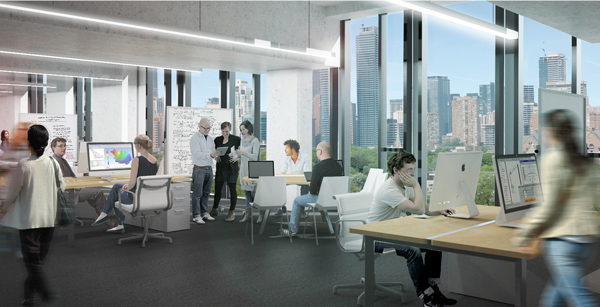 The Centre for Global Engineering (CGEN), founded in 2009, encourages faculty and students to think creatively about major global challenges in areas such as sanitation, alternative energy, health costs and clean water. Through courses, research initiatives and partnerships with international organizations, CGEN is nurturing the next generation of global engineering leaders.
CGEN will be headquartered on the seventh floor of the Myhal Centre, where it will share space with the Institute for Leadership Education in Engineering (ILead). Through curricular and co-curricular activities, ILead prepares students to maximize their impact as engineers, innovators and leaders, enabling them to develop core competencies for success.
The seventh floor features a collaborative research space and several project rooms that advance student teams form CGEN or other initiatives across the faculty.
Eighth floor — World-class research and a view to match
The building's top floor — the Dr. Woo Hon Fai Innovation Floor — provides a new home for both the Institute for Sustainable Energy (ISE) and the Institute for Water Innovation (IWI), two of the more than 25 multidisciplinary research centres and institutes for which U of T Engineering is known around the world. Collaborations sparked in these facilities, and in the adjoining project rooms, will lead to improved sanitation and drinking water technologies, better management of industrial wastewater and new ways of generating, storing and distributing clean electricity.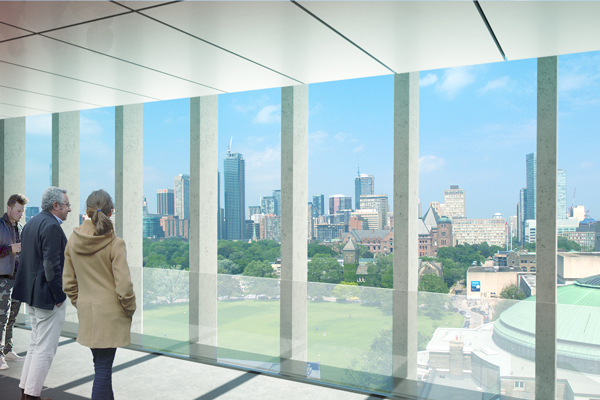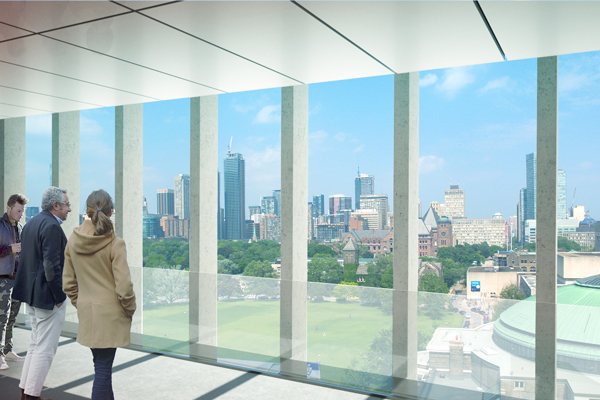 The Dr. Woo Hon Fai Terrace offers a unique and spectacular view of U of T's iconic Front Campus and the vibrant city of Toronto beyond. It is sure to host many events celebrating the achievements of the U of T Engineering community, including students, staff, faculty and alumni.
Contiguous with the Terrace is what will surely be the most coveted casual study space on campus, with a stunning backdrop perfect for inspiring the creativity of all who drop by to learn, collaborate and expand their horizons.