This story is Part 1 of an eight-part series, Engineering Experiential Learning, running throughout spring and summer 2015.
An invaluable new perspective came to engineering student Cassandra Rosen (Year 4 EngSci + PEY) when she was deep in the heart of a nuclear power plant: "There's something about getting to walk through it, seeing each part in action and how they relate to each other, that's way more powerful than reading about it in a book."
From May 2013 to May 2014, Rosen worked at the Pickering Nuclear Generating Station, operated by Ontario Power Generation. One of her responsibilities included making sure that the emergency coolant injection system was working as expected, which involved monitoring tests and developing a response strategy if something went wrong.
"Having to defend your ideas in front of senior executives can be intimidating," she said. "You really have to learn confidence in what you're doing."
While she loved the practical aspect of her job, Rosen says it was the multidisciplinary background she brought to the role through her major in Energy Systems Engineering that added value for her employers. "Energy systems is a bit of mechanical engineering, a bit of civil and a bit of electrical," she said. "That's exactly what this job required."
Each year, hundreds of students enrol in U of T Engineering's Professional Experience Year (PEY). While many universities offer co-op placements or four-month summer internships, PEY is different: it's a full-time job lasting one year or more. It is the largest paid internship program of its kind in Canada. In 2014-15, more than 720 students participated in PEY—the largest cohort in the program's 35-year history.
Employers include well-known international firms like Apple, Tesla Motors and IBM, as well as nimble start-ups in medical technology, social media and other emerging fields. Despite their differences, all of these companies benefit enormously from the energy and fresh perspectives PEY participants. Their positive experience keeps them coming back, and many hiring managers maintain their ties with PEY as they move between companies; in some cases, those same hiring managers were once PEY students themselves.
Some PEY students choose to work abroad. In 2014-15, more than 60 PEY students secured paid international placements in the U.S., China, Bermuda, Germany and Peru, among others***.
"The breadth of opportunities available through PEY are a big part of what makes our undergraduate experience so unique," says Thomas Coyle, vice dean, undergraduate studies at U of T Engineering. "It gives students a new perspective and prepares them to be innovators, entrepreneurs and leaders of tomorrow."
As for Rosen, upon graduation she will begin a Master of Science in Systems Engineering at MIT—a program that combines practical knowledge of engineering with a focus on public policy. She hopes one day to help governments make smarter decisions around electricity systems. "Having worked in a nuclear plant is something that will always stay with me; it's a unique perspective I couldn't have gained any other way."
What other students are saying about PEY:
Dimpho Radebe (Year 4 IndE + PEY)
"PEY was an amazing experience," said Dimpho Radebe (Year 4 IndE + PEY), who spent the 2013-14 year as a process analyst for the Canadian Imperial Bank of Commerce (CIBC). "It not only helped me launch my professional career with confidence, it also enabled me to improve my communication and networking skills."
At CIBC, Radebe applied her technical knowledge to analyse existing processes within the bank, such as how transactions are managed. She identified areas for improvement, coordinated testing of a new system and performed statistical analysis to see how the changes improved overall performance.
In addition to the technical work, Radebe also discovered a passion for understanding people and a desire to further develop her leadership skills. Upon her return, Radebe became the president of the U of T chapter of the National Society of Black Engineers. She also hopes one day to start a not-for-profit organization focused on science, technology, engineering and math (STEM) education for elementary and high school students.
"What surprised me the most was how I could use these skills in other aspects of my life," she said. "I would highly recommend that students participate in PEY."
Priya Anandakumaran (EngSci 1T3 + PEY, IBBME MASc Candidate)
In addition to work in industry or commerce, many PEY placements offer students the chance to advance scientific research in emerging fields. For Priya Anandakumaran (EngSci 1T3 + PEY, IBBME MASc Candidate), it was the opportunity of a lifetime.
"Before PEY, I was sitting in a classroom reading scientific papers about various concepts in biomedical engineering," she said. "Six months later, I was doing the same kind of experiments that I was reading about, at the very institutions were many of these concepts were first discovered."
Anandakumaran spent her PEY year in Professor Jeffrey Karp's advanced biomaterials and stem cell-based therapeutics laboratory at the Harvard-MIT Division of Health Science and Technology. Her research focused on exploring the therapeutic properties of stem cells, which could help grow new tissues to treat heart disease, bone defects and other conditions.
Outside of the lab, Anandakumaran enjoyed the opportunity to explore a new city. "Boston is a beautiful city that has discovered a fine balance between nature, rich history, and modern architecture," she explained. "Boston's spirit and livelihood is also very contagious—after three months I was slowly turning into a Red Sox fan!"
Anandakumaran now works with U of T Engineering professor Molly Shoichet (ChemE, IBBME), conducting research in stem cells and tissue engineering. She credits her time in the Karp Lab with influencing her career path. "Working in the Karp Lab was an unforgettable experience. It was the first time I envisioned myself doing research long-term," she said. "Most importantly it made me really excited for my future in biomedical engineering."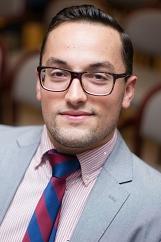 Gordon Dri (Year 3 CivE + PEY)
"The PEY program interested me because it offered me a real-life experience of what I have learned in school for the past three years," said Gordon Dri (Year 3 CivE + PEY). For Dri, who is enrolled in the Engineering Business minor, that means applying engineering techniques like data analysis to make corporate operations more efficient.
Dri is currently interning at Cadillac Fairview Corporation, Ltd., which owns, manages and operates commercial real estate across Canada. Working in the Operations department, he tracks various building metrics: everything from the average temperature and energy usage to the number of service calls.
He then synthesizes this data into reports that are used to make decisions around property management. For example, an increase in energy usage might indicate that certain equipment should be replaced, while a low number of service calls might be a selling point for potential tenants.
Dri aims to continue this type of work after graduation. "My future career plans are to work in analytics, leveraging big data to propel companies forward," he said. "In any industry or discipline, there are always problems to be solved. This is what engineering teaches you."
Christopher Sun (EngSci 1T3 + PEY)
Adjusting to the rhythm of working life left a big impression on Christopher Sun (EngSci 1T3 + PEY). "In University, students are in charge of their own projects and timelines, or work in much smaller groups," he says. "In industry, I was part of a much larger and more intricate team. The methodologies used to keep track of progress were new and surprising to me."
As a Quality Assurance Analyst, Sun was in charge of testing website features and ensuring that they were functioning properly. Sun's employer, Indigo Books and Music, used "daily scrum" meetings that connected his team with other working groups from across the company, including those focused on product development and branding. The goal was to track all the projects being worked on and the estimates for completion, allowing for greater synergy. "During those scrums, it was nice to see how other people relied on your work," says Sun.
Today, Sun is an MASc candidate in the lab of Professor Timothy Chan (MIE) where he works on modeling and optimizing health care systems, including those that manage service delivery and work flow. His PEY experience as part of a large team still influences his thinking.
"In quality assurance, if you miss anything, it ends up being deployed out to the public and there can be serious repercussions for both the customers and company," he said. "Health care is like that too. A chain is only as strong as its weakest link." By leveraging his first-hand experience in industry, Sun aims to find efficiencies that will improve the quality of the health care system for everyone.
What employers are saying about PEY:
"An intern that is available for up to 16 months is very attractive to us. In most cases, it can take up to 3 months for a new hire to be fully trained and to feel productive. Having them on the team for longer allows them to get more out of the experience and to add more value to the team and to the business."
– Natalie Murray, Technical Recruiter, Demonware, Inc.
"I first learned about the PEY program as an Engineering Science student many years ago. PEY students contribute like full-time engineers and are treated that way. We also get to "try before you buy" a number of outstanding engineers. We are very pleased that so many have returned to join us full-time after graduation."
– Terry Borer, Manager, Altera Corporation
"Our organization has benefitted dramatically from our PEY experience. We've been lucky enough to get students with a fresh eye on our business model who contribute new ideas from day one. With every new skillset acquired, we've received insight into at least one new technology or approach. We've also found that the students that we've hired bring an energy and enthusiasm that is unparalleled in the job market today. It's something you just can't find in external internships or even new external hires."
– Adil Sardar, Lead Developer, WaveDNA, creator of Liquid Loops software
---
* Active employers: those that have posted positions through PEY in the last two years
** Approximate
*** In order to participate in an international placement, students have to be eligible to work in those countries