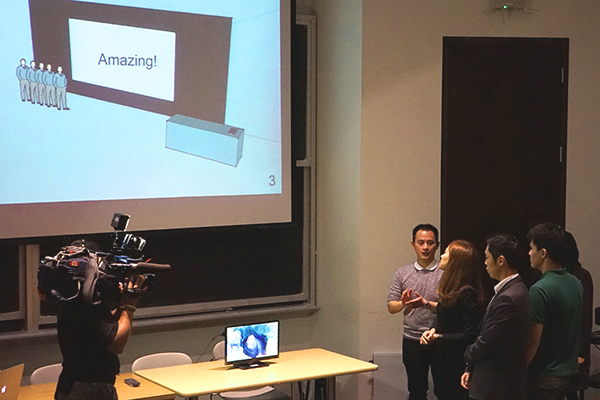 Poking at your smartphone with your finger is so 2014—it's time to find new ways to interface with the mobile devices we all carry.
That's the challenge Professor Parham Aarabi (ECE) of The Edward S. Rogers Sr. Department of Electrical & Computer Engineering at University of Toronto posed to his graduate class.
"I encouraged students to think outside the box of how we interact with mobile devices, including wearables," said Aarabi. "I wanted them to think: can we do better?"
On Dec. 8, the top seven projects—emerging from more than 35 developed—were unveiled at a showcase on U of T campus. Projects went well beyond the screen, leveraging microphones, accelerometers, GPS and cameras to make life easier and more intuitive for users.
"None of the applications here are complex—complexity is not the objective," said Aarabi. "The objective is to reinvent the ways we interact with mobile devices."
Ahmadul Hassan (ECE MASc 1T6) demonstrated a simple remote control that lets you play or pause video just by flipping your phone over. "Gestures aren't always perfect," said Hassan. "I think there's a certain learning curve, but people are interested in learning how to use these features."
The finalists were:
Barcode Passport

—Never carry a wallet again with a virtual barcode that replaces all your cards

Whistle Finder

—Lost your phone? Whistle for it, and it whistles back

Motion Cam

—Forget fumbling for buttons—take a picture with a flick of the wrist

Clap Controller

—Ditch the handheld clicker and clap to advance a presentation

OweME

—Who still owes you for dinner last night? Keep track of money leant and borrowed

PlaceIt

— Ever wish you had virtual location-based sticky notes? PlaceIt is exactly that, reminding you of notes as you arrive at different destinations

TV Controller

—The simplest way to control a TV show or movie from your phone
The final seven groups revealed their designs in front of an audience including reporters from Gizmodo and OMNI News. Look for their products on the App Store or Google Play, and start 2015 ahead of the curve.