A major shift is underway in the engineering profession. While technical competencies remain paramount, engineering employers are increasingly seeking candidates who demonstrate strong leadership potential, the ability to communicate effectively, and an aptitude for collaborating with colleagues of diverse skill sets and backgrounds.
The Institute for Studies in Transdisciplinary Engineering Education and Practice (ISTEP) is developing best practices and novel solutions to prepare students for success in an increasingly global, modern workplace.
"The expectations of our engineers are greater than ever before," said Professor Greg Evans, interim director of ISTEP. "That's why we need to develop a more holistic engineer."
The first institute of its kind in Canada, ISTEP draws on a long history of innovation in engineering education at U of T Engineering, incorporating programs such as:
Throughout the planning stages, ISTEP has incorporated feedback from students, such as Rubaina Khan (EngEd MA candidate). "I'm really enjoying the EndEd program, and I think ISTEP takes it a step further," she says. "We are not bound within our program, we get to collaborate outside of it, and ISTEP provides a space where all our paths connect together."
ISTEP has also acquired dedicated faculty, including Professor Elham Marzi (ISTEP), an expert in organizational behaviour who recently joined U of T Engineering to oversee and teach the Engineering Business minor.
"Students taking Engineering Business courses will notice a renewed emphasis on group work and student interaction – not just among a table of students, but among all students," she says. "This enables them to develop the collaborative skills needed for future work in industry, whether through U of T Engineering's Professional Experience Year Co-op program or in their post-graduation careers."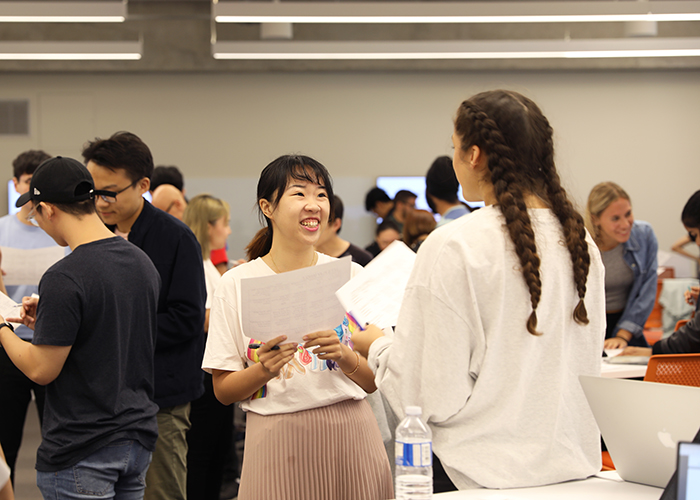 Looking ahead, ISTEP plans to introduce new engineering education programing, revamping communication and business-oriented courses in undergraduate and graduate studies. The institute will also pursue research and scholarships on transdisciplinary competencies, teaching and learning, as well as how the engineering practice is changing along with what it means to be an engineer. This includes exploring engineering education in Africa, led by the Centre for Global Engineering, as well as first-year experience, and introducing a Virtual-Global Engineering Teams Project (V-GET), just to name a few.
"We want U of T Engineering to continue to be known for our ability to modernize the delivery of engineering education, and our support of students as they go out into the workplace," said Marzi.