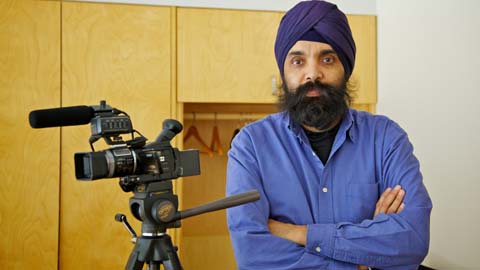 Harpreet Dhariwal, a passionate advocate for the use of technology to support student learning, passed away on September 25 following a recent illness.
Dhariwal, who served as Instructional Technology Specialist in the Faculty of Applied Science & Engineering since 2009 and worked for the University for 23 years, is being remembered for his genuine enthusiasm for his work and dedication to U of T Engineering.
"He was always willing to lend a helping hand and collaborate with others. Harpreet brought a sense of passion to what he did and won our Faculty's Emerging Leader award this past spring, an honour that was truly deserved," said Engineering Dean Cristina Amon.
That award recognized Dhariwal for his outstanding leadership in leveraging new developments in technology to benefit Engineering instructors and students. He not only implemented new technology but helped faculty members imagine and achieve innovative ways of using technology to improve teaching and learning.
Among the innovations Dhariwal introduced was the use of lecture capture technology, which allows instructors to record course lectures, including both slides and the lecturer simultaneously, for students to review again later. He remarked at the time that he was "… really enjoying this. I feel like we are pioneering a very exciting project, and it has been rewarding to have students and instructors come back to me with such positive feedback."
Dhariwal was committed to studying the impact technology can have on student learning. He co-authored three academic papers on the use of technology in the classroom and presented on the subject at conferences in Canada and internationally. He was also instrumental in organizing the Engineering Educational Technology Workshop at U of T in May 2011.
Dr. Avi Hyman, U of T's Director of Academic & Collaborative Technologies, and Institutional Strategist for Academic Technologies at the Centre for Teaching Support & Innovation, remembers Dhariwal's commitment to collaboration.
"Over the past few years, our work increasingly overlapped, and I am grateful for the advice and support Harpreet gave me. He was definitely a go-to guy. I even had a chance to travel with him to a conference not that long ago, and I am very happy that we got a chance to get to know each other on a more personal level," said Hyman.
Dhariwal was first hired as a Computer System Analyst in 1989, where he worked in the Office of the Vice President, Development and University Relations. He also worked in Student Information Systems before moving to U of T Engineering in 1996. There, he worked in a variety of capacities, including as Manager of the Center for Computer Integrated Engineering and Senior IT Manager for Engineering Computing Facilities, before becoming the Faculty's first Instructional Technology Specialist in 2009.
To honour his memory, the University of Toronto's flags will be lowered to half-mast on all three campuses on September 28, when Dhariwal's life will be celebrated in a funeral service with friends and family in attendance.