A gift from boutique Intellectual Property law firm Bereskin & Parr LLP is further enhancing programs at U of T Engineering's Entrepreneurship Hatchery. The $50,000 donation is doubled via a match by the University of Toronto's True Blue Fund, established to support accelerator funds.
These funds enable the creation of flexible grants that will be awarded to teams in the Hatchery's programs and support their development as they evolve their startups through the process of ideation, prototyping, customer identification and creating minimum viable products.
"I think the relationship with Bereskin & Parr has been guided by a mutual commitment to investing in the entrepreneurs of tomorrow to think big and transform Canada," says Joseph Orozco, executive director of The Entrepreneurship Hatchery. "They are investing in their customers of tomorrow, but more importantly, in a vibrant economic future for this country."
The Entrepreneurship Hatchery is one of two startup accelerators at U of T Engineering. Its programs nurture a thriving culture of entrepreneurship and provide a support network to students as they form teams, hone business plans, analyze target markets and attract early investment in their startups.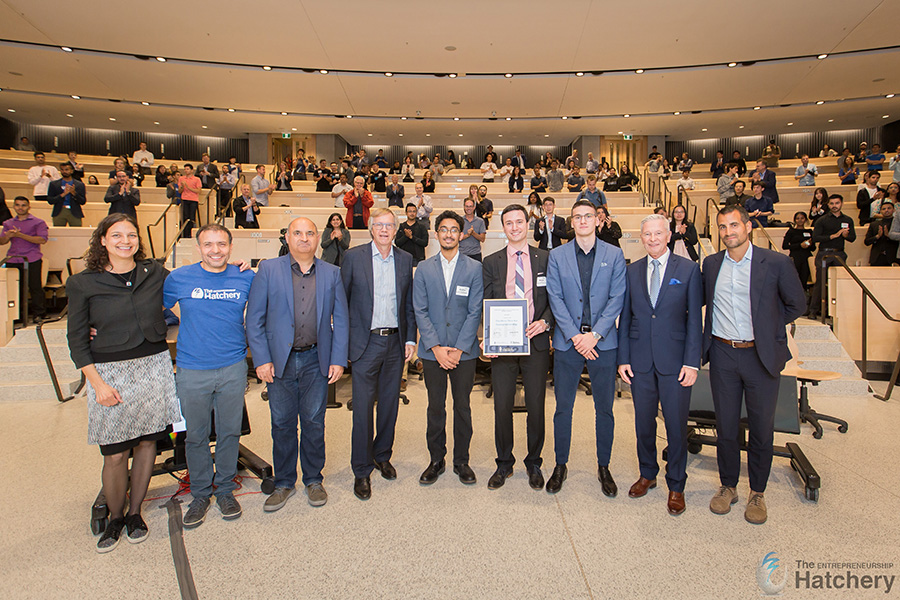 Bereskin & Parr has been a longstanding supporter of the Hatchery, and for the past four years has sponsored its Accelerator Weekend event, which gives students a 28-hour crash course in the life of an entrepreneur as they form teams, rapidly develop a business plan and pitch a panel of judges on their ideas. Bereskin & Parr partner, co-leader of the firm's AI patent practice group and U of T Engineering alumna Isi Caulder (EngSci 8T9, ElecE MASc 9T1, LLB 9T5), has served as a dedicated mentor and advisor to teams for more than five years.
"Year after year, the creativity and drive of the students I see in the Hatchery's programs amazes me," says Caulder. "In fields from AI to medicine to entertainment, I truly believe that the businesses and products they are inventing and refining today will become some of the technologies that will define our future, and I am thrilled to be a part of their process as they make that happen."