Leading up to International Women's Day on March 8, U of T Engineering is celebrating some of our remarkable female alumni, faculty and students. These women are inspirational role models who are "making it happen" in engineering and beyond.
---
Whether it's combatting climate change, enhancing biomedical technologies or improving urban infrastructure, engineers are solving global challenges and making a positive impact on our world.
Approaching these problems often requires diverse perspectives and multidisciplinary collaborations. And yet, as of 2013, women accounted for just 11.7 per cent of all professional engineers in Canada.
At U of T Engineering, we celebrate the diversity of our students. With 30.6% female first-year enrolment—the highest in Ontario—we are proud to share the successes of our remarkable students as they continue to inspire each other and enrich our culture of excellence.
Here are 10 students, selected by their departments for their academic and co-curricular achievements, who share why they chose engineering, and why it's the perfect fit.
Chandini Chandrabalan (ECE 1T7)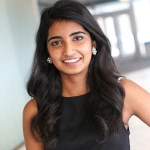 In high school, many of Chandini Chandrabalan's math and physics teachers discouraged her from engineering because they thought it would be too difficult. But Chandrabalan wasn't deterred. Her interest in sustainability technologies led her to a degree electrical and computer engineering.
"Whenever you're passionate about something, there's nothing really that can stop you," she said.
Now Chandrabalan volunteers as a mentor to other students.
"I always tell them the technical things like math – that's something you can learn. If you're a logical thinker, you're creative by nature and you have a critical eye for the world around you, that's something inherent within you, and not necessarily something you can learn."
"Students considering engineering: look within yourself and think about how you learn and what you like doing. It's not necessarily about whether you've played with a circuit board or if you're not keen on computers. Stuff like that can always come later."
Chandrabalan says it's particularly important that women participate as engineers.
"We are literally half of the population," she said. "Engineers are at the forefront of how society operates."
Marina Curak (MechE 1T6)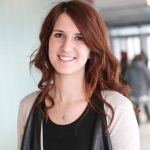 For Marina Curak, the decision to go into engineering came at the last minute, even though she had always loved science.
"Initially I was applying to all business programs. That's what my parents wanted me to do," she explained.
She applied to engineering just in case and, in the end, decided that was what she truly wanted to do. Curak's older sister, who was studying civil engineering at U of T at the time, helped with her decision.
"My sister opened my eyes to see what engineering can do," said Curak, now in her third year of mechanical engineering.
She exclaimed that she is "200 per cent" happy with her decision to enrol in engineering. "I love that the possibilities are limitless."
With a passion for the environment, Curak is now participating in the U of T Supermileage Team, preparing for a competition where teams of students design and race electric cars. The team is working on a dynamic controller that will maximize efficiency for the 2016 race.
Fan Guo (TrackOne 1T7)
Not everyone realizes they're destined for engineering at a young age, but Fan Guo is glad she did.
"I was lucky enough that my parents always encouraged me when I showed an interest in science," said Guo, who now studies electrical engineering.
In grade seven, her science teacher urged her to participate in National Engineering Week. Tasked with the relatively simple challenge of building a thermos, Guo's interest became a spark that would ignite into passion.
"It was my first taste of what the world of engineering could be like," said Guo. "I went again the second year and I decided this might be something I want to do in the future."
Guo loves how engineering often involves collaborating with people from different disciplines and perspectives.
"The way I approach a problem could be very different from the way a person with a mechanical engineering background may approach a problem. But in the end, it's all the same. We are all looking for a solution."
Lauren Howe (IndE 1T6)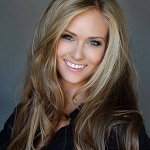 Lauren Howe chose to study industrial engineering because of the diverse range of jobs she could pursue after graduation.
"I think I have a pretty balanced mindset between an analytical thought process and being able to look at the bigger picture, and how actions can impact society," she said, and that balanced mindset has helped her excel in more than just academics.
Currently, Howe is the In-Arena host for the Toronto Maple Leafs, as well as the Executive Vice President of the University of Toronto Sports and Business Association.
Howe was also named Miss Canada Teen in 2011. She asserts her main focus during the competition was on her studies and athletics, and that the same qualities that helped her win, such as drive, competitiveness and perfectionism, are also qualities that make a good engineer.
"When you pursue things that you are passionate about, that passion comes through and you will find success in whatever field you choose."
Katlin Kreamer-Tonin (EngSci 1T6)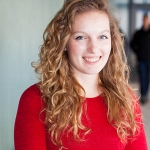 For Katlin Kreamer-Tonin, a third-year engineering science student with a biomedical specialization, engineering is an opportunity to see concrete results from her work.
As a part-time research and development intern at Spinesonics Medical, she is helping create a new device to improve spinal fusion surgery.
"I think the most rewarding part [of engineering] is that you can can see the impact of your work," she said.
Although she hasn't completed her degree yet, Kreamer-Tonin is already experiencing the global opportunities that often materialize in engineering. This summer she is working on a 12-week research project at King Mongkut's University of Technology Thonburi in Thailand, designing a smart home for the elderly.
"There are so many different opportunities if you are a young engineer," said Kreamer-Tonin, who is 21 years old. "You can go in any direction you want to and you get to shape society and technology."
She noted that it's especially important for women to contribute as engineers because of how important diverse teams can be in engineering.
Jacqueline Murdock (ChemE 1T5)
Jacqueline Murdock says she was always good at math and science, but what really attracted her to engineering was the opportunity to develop tools that can help her solve some of the world's problems.
Murdock is now completing her fourth and final year in chemical engineering, but she is not the first engineer in her household. Her father is a chemical engineer as well.
"The apple doesn't fall far from the tree," said Murdock, laughing.
But as she pointed out, chemical engineering today offers much more diverse opportunities than when her father started his career.
"It's not as straightforward as it was before."
Nearing graduation, Murdock is excited to join the energy sector and contribute new methods to mitigate negative impacts on the environment. Initially, she aims to gain some technical experience, but eventually wants to tap into the policy side of engineering.
"You can have the technology and it can be a really great idea, but it needs to have funding and support to be able to grow."
Parisa Najafi (MSE 1T6)
While in her first year, materials science and engineering student Parisa Najafi was tasked with discovering why ice affects similar trees differently. As she examined the microscopic structures of birch and quaking aspen, Najafi developed a fascination of the natural world that has informed her education ever since.
"Nature makes the best classroom," she said. "It's hands-on, it's dynamic, and its designs are usually more elegant and efficient than our own. Lucky for us, nature hasn't patented anything yet."
Inspired by her environment, Najafi, now in her third year of studies, pursued an opportunity as a research associate with nanOntario, an outreach program aimed at teaching high school students about bio-inspired technologies. The program brings nature into the classroom as both a teaching tool and an inspiration for students.
"We have the responsibility as engineers to think critically about these issues because we have the skills to innovate and drive positive change."
Nataliya Pekar (TrackOne 1T7)
As someone who tends to enjoy a range of academics, Nataliya Pekar was initially undecided about what she wanted to do in school. Ultimately, she chose engineering because she saw it as an opportunity to design and make real-world change to systems and infrastructure.
"I just felt like I could make more tangible differences through engineering, especially in terms of sustainability," she explained.
After completing Track One, a general first-year introduction to engineering, Pekar chose to pursue civil engineering.
"In certain engineering disciplines, you look at individual objects or designs. But in civil engineering, I like that you are often designing an entire system, like a wastewater treatment plant or a system for all of the transportation in Toronto. It impacts so many different people, and you have to take into consideration so many different impacts and problems."
She recently put her skills as an engineer to work at the Ontario Engineering Competition, taking home second place in the consulting category. Pekar and her team went on to compete in the Canadian Engineering Competition in St. John's, Newfoundland and Labrador.
Yoko Yanagimura (MinE 1T6)
The thought of being an engineer didn't cross Yoko Yanagimura's mind at a young age.
"All my life I thought I was going to be a biologist," she said now.
She says a major reason for that is that not enough high school students are made aware of engineering as an option.
"When you're in high school, you don't learn about engineering. You learn about set subjects that don't cover all of what you can study in university."
After attaining her degree in her biology, Yanagimura decided to pursue studies in mineral engineering. She enjoys the ethical and social aspects of the job. Plus, she has a chance to significantly impact projects and be a part of an important process. She finds mineral engineering particularly exciting because this industry is "at the forefront of environmental management."
"I can't believe how much I love this," said Yanagimura. "I wish I could have studied it earlier."
Olesya Zhychkovska (CivE 1T6)
Even though Olesya Zhychkovska's father is an engineer, his career did not directly influence her career path.
"It was his character traits that inspired me," she explained. "Not the engineering itself, but the kind of person he was."
After gaining her father's work ethic and passion for finding answers, Zhychkovska chose to pursue a degree in civil engineering.
"I don't like to give up. If I'm challenged with something, I won't give up until I find a solution."
She says engineering is certainly challenging at times, but also rewarding. "Seeing results only encourages and motivates me to work harder," said the 22-year-old.
Her advice to other young aspiring engineers is to, "Learn to be confident. If you know that this is truly what you want to do in life, then never let anything bring you down or make you divert from this path."