For Oseremen Ebewele (ChemE MEng candidate), chemical engineering is a family affair.
"I grew up in an academic community: my father was a professor of chemical engineering at University of Benin in Nigeria, and we lived at the university staff quarters," he says.
"My first contact with chemical engineering came when I was about 13 years old. In his makeshift laboratory behind our home, my father would combine simple chemical components to produce air fresheners to be used at home and distributed amongst our neighbours. I was curious about what he was doing, so I started helping him in the lab."
Ebewele's love of science has now led him to U of T Engineering, where he is developing sustainable technologies in the Department of Chemical Engineering & Applied Chemistry. He is one of two recipients of this year's IBET Momentum Fellowships, along with fellow ChemE graduate student Gaius St. Marie.
The Fellowships provide support and build a network for Indigenous and Black graduate students — two groups that are significantly underrepresented across both academia and the engineering profession. Fellowship recipients receive financial support, mentorship, training and networking opportunities to foster a robust professional community.
While pursuing his undergraduate degree in chemical engineering at the University of Benin, Ebewele developed a passion for the environment. He says he wants to use his scientific knowledge to create solutions with positive impacts, especially with respect to climate change.
For his graduate studies, Ebewele is working with Professors Grant Allen and Jay Werber (both ChemE) as well as Professor Stewart Aitchison (ECE). Together, the team will focus on improving the delivery of light and CO2 to phototrophic biofilm reactors.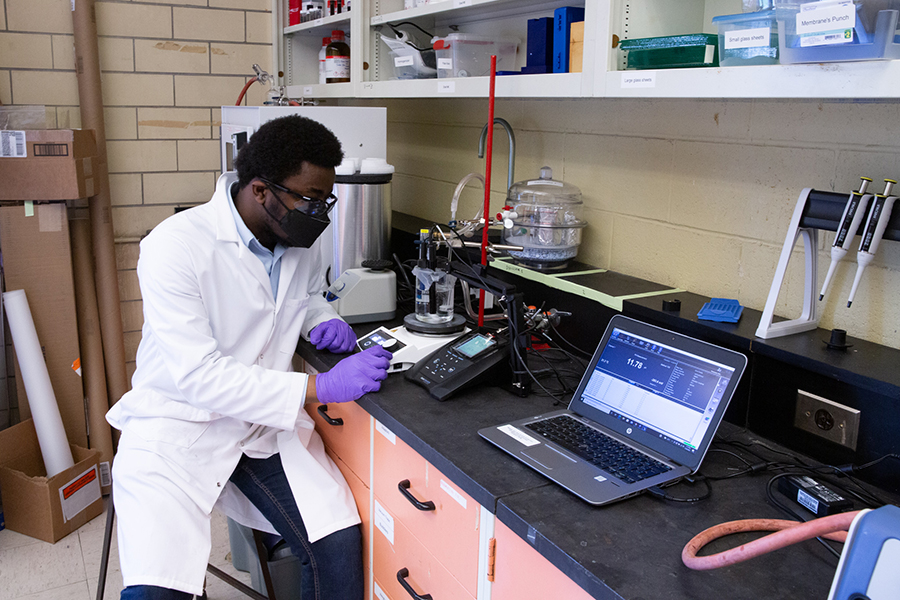 This type of reactor combines water, nutrients and light to grow photosynthetic organisms such as microalgae. As they grow, the organisms can remove pollutants such as nitrogen, phosphorus and heavy metals from wastewater. They can also sequester waste CO2 by converting it into biomass, biofuels or biochemicals, from polymer precursors to nutritional supplements.
"I chose to work with these professors for the combined wealth of experience they possess and the positive and inclusive work environment they promote," says Ebewele. "Also, living and studying in a city as multicultural and diverse as Toronto provides avenues to gain other life experiences. That was a big part of my decision as well."
Ebewele expects the IBET Momentum Fellowship to have a major positive impact on his personal and academic journey over the next few years.
"It is great to be a part of a platform that recognizes some of the challenges that people of colour navigate," he says. "It provides me with an opportunity to further my education in one of the best institutions in world, and it brings me one step closer to achieving my goals."
"In a few years I hope to be more knowledgeable about my field, have a diverse group of friends and be looking forward to contributing positively to change the world around me."