If you had told a young Rob Brown (MechE 0T0) that he would someday run one of only two companies in the world that make vinyl record pressing machines, he would never have believed you.
"Vinyl was dead," he says. "Growing up, I had a turntable and enjoyed listening to it, but by the time I started my undergrad at U of T, it was all CDs. And after Napster, even those started to disappear."
After graduation, Brown pursued a traditional engineering career path at first — thanks to a 16-month internship through the Professional Experience Year Co-op Program, he landed a job in product development at Xerox in Mississauga, Ont.
Brown designed document feeders, auto staplers, and other components for printers and copy machines, from conception through to manufacturing. But a few years later, Xerox wound down its manufacturing operations in Canada and Brown went to work for Sentinelle, a startup that made advanced magnetic resonance imaging (MRI) equipment.
"I was the 17th employee," he says. "Within just a few years, we grew to 150 people, so I got a taste of the startup life, and all that it entailed."
He also met James Hashmi and Chad Brown, two colleagues that would become his future business partners. Chad Brown had previously been the owner of Canada's last vinyl record pressing plant, Markham's Acme Pressing. It was through his former industry contacts that the trio started to hear about the improbable resurgence of vinyl.
"Today we can all carry thousands of songs in our pocket, yet we can't find anything we want to listen to," says Rob Brown. "Vinyl makes the process more deliberate. It's about carving out time to listen to music in a more mindful way."
Spurred on by the creation of Record Store Day in 2008, vinyl sales in the U.S. have soared from 1.9 million in 2008 to 16.8 million in 2018. The trend in other countries has been similar, accompanied by a brisk trade in second-hand records. Some industry watchers suggest that vinyl sales could soon outstrip those of CDs.
But the renaissance came too late for the companies that made the presses: virtually all of them had gone out of business. Record companies who wanted to issue new releases on vinyl had to make do with refurbished machines from decades earlier.
"People were buying presses from Russia that had been sitting out in the snow for 10 years, that never had any chance of running again," says Brown. "There was this huge void for new equipment."
Around 2015, as their employer entered a period of restructuring, they started to research what it would take to build a modern record press from scratch. They visited pressing plants, taking pictures of their refurbished equipment and reading through dusty service manuals. They expanded their team, scoured the internet for expired patents and watched YouTube videos of old machines in operation.
"Mike Wybenga, who is now our director of engineering, was great at this," says Brown. "He would zoom in on a video, find a number written on the side of the machine, call it and chat to whoever picked up."
In this way, the team was able to identify the tried-and-tested solutions they wanted to preserve, as well as the pain points they could focus on improving.
In July 2015, Viryl Technologies was incorporated, with Brown as chief operating officer. A little more than six months later, the team had a working demo assembled. The launch gained media attention and generated a lot of interest in sales; Brown says that the phone was "ringing off the hook."
Though built with modern materials, the design of the company's flagship WarmTone vinyl press is broadly similar to the workhorses of the 1970s. What's different is the way the machines are controlled and monitored. Programmable logic controllers, real-time sensors and mobile-ready software — none of which were available in the disco era — make it easier to detect problems and troubleshoot on the fly.
"Any operator can log in from their phone and see exactly what their plant is doing," says Brown. "We also have access to that data, which helps us better support our customers and improve our designs."
The company also offers a LiteTone model, with manual operation geared toward custom productions, such as records featuring pictures or multiple colours of vinyl. Their newest creation is a "steamless" model that eliminates the need for the cumbersome steam boiler traditionally used to heat up the molds. This model is small enough to fit in a standard shipping container, and was recently featured in a Ram commercial with country singer Eric Church.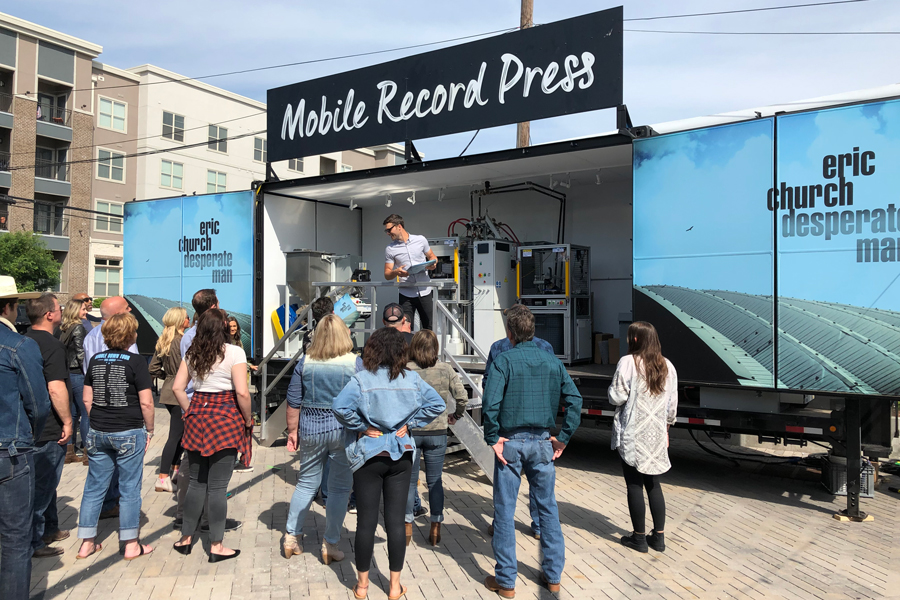 With more than 50 machines now operating in a variety of countries, business is good for Viryl. Going forward, the company will continue to refine their presses, as well as expanding into auxiliary equipment for the record industry and perhaps even other sectors that make use of molded plastic.
The future looks bright, but Brown says that he still thinks back to the lessons he learned at U of T Engineering.
"You forget the formulas, but what you remember is the approach to problem solving, and how to quickly get the information you need to move forward," he says. "I remember one of my instructors, Duncan Newman (MIE), always used to say 'get physical fast,' by which he meant: don't spend too much time designing on paper before you build a prototype. That approach has served us well."