The rise of smartphones, wearable technology and cloud computing are creating opportunities for a data-based approach to the way individuals understand and monitor their health. Three U of T Engineering startups — MedTek Devices, Pillsy and MedChart — are addressing important challenges, from managing medical information to detecting falls among the elderly.
All three companies were part of the first Start@UTIAS entrepreneurship program cohort at the University of Toronto Institute for Aerospace Studies (UTIAS) in November 2014. Created by a $1-million donation from entrepreneur and alumnus Francis Shen (MASc UTIAS 8T3), the program helps UTIAS graduate students leverage their knowledge and competencies to create business startups. Pillsy and Medchart also received support from The Entrepreneurship Hatchery.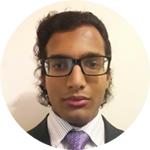 LifeCare
An aging global population has spurred demand for better medical alert systems. Pratik Agrawal (EngSci 1T4, AeroE MEng 1T5) created LifeCare, the flagship product from MedTek Devices, to detect falls among the elderly, a critical health-care challenge in Canada and abroad.
LifeCare is a smart pendant that is designed to be worn around the neck. It contains an accelerometer, two-way audio, and Bluetooth technology to connect to any communication system and issue a request for assistance when the system detects that the wearer has fallen.
The battery that can last as long as four months on a single charge, users can program in a list of emergency contacts and the device can interface with third-party response centres. "It has all the best features that are out there in the industry and more," says Agrawal.
Through the Start@UTIAS accelerator program, Agrawal received seed funding, ongoing coaching from the program head Francis Shen and attended regular meetings with potential investors. "It was a good experience," Agrawal says. "We got to practise our pitch presentations in front of real CEOs and they would give us feedback."
Agrawal is currently working on the final prototype, which he aims to complete for April 2016, and hopes to begin production and distribution by the summer.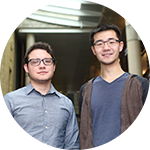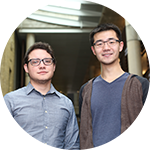 Pillsy
Almost half of all unplanned pregnancies in the U.S. occur in women who are using birth control, according to a 2014 report from the Guttmacher Institute. This information inspired the team at Pillsy to develop an innovative product aimed squarely at addressing this issue.
"Birth control pills are one of these types of medication where it's really important to take your pill at the same time every day," says Valentin Peretroukhin (EngSci 1T3, AeroE PhD candidate), one of the co-founders and Chief Technology Officer of Pillsy. "The trouble with these types of pills and other types of medication is that the feedback is not immediate at all. You could forget a pill and nothing will happen for potentially a very long time."
To address this problem, the team developed a smart pouch twinned with a smartphone app. Through a Bluetooth connection, Pillsy registers when a pill is taken and provides feedback regarding effectiveness. The app sends notifications when users forget to take a pill and can also alert users when the Bluetooth connection is severed, indicating that the pouch may have been forgotten.
Started by Peretroukhin, Eric Ma (EngSci 1T3, BioMedE MASc candidate) and Tony Zhang (EngSci 1T3, AeroE MASc candidate), the team has expanded over the past year to include Simon Bromberg (EngSci 1T3, BioMedE MASc candidate), Sandra Fiset (MHSc candidate) and Courtney Smith (MPH Epidemiology candidate).
CEO Tony Zhang is grateful for the support the team received through Start@UTIAS. "They had workshops that we otherwise wouldn't have access to at all," he says. "We were taken to major law firms to get legal and financial advice." Peretroukin also noted that the Hatchery program provided them with office space to get started helped them navigate the processes of incorporation and signing of shareholder agreements.
In the future, Pillsy is looking to expand its technology to other types of medication that have to be taken on schedule, such as antibiotics. But the company's immediate goals are finalizing prototypes and launching a crowdfunding campaign in summer 2016.
Read more about Pillsy's recent seed funding and its award at Hatchery Demo Day last September.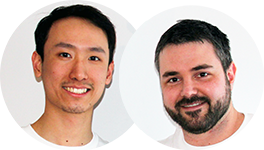 MedChart
Between hospitals, doctors' offices and the broader medical community, "people have this misconception that there's this integrated backend system for keeping track of medical information, but that's a myth," says MedChart co-founder James Bateman (EngSci 1T3, ECE MASc 1T6, ECE PhD candidate).
Bateman and co-founder Derrick Chow (EngSci 1T3, AeroE MASc 1T6) wanted to create a patient-centred solution that would allow individuals to access their medical records whenever and wherever they wanted. From this idea, MedChart was born, a secure, cloud-based patient portal that houses an individual's medical records. "We want managing your health online to be as comfortable and commonplace as online banking," says Bateman.
Bateman sees opportunities for MedChart among international travellers, who may not always have quick access to their medical records when they seek health care abroad. "There are problems with connections within the Canadian system, but there are greater problems if you're trying to get your Canadian records because you get admitted to a hospital in the Caribbean," says Bateman.
Another area of focus for MedChart is outpatients and their caregivers, who often don't have access to critical medical information. "They rely on the family members of the patient themselves to be able to communicate what the doctor said," says Bateman. MedChart allows caregivers and other individuals within a circle of care to have direct access to the doctor's handwritten notes, enhancing the quality of care they can provide.
MedChart also got boosts from the Hatchery and Start@UTIAS programs. "Both programs are very good and each brings something different to the table," says Bateman. "Having been in both at the same time was very beneficial."
MedChart has already received a very positive reception from potential users. "People that we've talked to about this wonder why it doesn't exist already. Often the best ideas are those in front of your face for all these years and you never realize it until a startup like us comes along."
Read more about MedChart's recent seed funding and its award at Hatchery Demo Day last September.