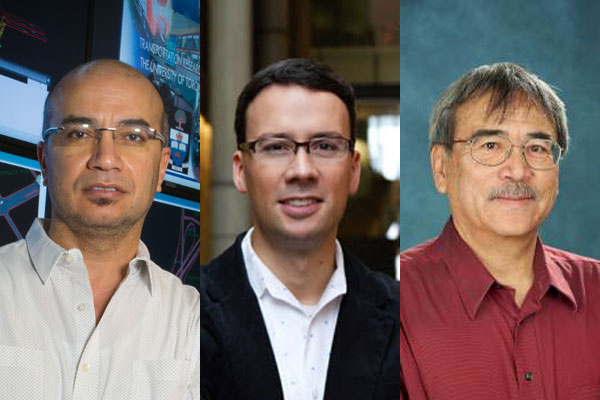 U of T Engineering professors Alberto Leon-Garcia (ECE), Baher Abdulhai (CivE) and David Sinton (MIE) have been recognized by the Engineering Institute of Canada (EIC) for their outstanding engineering achievements in the areas of Internet architecture, traffic reduction and bioenergy technologies, respectively.
Leon-Garcia received the Julian C. Smith Medal "for achievement in the development of Canada," and Abdulhai and Sinton have been named EIC fellows for their exceptional contributions to engineering in Canada.
Learn more about these three outstanding professors:
Alberto Leon-Garcia (ECE)
Alberto Leon-Garcia is a world leader in research on the design and management of application-oriented multi-service packet networks—a kind of Internet data-sharing technology. He holds several patents and is published extensively in the areas of virtual architecture and traffic management.
He is also an innovator in networking education, and has led the development of industry-oriented programs that educated many of today's Canadian telecommunications executives. He has authored two textbooks, both of which are used in universities worldwide and have been translated into several languages.
Leon-Garcia is a Fellow of IEEE, EIC and the Royal Society of Canada (RSC). He received the 2006 RSC Thomas Eadie Medal and the 2010 IEEE Canada A. G. L. McNaughton Gold Medal for his contributions to the field of communications technology. He is a Distinguished Professor in Application Platforms and Smart Infrastructure at the University of Toronto, and scientific director of the NSERC Strategic Network for Smart Applications on Virtual Infrastructures. He has held the Nortel Institute Endowed Chair in Network Architecture and Services, the Skoll Endowed Chair in Network Innovation, and a Canada Research Chair in Autonomic Service Architecture.
Baher Abdulhai (CivE)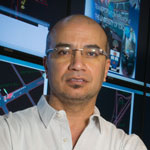 Baher Abdulhai's research employs Intelligent Transportation Systems (ITS) to reduce congestion, improve travel time and system reliability, and enhance safety for travellers. His achievements include the development of the ONE-ITS (Online Network Enabled Intelligent Transportation Systems) network, part of the University of Toronto Transport Research Institute (UTTRI), and the invention of MARLIN, a machine-learning-based control software system for self-optimization of traffic lights, currently being commercialized through the spin-off company Pragmatek Transport Innovations.
Abdulhai has received several awards spanning service, teaching and research, including the IEEE Outstanding Service Award, the Early Career Teaching Excellence award and the University of Toronto Inventor of the Year Award. His graduate students have won several major international awards and many are faculty members at universities around the world. Abdulhai has served on many important transportation boards and committees, including the Board of Directors of the Government of Ontario Transit Authority and the Toronto Board of Trade Infrastructure Committee. He is also the founding director of the U of T Intelligent Transportation Systems (ITS) Centre.
David Sinton (MIE)
David Sinton has made outstanding research contributions in the area of microfluidics—the science of controlling fluids at a microscopic scale—most notably for energy applications. He has become a globally recognized leader in this area for his pioneering work in pore-scale microfluidics, fluid property analysis, fuel cells and bioenergy. His work has resulted in more than 100 journal publications with over 3,000 citations and numerous research awards, including the CSME I. W. Smith Award, the Douglas R. Colton Award from CMC Microsystems, the Early Career Achievement Award from the University of Toronto Faculty of Applied Science & Engineering, and an award for teaching excellence. He is a Fellow of the Canadian Society for Mechanical Engineering (CSME) and the American Society of Mechanical Engineers (CSME). He was the 2013 University of Toronto McLean Senior Fellow.
Sinton is the director of the Institute for Sustainable Energy at the University of Toronto. Previous to joining U of T, he was a Canada Research Chair at the University of Victoria and a visiting associate professor at Cornell University.
---
The EIC is a federation of Canadian engineering societies that sponsors education standards, recognizes individual engineers and records engineering history.
EIC award recipients and new fellows will be honoured at the Institute's Annual Awards Banquet at the Omni Hotel in Montreal on May 26, 2015.