Three U of T Engineering graduate students have been awarded Vanier Canada Graduate Scholarships (VCGS) for 2021. The awards recognize PhD candidates at Canadian universities who demonstrate excellence in academics, research impact and leadership.
VCGS come with $150,000 in funding to support research addressing a diverse range of challenges, from next-generation structural materials to treating cognitive disorders in children with epilepsy.
U of T Engineering's winners are:
Michel Haché (MSE PhD candidate)
Haché's research focuses on designing new bulk nanomaterials that could be used in a wide range of structural applications, from aircraft components to buildings. While strength and performance are key targets, Haché will be focusing on a particular property that has proved to be the 'Achilles Heel' of such materials: resilience at high temperatures.
Under the joint supervision of Professors Yu Zou and Uwe Erb (both MSE), Haché will combine established technology, such as electrodeposition, with emerging strategies, such as the high-entropy alloy design paradigm. He hopes that his work over the next few years will address this long-standing problem in materials engineering and lead to new materials for safer, better and more resilient works of engineering.
Haché credits his success to the inspiration provided by his father, who initially proposed that he pursue engineering, and is grateful to family and friends for their support.
"The Vanier Scholarship gives me the freedom to pursue the research that interests me without the worry of any financial burdens," says Haché. "The visibility and recognition of such a prestigious award also opens opportunities to collaborate with world-leading international research centres."
Joseph Sebastian (BME PhD candidate)
Sebastian is working with Professor Craig Simmons (MIE, BME) on new ways to measure cardiac stiffness, a key factor in heart disease and heart failure.
He is working on an ultrasound imaging technique — known as high frequency ultrasound elastography — that measures cardiac stiffness in miniaturized 3D heart models derived from induced-pluripotent stem cells in healthy, diseased and treated states.
Such models could help screen libraries of potential drugs to find the most appropriate one for reversing cardiac stiffness before testing them on Canadians with heart failure.
"Winning the Vanier CGS is the most prestigious honour of my life so far," says Sebastian. "However, I share this award with every single person that has helped me along my academic journey: my parents, my family and friends, my research and academic mentors. This award motivates me to pay it forward, to mentor other graduate students who are on a similar academic journey."
Nebras Warsi (BME PhD candidate)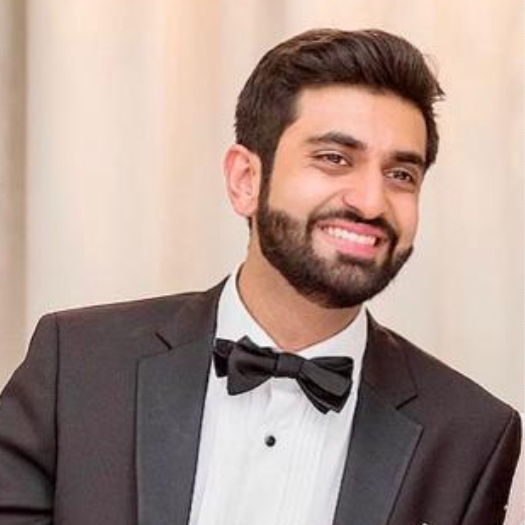 Warsi's work is focused on developing treatments for cognitive disorders in children with epilepsy. His approach makes use of the strategy of neuromodulation, a nascent field which holds significant potential for patients, including children and adults with epilepsy and even other disorders such as Parkinson's disease.
Working under the supervision of paediatric neurosurgeon and U of T professor George Ibrahim (BME, Institute of Medical Sciences, Surgery) he aims to design a closed-loop neurostimulation system to treat attention deficits.
"The system I am developing learns from an individual child's endogenous brain waves to predict when they are likely to lose focus and delivers precision brain stimulation at this time to restore focus," says Warsi.
"There are significant engineering challenges in advancing research in this field given how little is known about the precise neural code the brain uses to perform each of its functions. Support from the Government of Canada in the form of the Vanier scholarship is a significant recognition and support that will allow us to further strengthen the cross-disciplinary collaborations needed to drive this kind of work forward."