Waterfront Toronto announced today that it is partnering with Sidewalk Labs to design new kind of mixed-use, complete community on Toronto's Eastern Waterfront.
The project — called Sidewalk Toronto — will be located in a new neighbourhood called Quayside, located at Parliament Slip. It will combine forward-thinking urban design and new digital technology to create people-centred neighbourhoods that achieve precedent-setting levels of sustainability, affordability, mobility, and economic opportunity.
"Sidewalk Toronto will transform Quayside into a thriving hub for innovation and a community for tens of thousands of people to live, work, and play," said Prime Minister Justin Trudeau. "The new technologies that emerge from Quayside have the potential to improve city living – making housing more affordable and public transit more convenient for Canadians and their families."
"Having this project in our back yard is really exciting," said Dawn Britton, associate director of Engineering Outreach at U of T. "When students see how technology can transform their environment and make a difference in their daily lives, they are inspired to become inventors, innovators and makers."
Britton attended today's announcement along with 20 aspiring engineers in Grades 4 to 6 who have participated in Engineering Outreach programs such as Girls Jr. DEEP, a week-long course fostering experiential learning in science, technology, engineering and math (STEM) disciplines. The students spent the day imagining, designing and building components of the neighbourhood of the future. At the event, they shared their designs with the Prime Minister.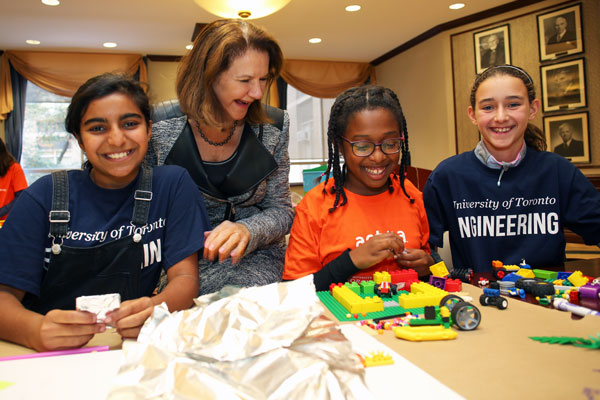 Learn more about STEM outreach at U of T Engineering
U of T Engineering has a long history of developing innovative solutions to pressing urban and municipal challenges. For example:
Learn more about cities research at U of T Engineering
Sidewalk Toronto offers an opportunity to accelerate and enhance this research through strategic partnerships. It will also inspire a new generation of students to think innovatively about urban design and perhaps develop technologies that could make the cities of the future safer, cleaner and more liveable.
"A living laboratory of this kind is a natural partner for our researchers and students as they work across disciplines to address urban and global challenges," said Cristina Amon, dean of the Faculty of Applied Science & Engineering. "On behalf of our Faculty, I would like to welcome Sidewalk Labs to the neighbourhood."