Alumni Som Seif (IndE 9T9) and John Poulos (ElecE 9T7) have been named to Canada's Top 40 Under 40™. Established in 1995, Canada's Top 40 Under 40™ is a national program that celebrates the achievements of 40 Canadians who have reached a significant level of success before the age of 40.
Seif has been the architect of one of the most impressive success stories in the Canadian financial services industry. In the five years since starting Claymore Investments Inc. as President and CEO, he has overseen the company's growth from a minor player in investment management to one of the leading exchange traded funds providers in Canada. Claymore now has assets worth more than $5.5 billion and has launched more than thirty publicly traded funds.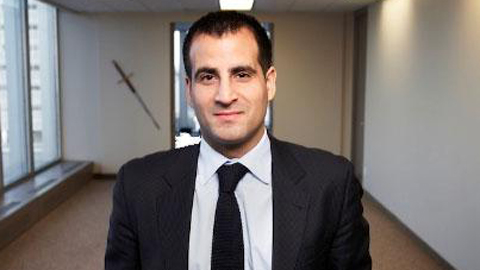 A devoted alumnus, Seif serves on the Engineering Alumni Association Biz Skule™ Committee and the MIE Advisory Board, and has coached the University of Toronto's Varsity water polo team for seven years. His accomplishments and service have been recognized with the Faculty's 7T6 Early Career Award and the University of Toronto's Arbor Award.
Poulos is the founding President and CEO of Dominion Voting. He met James Hoover during a previous business venture in Silicon Valley where, together, they established an ambitious goal: to build a voting system that was so transparent even the most skeptical critic would have confidence in its accuracy. From small beginnings in 2003 doing an election in Quinte West, Ont., Dominion is now in about 150 municipalities and has been used in a number of provincial elections. It also has voting machines in 1,000 United States counties across 35 states. Today, Dominion's machines include a roster of accessible technology such as audio readouts and large electronic screens. Innovations such as these have spurred its amazing growth – Dominion was No. 2 on Deloitte's 2009 list of the 50 fastest-growing Canadian tech firms.
"These young alumni have not only achieved remarkable success very early in their careers, they have already begun to give back to the community," said Dean Cristina Amon, Faculty of Applied Science & Engineering. "They are outstanding role models for young people and most deserving of this recognition."
Recipients will be honoured at a gala luncheon at the Royal York Hotel on May 3.
Read the Canada's Top 40 Under 40™ profiles at the The Globe and Mail and learn more about other U of T alums who were honoured at News @ U of T.