More than 200 U of T Engineering faculty and staff gathered in the Myhal Centre for Engineering Innovation & Entrepreneurship on May 2 to recognize their colleagues' exceptional contributions at the 12th annual Celebrating Engineering Excellence event. This celebration honours the recipients of U of T Engineering's staff, research and teaching awards, as well as those who received awards and major research grants over the past year.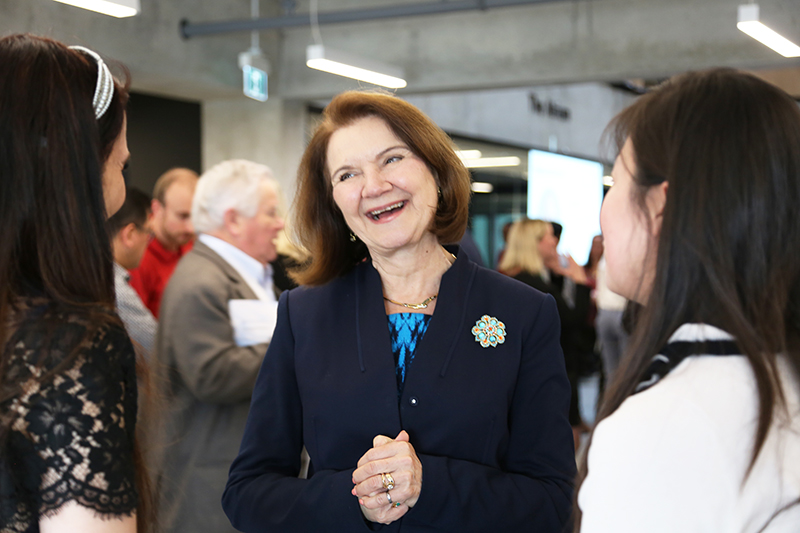 This year, two outstanding former staff members were also recognized for their dedication to the Faculty by having staff awards named in their honour.  The Catherine Gagne Sustained Excellence in Leadership Award has been so named in honour of Catherine Gagne, former Chief Administrative Officer (CAO) for the Faculty and currently CAO for the Division of the Vice-President & Provost.
Gagne's many contributions include the coordination of the U of T Engineering's participation in the province's enrolment growth initiative, which provided for the building of the Bahen Centre, and the implementation of the Faculty's current budget allocation process. Gagne has also been a tremendous advocate for staff development and recognition throughout her career. In addition to mentoring staff and creating new professional development opportunities in the Faculty, she spearheaded the creation of the current staff awards program.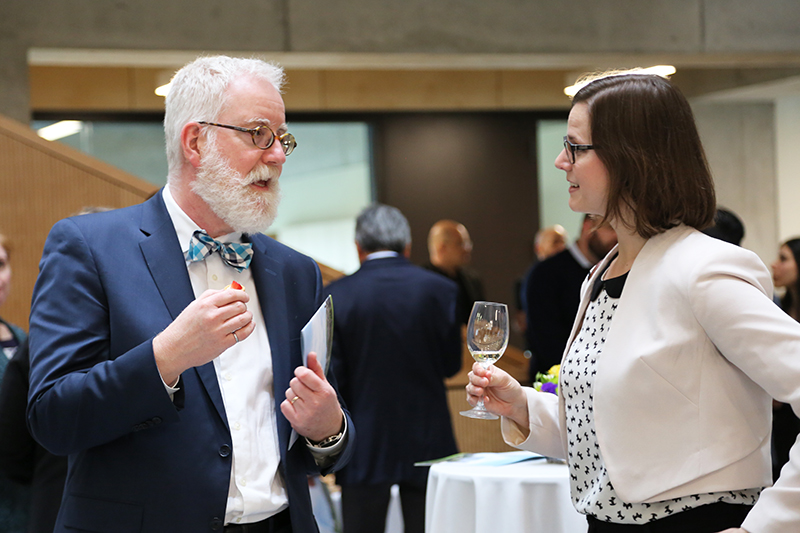 The Barbara McCann Quality of Student Experience Award for Frontline Staff was named to recognize the contributions of Barbara McCann, the Faculty's registrar for nearly 30 years. In that role, McCann was a tireless advocate for engineering students, particularly underrepresented groups and those with special needs. She advocated accommodation for students with disabilities before these were legislated, led the creation of the Women in Engineering Association, and received the SAC Equity Commission Award for her work with the U of T Muslim Student Association. McCann also championed her colleagues; she created and implemented the very first staff recognition award, the Agnes Kaneko Award.
"It has been my great privilege to bring our community together every year for the past 12 years to acknowledge and celebrate the tremendous accomplishments of our faculty and staff" said Cristina Amon, dean, Faculty of Applied Science & Engineering. "On behalf of the Faculty, I offer heartfelt congratulations to the awardees, and my deep gratitude to all our faculty and staff, past and present, for their hard work, dedication and commitment to excellence."
This year's award winners are: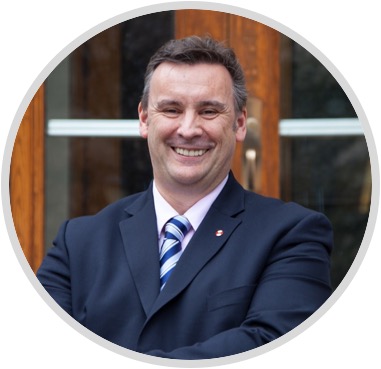 Stewart Aitchison (ECE)
Safwat Zaky Research Leader Award
Recognizing leadership in innovative interdisciplinary and multiple-investigator initiatives that have enhanced the Faculty's research profile within the broader community.
Aitchison has held the Nortel Chair in Emerging Technology since 2001. His most recent research, on point-of-care technologies, is being commercialized by ChipCare, the start-up he co-founded in 2009. Aitchison has made significant contributions to research at U of T in several leadership roles. From 2003-2007 he was director of the Emerging Communications Technology Institute, and from 2007-2012 he was vice-dean, research, where he oversaw a 45% increase in federal funding and a 75% increase in major partnership funding, as well as the creation of a Faculty-wide energy initiative. Since 2013, Aitchison has served as associate scientific director and theme lead, public health for IC-IMPACTS, a unique Canada-India Research Centre of Excellence dedicated to building healthy communities in both countries. He is a fellow of the Royal Society of Canada and the Royal Society of Edinburgh.
---
Jason Anderson (ECE)
Faculty Teaching Award
Recognizing a faculty member who demonstrates outstanding classroom instruction and develops innovative teaching methods.
Over more than 10 years of teaching, Anderson's teaching evaluation scores have been among the highest in the Faculty, which is particularly notable as he teaches large compulsory first- and second-year courses. In addition to his outstanding classroom teaching, Anderson has been an exceptional mentor for undergraduate student theses and summer projects; he has co-published 15 refereed articles with undergrad students and one of the teams he supervised won the 2018 Gordon R. Slemon Award. He has also been active in undergraduate curriculum development, spearheading the development of the new AI engineering certificate and minor programs, for which he now serves as inaugural director. Anderson's teaching excellence has garnered seven ECE teaching awards, as well as the Gordon R. Slemon Award for the Teaching of Design and the Faculty's Early Career Teaching Award.
---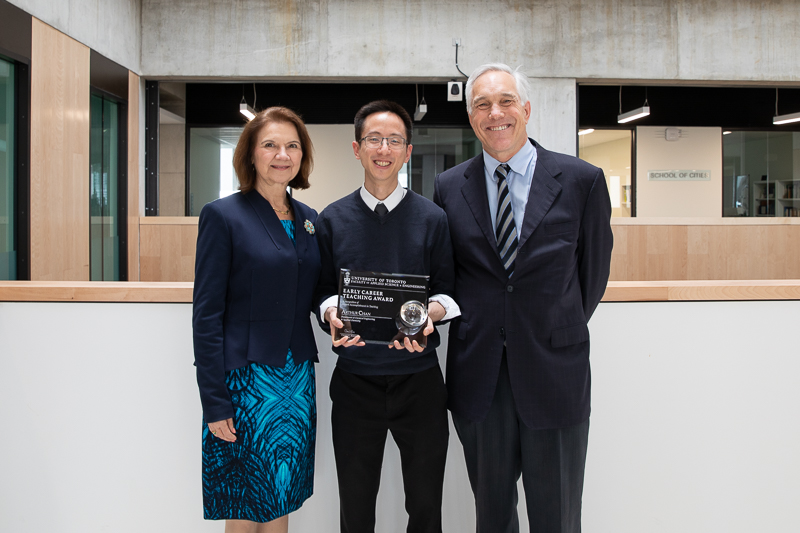 Arthur Chan (ChemE)
Early Career Teaching Award
Recognizing an early career instructor who has demonstrated exceptional classroom instruction and teaching methods.
Chan joined the Faculty in 2013 and quickly became a favourite among students, who have described him as one of the most enthusiastic and knowledgeable professors they have ever encountered. Chan makes a point of being approachable and accessible to his students, particularly during exams and around deadlines. He attends most of his tutorials to answer questions and talk to students about their experience. Chan continuously solicits student feedback and uses it to improve his courses. He has also embraced teaching innovation; he was one of the first professors in the Faculty to use TopHat, and he has introduced a project in his economics course that links to another course's design project. During the development of ChemE's most recent strategic plan, Chan took a leadership role in ensuring that "elevating teaching excellence" be a top strategic priority.  
---
Teresa Didiano (Troost ILead)
Quality of Student Experience Award for Behind-the-Scenes Staff
Recognizing a staff member who has made significant contributions to the quality of student experience in the Faculty through the creation or improvement of programs or services.
As the special programs coordinator for Troost ILead, Didiano has shown tremendous leadership in recognizing the varied needs of our graduate students and ensuring those needs are met through innovative professional development programs. Most notably, Didiano spearheaded the development of OPTIONS (Opportunities for PhDs: Transitions, Industry Options, Networking and Skills), a program which prepares PhD students for careers outside of academia. She not only developed and delivered workshops focused on personal and professional skills, she encouraged the OPTIONS cohort to get to know their peers and helped create a sense of community. Didiano recently played a key role in the creation and launch of the Graduate Peer and Career Support (Grad PACS) initiative, which provides similar career development events for MASc and early-stage PhD students.
---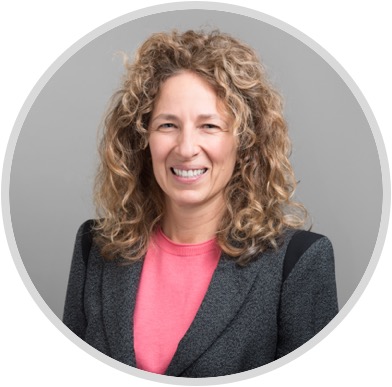 Krisztina Harmath (ECE)
Catherine Gagne Sustained Excellence in Leadership Award
Recognizing a staff member who has demonstrated leadership in supporting the Faculty's mission over a sustained period.
As director, administration & finance for ECE, Harmath is responsible for overseeing more than 50 administrative and technical staff and a budget of over $30M, as well as the department's facilities and infrastructure. Harmath's impact on the department since she was hired in 2012 has been remarkable. She has demonstrated leadership and vision in every aspect of her role, continuously innovating and improving ECE's financial and administrative processes, resulting in a department that runs more smoothly in every respect. Harmath has set a standard of excellence for all ECE staff, and has fostered professional development (several staff have been promoted internally) and communication across all portfolios. She is a dedicated mentor to staff at all levels, as well as a resource and a role model for business officers and managers across the Faculty.
---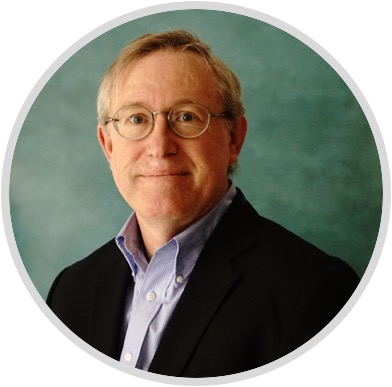 Frank Kschischang (ECE)
Sustained Excellence in Teaching Award
Recognizing a faculty member who has demonstrated excellence in teaching over the course of at least 15 years.
Since joining the Faculty in 1991, Kschischang has excelled as a teacher and made tremendous contributions to undergraduate curriculum development in ECE and in the Faculty. Kschischang served as chair of both the Faculty curriculum committee and ECE's curriculum committee for several years. He was a key architect of ECE's current flexible curriculum, overseeing the entire development process from the planning stages to implementation and fine-tuning. Kschischang has also made significant contributions to graduate education, both as an advisor and as associate chair, graduate studies, for ECE. He has received six departmental teaching awards over the years, as well as a departmental service award for his contributions to curriculum development. Kschischang has also garnered the Faculty Teaching Award and the U of T Faculty Award, which recognizes excellence in linking teaching and research.
---
Jennifer Rodrigues (ECE)
Agnes Kaneko Citizenship Award
Recognizing a staff member who has served with distinction and made contributions to the Faculty's mission above and beyond their job description over a long period of time.
Rodrigues is the administrative coordinator for the Electronics Research Group.  Throughout her 32 years in ECE, she has continuously demonstrated an exceptional commitment to the department and the Faculty and earned the trust and respect of all those she works with. Faculty, staff and students alike rely on her encyclopedic knowledge of the department, sound judgement, and ability to calmly deal with crises. She also contributes to a positive workspace in small but important ways, such as ensuring that there is always fresh coffee in the staff lounge, decorating the office for the holidays, and making new staff, students and faculty members feel welcome. Rodrigues is valued by everyone she works with for her willingness to help her colleagues and support the Faculty's mission in any way she can – often going well beyond her job description to do so.
---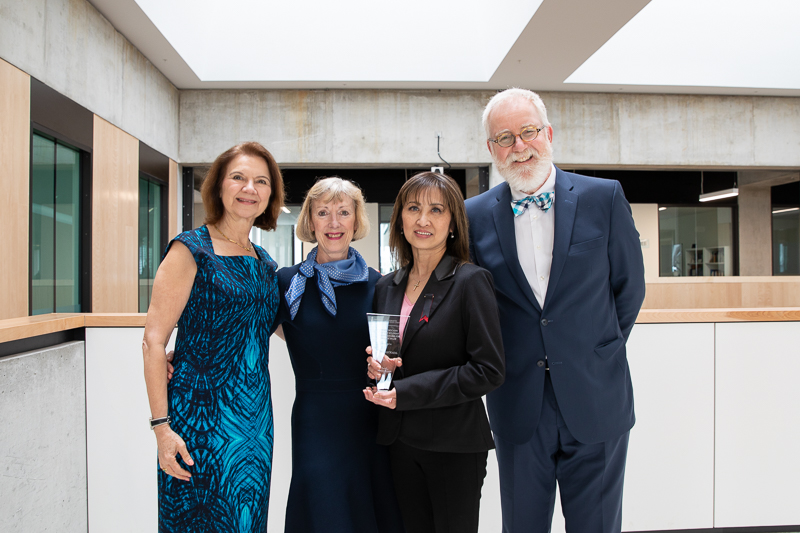 Jho Silverio Nazal (MIE)
Barbara McCann Quality of Student Experience Award for Frontline Staff
Recognizing a staff member who has made significant contributions to the quality of student experience in the Faculty through their outstanding frontline service.
As graduate programs assistant in MIE, Silverio Nazal provides frontline counselling to more than 300 research-stream graduate students (many of whom are international students) as they navigate an unfamiliar system, a new city, and, often, a new country. Her expertise, empathy, and willingness to advocate for students in difficulty have made her an invaluable resource for students when they are overwhelmed by academic or personal stresses. In addition to the dedication she has shown in her day-to-day duties, Silverio Nazal recently stepped up to assume leadership of the MIE graduate office when that role unexpectedly became vacant during one of the busiest times of the year. She worked long hours and took on tasks well outside her normal responsibilities to ensure that this situation did not negatively affect our students or our programs.
---
Caroline Ziegler (Office of the Dean)
Harpreet Dhariwal Emerging Leader Award
Recognizing a staff member who leads by example in their dedication to the Faculty's mission and demonstrates potential to assume a more senior leadership role.
Ziegler joined the Faculty in 2010 in the new role of faculty governance and programs officer. This is a large and complex portfolio, ranging from managing the operations of Faculty Council to coordinating external reviews and steering academic program change. Since taking on this role, Ziegler has built a remarkable level of expertise and established the Faculty's governance processes as the University's gold standard. This past year, she took on the tremendous task of organizing the Faculty's accreditation review – a responsibility not within her portfolio –while preparing for four departmental external reviews. Ziegler continuously makes above and beyond contributions in ways both formal, such as her role as code of student conduct investigative investigating officer, and informal, such as the weekly staff yoga class she has organized for the past five years.