The University of Toronto Chemical Vehicles (UTCV) student group won first place at the 2022 American Institute of Chemical Engineers (AIChE) Northeast Regional Chem-E-Car Competition. 
A first for the U of T Engineering club, the team beat the reigning champion teams from Clarkson University and Cornell University at the race on April 30 and will be advancing to the National Championship in November. 
"The competition distance was 20 metres, and our car ran 20.04 metres with our team's record-breaking error of only four centimetres," says Jinmyung Jang (ChemE 2T1 + PEY), Co-President of UTCV. "This is an extremely competitive result, given the average error for the winning teams at the National competition since 2015 was around five centimetres." 
The competition draws multidisciplinary design teams from across North America to exhibit their cars powered by chemical energy sources. 
The UTCV team first competed in the regional competition in 2018 and placed ninth out of 21 teams. The next year, they reached sixth place out of 12 teams. 
After a two-year absence due to COVID-19 restrictions, the team returned to competition with key innovations to their design, including a safe reproducible 21V aluminum-air battery with enhanced corrosion control; methylene blue chemical timer with a developed sensor algorithm to improve precision; a portable magnetic stirrer installed on the car; and improved quality of construction and electronic connections.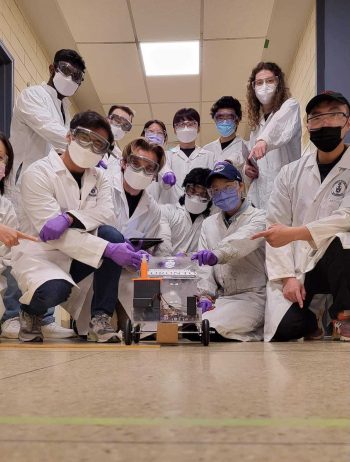 Jang says the win is an extraordinary accomplishment for the UTCV team and would not have been possible without the resources and support from the Department of Chemical Engineering & Applied Chemistry. 
"We managed to attend the competition after only three months of lab access as compared to five months in a typical season," he says. 
"Being a part of this design challenge allows our students to develop their problem-solving and leadership skills, while gaining technical exposure to wet chemistry laboratories, battery building and integrating design component," says Professor Ramin Farnood, Chair, Department of Chemical Engineering & Applied Chemistry. "This is an excellent example of experiential learning opportunities that we would like to see our students engaged in."
The 2022 AIChE Annual Chem-E-Car Competition, National Championship, will take place from November 11-14 in Phoenix, Ariz.