"I heard Cam counting down the seconds to the end of the flight and when he reached zero, it was almost surreal. Everyone was screaming and yelling, rushing into the centre to celebrate." – Marc Jutras (MSE 1T4)
An aerospace team with strong U of T Engineering connections has made history by winning the $250,000 AHS Igor I. Sikorsky Human-Powered Helicopter Prize, for the first-ever sustained flight of a human-powered helicopter.
The American Helicopter Association, which established the Prize in 1980, has confirmed that AeroVelo Inc., founded by U of T Engineering alumni Todd Reichert, (EngSci 0T5, UTIAS PhD 1T1), and Cameron Robertson (EngSci 0T8, UTIAS MASc 0T9), has successfully met the prize's rigorous conditions: a flight duration of 60 seconds and reaching an altitude of 3 meters while remaining in a 10-meter square.
The prize was awarded July 11 at the Ontario Soccer Centre in Vaughan, where AeroVelo had made the historic flight a month before. While accepting the prize, Reichert and Robertson thanked U of T for its support, singling out U of T President David Naylor and Applied Science & Engineering Dean Cristina Amon, who were in attendance.
Many teams have tried, and failed, to win the prize since it was announced in 1980.
But history was made at 12:43 on June 13, when AeroVelo's Atlas helicopter rose to an altitude of roughly 3.3 metres, maintained flight for approximately 65 seconds and drifted no more than 10 metres. Reichert, who holds a land speed record for cycling, was the pilot for the record-breaking feat.
Reichert and Robertson both graduated from the Engineering Science program and then took graduate studies at the Institute for Aerospace Studies (UTIAS), where they founded U of T's Human-Powered Vehicle Design Team. (Read more about the design team.) In August 2010, the team's first project – a human-powered ornithopter called Snowbird – made aviation history by achieving the age-old dream of human-powered bird-like flight. Snowbird sustained both altitude and airspeed for 19.3 seconds, and covered a distance of 145 metres at an average speed of 25.6 kilometres per hour.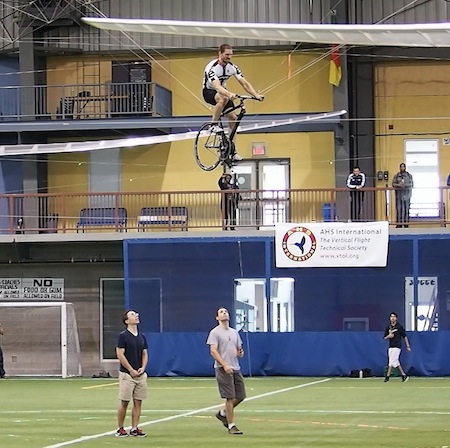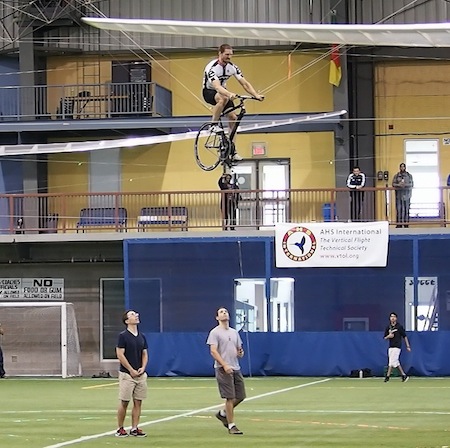 AeroVelo, which includes several current U of T Engineering students among its team members, has been working on ATLAS since May 2012.
Reichert said the team had to overcome a number of challenges, but he was always confident they would succeed.
"We came into this very confident that we were capable of winning this prize. At every step we realized that the prize was a lot more difficult than we originally anticipated, but at every step we were able to overcome the difficulty and get even closer and closer to the prize."
He said that one of AeroVelo's goals is to provide opportunities for engineering students to experience real-world applications of engineerin practices and theories.
[youtube https://www.youtube.com/watch?v=syJq10EQkog]
"The project offered a rare opportunity to work at the leading edge of engineering on an incredibly challenging and engaging project. It's where passion and science meet that you will find the innovative discoveries."
Dozens of U of T Engineering students have worked with AeroVelo on the Atlas project over the past few years, in roles ranging from repairing the vehicle after crashes to designing and testing components to actually flying the craft. All the students – members of U of T's Human-Powered Vehicle Design Team – said that working with AeroVelo was a once in a lifetime experience.
"Working with AeroVelo is the best job that I have had," said Sherry Shi (EngSci 1T5), who helped repair Atlas after a previous crash and was the team's photographer/videographer. "When I heard the horn signaling the three-meter altitude, I was extremely nervous and anxious because the last two flight attempts failed around this point in the flight. As I watched it descend, I could feel the excitement building up.
"When it landed safely, it was one of the happiest moments in my life."
Calvin Moes (EngSci 1T3 + PEY) was responsible for design and construction of some of the craft's components. He also actually got to fly Atlas, performing most of the low-altitude test flights. He said that working with AeroVelo was challenging but enjoyable. "I always felt that my contributions were every bit as critical to the project as anyone else's, and I never got the impression that I was just another set of hands."
UTIAS director Professor David Zingg said he was delighted that Reichert and Robertson won the Sikorsky prize.
"This is a tremendous accomplishment on so many different levels. First, it is a great technological achievement, requiring ingenuity, knowledge and experience in a number of challenging technical areas. Second, we have to look closely at some of the ideas developed during the course of the project to see where else they can be applied. Finally, through accomplishing such a challenging feat, Todd and Cameron have provided tremendous inspiration for young engineers both in Canada and around the world."
U of T Engineering Science Chair Mark Kortschot also congratulated AeroVelo.
"What an achievement! We are incredibly proud of, and impressed by, the Atlas helicopter team," he said. "Todd and Cameron worked with a team that included many engineering undergraduates. The team has shown the knowledge, skill and ingenuity to do something truly inspirational. We have a strong emphasis on engineering design and entrepreneurship in our Faculty, and the Atlas project is a fantastic example of both."
Dean Amon also expressed her pride in the historic achievement. "Todd Reichert and Cameron Robertson exemplify the entrepreneurial, innovative spirit of U of T Engineering. Warmest congratulations to Todd and Cameron, and the students who have worked with them on this remarkable accomplishment."

The historic event has been getting extensive coverage both locally and around the world. Stories have appeared in Engadget, The Guardian, the New York Times, Popular Mechanics,  the Toronto Star, CBC and numerous other outlets and is also attracting attention on Twitter, Facebook and YouTube.
Links:
CBC: Human-powered hover bike wins coveted $250K prize
CTV: Human-powered helicopter combines creativity and innovation
The Guardian: Helicopter powered by man on bicycle wins $250,000 prize 
The Huffington Post: Aerovelo, University of Toronto team, Win Human Powered Helicopter Flight Competition 
The New York Times: A Human-Powered Helicopter Wins Sikorsky Prize
Popular Mechanics: Finally! A Human-Powered Helicopter Wins the $250,000 Sikorsky Prize
The Toronto Star: Human-powered helicopter created by Toronto team wins $250,000 prize