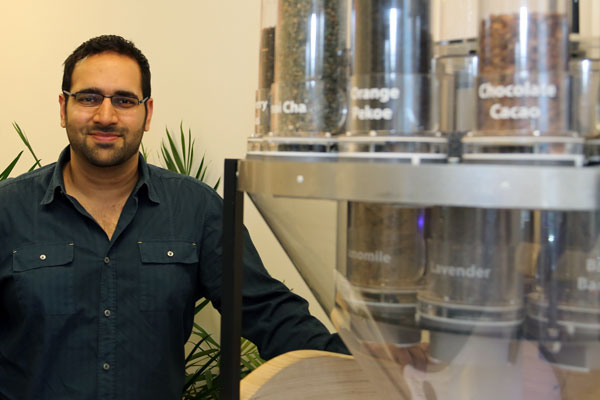 Last week, teaBOT — a U of T Engineering startup which sells robot-blended, customized cups of loose-leaf tea — opened its newest location in the very first 365 by Whole Foods Market™ store in Los Angeles. There are now six teaBOTs in operation across North America, and the company has yet to celebrate its third birthday.
teaBOT was co-founded by Rehman Merali, a PhD student at the University of Toronto Institute for Aerospace Studies (UTIAS), and his high-school friend Brian Lee. Lee's mother owns a tea shop in Sudbury, where the line is often out the door. "His poor mom couldn't make tea fast enough," says Merali. "One day, Brian and I were having sushi and he said, 'Rehman, you're a robotics guy, can't you just build a machine that will make a cup of tea faster?'"
As a graduate student studying under Professor Tim Barfoot (UTIAS), Merali had designed algorithms to help mobile robots drive themselves using visual sensors, like the cameras found in smartphones. He also served as a mentor for the University of Toronto Robotics Association, supervising teams of undergraduates as they designed and built entries for international robotics competitions.
While his robotics credentials were solid, Merali didn't know much about tea, so he visited Lee's mother's store. There, he learned that the top ten blends — accounting for 80 per cent of her business — were composed of only a few ingredients each. "We realized that if we could just dispense the right amounts of these different ingredients, we could make personalized cups of tea," says Merali. "Now we had a product that didn't exist on the market: you can't go into an ordinary café and order 30 per cent peppermint and 40 per cent rooibos or whatever you want."
Today the teaBOT holds 18 types of tea leaves and blends, up to three of which can be combined in any proportion for a given cup. Through a touch-screen interface or from a mobile phone app, the user can specify his or her personalized blend, as well as the desired water temperature, and pay with a credit card. In Toronto, teaBOTs are located in U of T's Gerstein library, the MaRS building and on the campus of York University.
Merali says that the hardest part was designing a dispensing mechanism that could handle the unique properties of loose-leaf tea. "It's very delicate, and there are different granularities and sizes. The difference between a rooibos and an oolong is like night and day," he says. "It would have been so much easier if we could grind it up like coffee, but customers are paying for loose-leaf tea, so we had to deliver that experience."
teaBOT received support from a number of business accelerators that are part of the rich ecosystem at U of T and beyond, including the Creative Destruction Lab, JOLT at MaRS and Start@UTIAS. Founded by a $1-million donation from entrepreneur and alumnus Francis Shen (MASc UTIAS 8T3), Start@UTIAS helps graduate students leverage the knowledge and skills they have gained through their education to create business startups.
"Francis Shen did a really good job of guiding us, and he brought in phenomenal speakers to tell us about different aspects of the business such as hiring, incorporating and marketing," says Merali. "He worked with us on our pitch, and helped us with fundraising, literally putting us in front of investors. That was hugely helpful."
The company has two separate business models: retail and office. The retail model involves installing a teaBOT in a public space such as a library, a shopping mall or a hotel lobby. "It's based on a shared revenue model: it costs the user nothing to install, and we write them a cheque each month based on the number of cups sold," says Merali. "That makes it a really easy pitch." In the office model, a company leases the machine and pays for refills of the tea cartridges, but the finished cups are available for free to all employees.
On May 25, Merali attended the launch of the first 365 by Whole Foods Market™ store in Silver Lake, a neighbourhood of Los Angeles. "Whole Foods only selected three or four 'Friends of 365' and we're really happy that teaBOT was one of them," says Merali. The partnership means that teaBOT will be in even more stores by the end of the year.
"We're building machines as fast as we can," he says. "We're super-excited to bring this new form of retail to the tea industry."