For Jiaxin (Jansin) Cai (IndE 1T7), a summer exchange in Beijing, China is more than just extra credit: it's a chance to experience his home in a whole new way.
Cai – an industrial engineering undergraduate at U of T– is one of six Engineering students to participate in this year's Global Educational Exchange (Globex). With courses running from July 7 – 26 at China's Peking University (PKU), the program encourages student exchanges and research collaboration between PKU and 21 engineering schools from around the world.
"I have never experienced higher education in China," said Cai. "One of the reasons why I came to Canada for study was to learn more about a different culture. Similarly, even though China is my home country, I have never been to Beijing where the enriched Chinese culture originates."
The University of Toronto, through the Department of Mechanical & Industrial Engineering (MIE), joined Globex last year as the program's first Canadian partner.
Professor Kamran Behdinan (MIE), NSERC Chair in Multidisciplinary Engineering Design, is teaching a course in this year's exchange, Applied Finite Element Technology, to 34 students from countries including Australia, China, Japan and the United States.
"Globex is a remarkable opportunity for students to collaborate in an international classroom, in a truly international setting," said Behdinan. "It's also a chance for us to share a part of our program curriculum with global learners."
Another Globex student, Jiaxin Fan (MechE 1T7), is participating in a course called China's Economy: Technology, Growth and Global Connections, taught by Professor Susan Mays of the Center for East Asian Studies at the University of Texas at Austin.
In addition to her courses, Fan is planning to soak up Chinese culture – especially the food – while in Beijing, including a visit to the iconic "Bird's Nest" Beijing National Stadium.
"I applied to the Globex because I'm interested in traveling around the world," Fan said. "Globex [is] an excellent opportunity for me to broaden my horizons."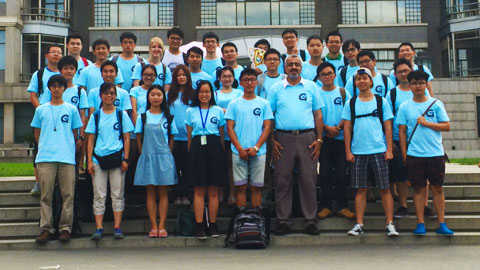 Occurring annually, Globex is designed to deepen partnerships between institutions by offering a framework for exceptional students and faculty to attain a global educational, research and professional experience. The 21 other partner universities this year include the University of Cambridge, Hong Kong University of Science & Technology, University of Melbourne and Yokohama National University.
The deadline for applications is typically in March each year. More information can be found on the MIE website.