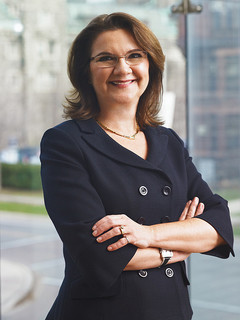 It is my great pleasure to welcome you to the 2012 – 2013 academic year at the Faculty of Applied Science & Engineering. As we start this academic year, we look forward to the next few months with a renewed and energized vision that is focused on the boundless opportunities ahead.
The Faculty, the engineering profession and the world are at a pivotal time. You could not be better situated to make a difference in the world with the choice of profession you have made.
We welcome all 1,405 undergraduate and 619 graduate students who are joining U of T Engineering. Only one out of thirteen undergraduate applicants got a place in our Faculty. Together, this first-year cohort has an Ontario Secondary School (OSS) System grade average of 91.3% – the highest in U of T Engineering's history.
You come from 52 countries, representing all continents and from eight Canadian provinces, and 26% of you join us from countries around the world. This diversity of our students – within Canada, and from nations around the world – contributes to our remarkable multiculturalism and global outlook.
Diversity is also reflected through our new female students, who make up 25.7% of our incoming undergraduate class – a result of our ongoing effort to improve gender balance.
It is evident through the calibre of our incoming students that we have attracted the best to be among us and that we continue to offer the finest engineering education in Canada and among the best in the world.
We live in a world that is looking to engineers to overcome challenges of sustainability, energy, health and the environment. And, we can meet those challenges through the innovation, entrepreneurship and collaboration that has become a signature of Engineering at the University of Toronto.
As members of our thriving community, new and returning students, faculty and staff will work together in this new academic year to enhance our reputation by pushing our education, research and innovation to new heights. As we step into this new term, let us move boldly towards our boundless future and achieve our potential as one of the finest engineering schools in the world.
Best wishes and welcome
Cristina Amon, Dean
Faculty of Applied Science & Engineering