Each year, hundreds of top students from around the world choose to study at U of T Engineering. International applications have increased by more than 40 per cent over the last three years, and international students now make up more than a quarter of the undergraduate population.
This growing interest reflects both the Faculty's global reputation and the many opportunities afforded to U of T Engineering students, both before and after graduation. In addition to the work-integrated learning offered through U of T Engineering's Professional Experience Year Co-op (PEY Co-op) program, international students can work up to three years in Canada after completing their degrees.
Three international undergraduates recently shared their thoughts on choosing U of T Engineering, their student experience so far, and their engineering career aspirations.
---
Deniz Nalbantoglu — Turkey
When Nalbantoglu (Year 2 IndE) finished high school in Istanbul, she says she had two options: study in Canada or the United States.
Nalbantoglu says she chose Canada because she felt the country was more open and welcoming towards international students. She chose to study at U of T Engineering because of its global reputation and ranking.
Now in her second year, Nalbantoglu says today she has two homes. "Home for me is where my family is and that's why Turkey – Istanbul – is home, but Toronto is my second home since I have a different kind of family here, with my friends," says Nalbantoglu.
Industrial engineering has been a great fit for Nalbantoglu, who loves the program's emphasis on productivity and efficiency, and says the field offers many opportunities, including in management.
"I didn't want to limit myself – and in industrial engineering there is no limit," she says. "I don't want to sit in an office all day and work with numbers. Industrial engineering is something that would allow me to use my social skills."
U of T Engineering has challenged her, and helped her grow, she says. "I believe U of T made me more independent and boosted my self-confidence."
This profile originally appeared on U of T News.
Kaushal Binani — India
For Binani (Year 3 ChemE), as with Nalbantoglu, Canada's reputation as a welcoming and diverse country was also a major factor.
What ultimately swayed him was "considering international reputation, campus location, and post-graduation career prospects," says Binani, who is originally from Mumbai. "U of T Engineering checked off all of those boxes."
Binani says he's especially enjoyed his interactions with his course professors. "I quickly realized that even a short conversation with a professor can teach me things no textbook can," he says.
As an international student, Binani acknowledges that his academic journey has had challenges, including adjusting to living in a new country and balancing studies and personal time — but says it's led to personal and professional growth.
"I strongly believe that studying and living in Toronto has made me a more responsible and independent person," he says. "I've also gotten so much exposure to different cultures, which has helped me gain a broader worldview."
Over the last three years, Binani has immersed himself in business and finance courses in pursuit of an Engineering Business certificate, as he hopes to use these competencies to one day start his own chemical manufacturing company.
"I feel academically equipped and ready to start my career and solve future business problems," he says.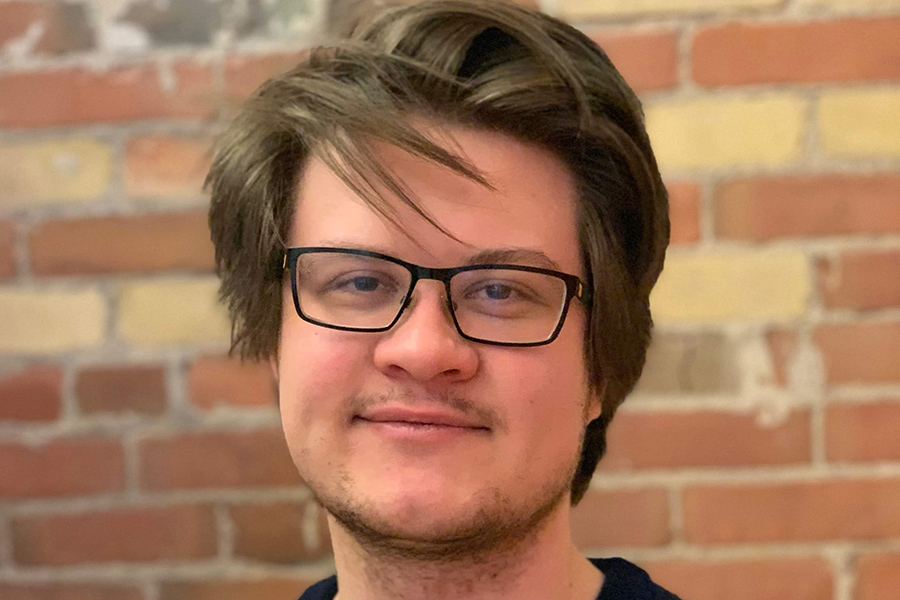 Oskar Rudolf Emanuel Andersson — Sweden
Although higher education in Sweden is free for students from European Union countries, Andersson (Year 2 CivE) sought to study engineering at U of T because of its reputation as a top engineering school.
"So far, it's been great," he says. "Engineering is challenging, but there is a supportive student community that alleviates it a little bit."
Andersson says settling into life in Canada was easier than he expected, "thanks to the large international community that understands what it's like to start a new life in a new country, and are willing to help you," he says.
As he gets set for final exams, capping off his second year, he is already planning his future goals — a career in structural engineering — and how to leverage the opportunities available at U of T Engineering, including the PEY Co-op program, which he hopes to enter in his fourth year.
"A lot of my courses have already encouraged learning in a practical way, making us think of how to apply theoretical concepts to real-life problems," he says. "The PEY Co-op program will further this learning and help me gain the real-world experience I need to succeed once I graduate."
Andersson's advice to international students considering U of T Engineering: "It gets easier once you get used to your studies and get to know the city and its people better. The experience is worth it."