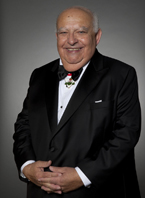 Adel S. Sedra, professor and former chair of The Edward S. Rogers Sr. Department of Electrical & Computer Engineering, has been appointed to the Order of Ontario for 2013. The appointees were announced January 23 and invested by the Honourable David C. Onley, Lieutenant Governor of Ontario, at a ceremony at Queen's Park.
Professor Sedra was selected for his distinguished engineering career as scholar and professor, as well as a leader in university administration. His seminal work has resulted in major developments in fields ranging from medical technology to wireless communications. With Professor K.C. Smith, Professor Sedra co-authored Microelectronic Circuits, the best-selling engineering textbook in history.
Created in 1986, the Order of Ontario, the province's highest official honour, recognizes the highest level of individual excellence and achievement in any field. Professor Sedra is one of eight members of the University of Toronto community to be appointed in 2013. Also appointed were journalist Steve Paikin, film director David Cronenberg, lawyer and rights activist Avvy Yao Yao Go and pediatric neurosurgeon James Rutka, among other luminaries.
"Our province is richer for the contributions of these distinguished individuals," said the Honourable David C. Onley, Lieutenant Governor of Ontario. "Through drive and determination they have pushed boundaries and serve as truly outstanding examples for all Ontarians."
Professor Sedra received a B.Sc. degree from Cairo University, Egypt, in 1964, and his M.A.Sc. and Ph.D. degrees from the University of Toronto in 1968 and 1969 respectively; all in electrical engineering. He joined the faculty of the University of Toronto in 1969, rising to the rank of Professor in 1978. He served as chair of ECE from 1986-1993, and assumed the position of Vice-President, Provost, and Chief Academic Officer of the University of Toronto in 1993, a position he held until 2002. He joined University of Waterloo in 2003 as Dean of the Faculty of Engineering and a professor of Electrical and Computer Engineering.
Professor Sedra returned to University of Toronto earlier this month to deliver a Distinguished Lecture on his vision for the future of universities.