U of T Engineering's self-driving vehicle team, aUToronto, has taken the top spot overall in the first competition of the four-year AutoDrive Challenge™ II.
The achievement continues an impressive winning streak for the team, which consistently placed first throughout the original four-year AutoDrive Challenge. AutoDrive Challenge™ II expanded on the concept by adding more teams and more sophisticated tasks to the intercollegiate competition.
"This year was a fresh new start for us," says Frank (Chude) Qian (UTIAS MASc candidate), team principal for aUToronto. "We have a very young team, with nearly 90% of the students new to the competition."
Approximately 85% of these students are undergraduates from across U of T Engineering's departments and divisions. The remainder are graduate students or undergraduates from other parts of U of T, such as the Department of Computer Science.
A total of ten institutions from across North America sent teams to AutoDrive Challenge™ II. From June 6-10, they assembled at Mcity in Ann Arbor, Mich., a unique purpose-built proving ground for testing the performance and safety of connected and automated vehicles.
"This is the first year of the second round of the AutoDrive competition, so the team was required to design, build and code everything from scratch," says Professor Steven Waslander (UTIAS), who advises the team along with fellow UTIAS professors Tim Barfoot, Jonathan Kelly and Angela Schoellig.
"It was a monumental effort and one that shows the true depth of talent and dedication of all the members of this amazing group of students."
In the first phase of the four-year competition, the teams were using what are known as perception carts.
"We use these to validate the design of our perception system, which we will incorporate onto a real vehicle for next year's competition," says Qian. "Our brand-new sensor suite is based on a new solid-state LiDAR modality."
LiDAR is a sensing technology that works in a similar way to radar, except that it uses laser light instead of sound. It is a key component of the sensor suite — which also includes traditional radar and visual cameras similar to those found in smartphones — that enables a self-driving vehicle to build up a 3D representation of its surroundings.
In addition to being declared the overall winner, the U of T Engineering team received top marks in a wide range of categories, including the concept design event, the traffic light challenge and mobility innovation.
One of the most dramatic parts of the competition was the dynamic object detection challenge, during which the cart had to detect and avoid a mannequin of a deer.
"In the final testing session, the team realized their segmentation code was failing due to a change to the deer mannequin being used," says Waslander.
"Having planned for just such an event, they immediately switched to high gear. They took and labelled over 2,000 images of the new deer, then spent the whole night training and tweaking a brand-new detector. It worked brilliantly in competition then next day, securing first place."
Though the competition was tough and the prize was hard-won, Qian says he is very proud of all that the team has accomplished.
"This year with so many newer members, training became very important," he says.
"We also lost some precious development time due to challenges associated with COVID-19. I cannot give enough credit to the aUToronto flight team members who really took one for the team and pulled through together."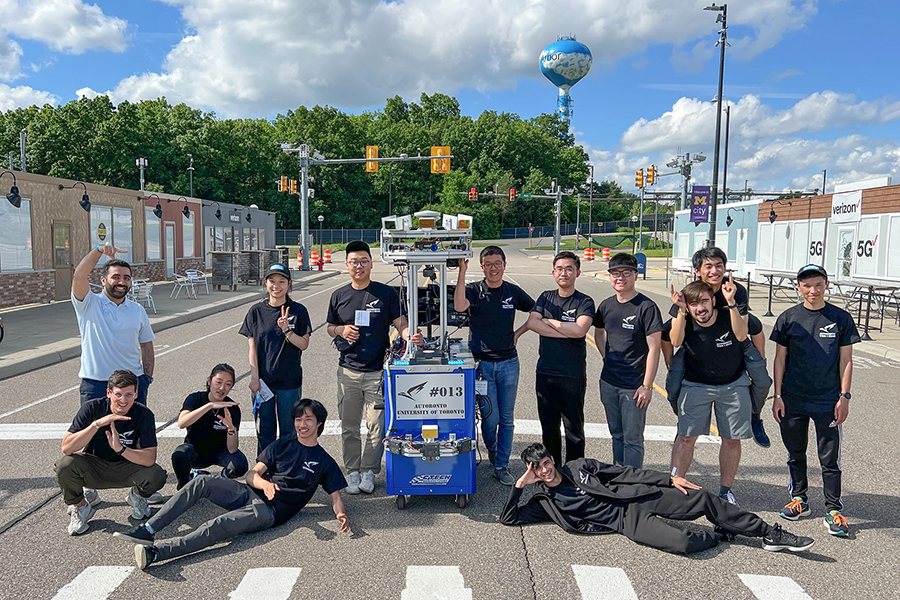 aUToronto wishes to acknowledge the valued contributions of team members who could not be present for the photos above, including Justin Bauer, Amy Chen, Martin Ffrench, Sandro Papais, JingXing (Joe) Qian, Krishna Sundaravaradhan, Matthew Teichman, Barney Wei and all the team members from aUToronto R2Y1.