In February, U of T Engineering students in MSE398: Materials Manufacturing and Design Laboratory received a package in the mail. Inside was a lab kit, with components — mechanical parts, electrical components, a printed circuit board (PCB), and tools — to build an at-home mini mechanical tester machine for their labs.
"You assemble the pieces like IKEA furniture," says teaching assistant Crystal Liu (MIE 1T8 + PEY, MSE MASc candidate).
To keep remote learning engaging and hands-on during the pandemic, U of T Engineering instructors have gotten creative to adapt their teaching and lab exercises. For Liu and course instructor Professor Scott Ramsay (MSE) it was paramount that third-year materials science engineering students still had an opportunity to gain experience performing hands-on work.
"Last spring, Professor Ramsay and I talked about the term ahead — we knew the pandemic was far from being over in a year's time. We both agreed that we couldn't have students doing just simulations, it's just not the same as a hands-on experience," says Liu. "So, we decided to send them something."
Liu began designing a lab kit for the course and decided to make the design freely available online to benefit others. Through the summer, she sourced materials and components. For custom designed parts, she worked with staff at the Myhal Centre's Fabrication Facility to 3D print and laser cut them.
By the Fall term Liu had the materials to package 50 lab kits, and by the Winter term, she had mailed them to students as far away as Dubai, China and Turkey. For those in Toronto, Liu safely delivered them to students' homes or arranged for them to be picked up.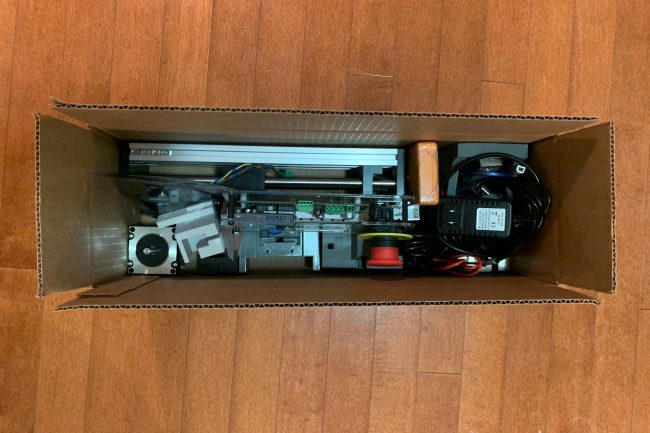 The course's first assignment is to build it. Once fully assembled, the mechanical tester is the size of a shoe box. It comes complete with a custom-designed PCB, user interface, and all firmware, as well as safety features such as a shield that must be installed for the machine to run, and a large emergency-stop button.
For their second assignment, students were provided with a bag of material samples to analyze. "These include 3D printed samples, ranging from very brittle to very stretchy, and items you can find in daily life, like tapes and plastic bags," explains Liu.
Once students insert the sample, the machine stretches it, measuring the force being applied, as well as the displacement, or how far the sample has been stretched. The user interface shows the force-versus-displacement curve while the data is saved in real time. Students then use this to study the material's properties and how the data is generated.
Here's a sneak peek of the open source remote learning kit for every @uoftengineering student taking MSE398 with @DrScottRamsay this winter – the Miniature Mechanical Testing Kit (MMTK). [1/3]#OSH #uoftengineering #materialscience #engineeringdesign pic.twitter.com/i06SiOMDjk

— Crystal Liu (@CrystalMeow314) December 18, 2020
The students' final assignment required them to find an adhesive seam to peel, such as the ones at the top of a bag of chips, to conduct their own peel-force test using the machine.
"They go from learning how to perform a tensile test that is already designed for them, to then having to apply what they learned in order to conduct their own experiment procedure from scratch," says Liu. "What they're learning and how they go about it, is as close as you can get to what it would be like if they were operating equipment on campus."
Liu and Ramsay have received positive feedback from students. "They like how hands-on it has been and really appreciated the amount of time and effort we put into the course," she says.
Liu's experience designing the lab kit is helping to inform her master's project on designing and implementing open-source hardware in engineering research. The kits were partially funded by Ramsay's Hart Teaching Innovation Professorship.
"Crystal has worked exceptionally hard on this project and it is impressive that she was able to put this together for our students," says Ramsay. "The hands-on experience is one of the most important aspects of this course — I'm so pleased that we've been able to give the students some of that experience in the remote environment."
After the term wraps up in a few weeks, Liu plans to turn her research, including two mechanical testers, into a startup with the support of U of T Engineering's Entrepreneurship Hatchery.
"I believe students learn better by building and playing, so this type of device could be beneficial to students at other universities, they could even be used in high school science labs," says Liu. "However, not everyone can go from freely available design plans to components and to a product. So, through a startup, I'm hoping to make these designs even more accessible to others."