It would be hard to find a university student these days who isn't glued to their smartphone screen – whether outside or inside the classroom.
As tech blog ReadWrite explains, "The modern classroom is alive with the clicking of laptops and tapping of smartphones, and it'd be naive to think their owners are just dutifully taking notes."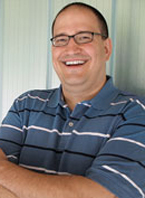 Enter a new breed of educational apps that aim to re-engage students via the smartphones that distract them. One such app is Top Hat, which is being used by Lecturer Jason Bazylak, who teaches one of the largest mechanical engineering courses at U of T Engineering.
To make participation less intimidating, he requires his students to use the app, which allows him to text the class multiple-choice questions that they can answer on their phones. If 96 per cent or more of the class gets it right, he moves on to the next topic. If they don't, he continues on the same topic until he's certain the class has grasped it.
"It takes a lot of courage to raise your hand and shout out questions in a group that big," said Bazylak about his class of more than 1,000 students. "I wanted to support the quiet students who might not speak up otherwise."
This June, Bazylak will attend the Canadian Engineering Education Convention to present a paper on his use of the new app.
To learn more, check out the ReadWrite article.