When Canadian astronaut David Saint-Jacques is on the International Space Station this winter supporting one of his first spacewalks, Canadian space roboticist Kristen Facciol (EngSci 0T9) will likely be at the controls.
The U of T Engineering alumna has just become the 14th Canadian to earn a CSA/NASA Robotics Flight Controller Certification, putting her in charge of timeline management, procedure development, and overall situational awareness for the robotics systems onboard the ISS during real-time operations.
"Of the 14 Canadian flight controllers, five of us are U of T Engineering grads, which I think is amazing," says Facciol. "What was really cool to me was that we now have 14 Canadian astronauts and 14 Canadian flight controllers, so that similarity just shows you what an honour it is to be a part of this group."
Facciol is currently an operations engineer with the Canadian Space Agency's Mission Control Group and is currently stationed at NASA's Johnson Space Center in Houston, Texas. Next year she will return to the CSA to support operations from the control centre in Saint-Hubert, Que. She launched her career with MDA (now Maxar Technologies), the company that designed and built the world-famous Canadarm, which provided the initial opportunity to work with the CSA. "That was when I learned about the flight controller position," she recalls. "It was the first time I realized there were actually Canadians controlling Canadian hardware in a Canadian facility, and that was completely surreal. And then I set my eyes on that career goal."
The certification is the culmination of a year-long training process, involving self-study, classes within the robotics group and with other NASA teams, 'knowledge review' sessions that resemble a verbal thesis defence, and ultimately, a series of six to 10 simulations of varying complexity. Facciol's final simulation was a spacewalk with a crewmember on the end of the Canadarm2, in which she had to effectively work with other teams to negotiate and resolve a series of failures or anomalies introduced into the scenario in real-time.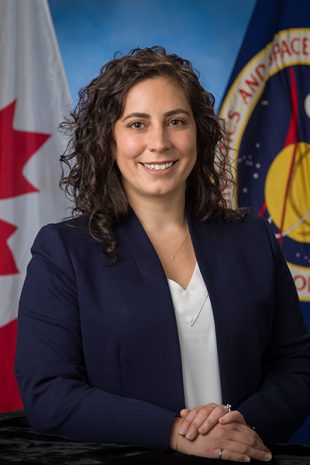 The intense experience demands a balance of strong technical knowledge and what NASA calls the seven Foundations of Flight Operations: competence, confidence, discipline, responsibility, teamwork, toughness and vigilance. It's a combination Facciol says her education in Engineering Science prepared her well for.
"It really teaches you to work in a multidisciplinary environment, to work with people from different backgrounds and different strengths, and to be able to manage an overwhelming number of things," she says. "I couldn't have done it without U of T Engineering as a background."
In addition to acting in her new role as Mobile Servicing System – Task Officer for the upcoming spacewalk Saint-Jacques will support, Facciol has been assigned to three other missions scheduled for Fall 2018 and Winter 2019: receiving a new set of batteries from a Japanese cargo vehicle for installation on the ISS, designing the procedures for a robotics refuelling mission demonstration, and supporting a SpaceX commercial resupply mission with their Dragon vehicle.
For Facciol, having a front row seat to space is awe-inspiring. "To walk through buildings and cross paths with astronauts and people who have had such a huge influence on human spaceflight . . . it's almost like this dream world that you knew existed but never thought you could be a part of. I still pinch myself every day."