National Engineering Month (NEM) is the biggest national celebration of engineering and technology, in which volunteers in each province and territory stage events and activities designed to increase public awareness of engineers and engineering technology and to encourage young people to consider careers in these fields. Across Canada, NEM is celebrated through the month of March.
For a second year, the theme is Design the Future. We at U of T Engineering can be proud of how we're designing the future. On this page, we share some of the boundless innovations of our students, faculty and alumni. We also highlight our many forward-thinking educational programs and centres, along with our NEM activities. We hope you'll join us in discovering Engineering at U of T — in all its wondrous facets.
Our Events
Ten Engineering student societies, including U of T's Engineering Society, will work together to connect one of the world's largest Rube Goldberg machines, in sequence, via the Internet. Finally, the machine will light the entire CN Tower purple on March 7 at 6:30 pm. Stop by the Sandford Fleming building "pit" to see U of T Engineering's Rube Goldberg design.
The U of T Engineering Society will invite local students from Grades 3 through 8 to join in an afternoon of design challenges in the annual Hi-Skule™ Annual Designapolooza on March 11
In celebration of National Engineering Month, U of T's Engineers Without Borders chapter is hosting a number of exciting events. This includes a panel discussion on Corporate Social Responsibility in Mining on March 8, an Industry Lunch n' Learn on March 13, as well as a Debate Competition on March 31.
Our People
A trip to Gambia changed the course of PhD student Bev Bradley's (ChemE, Global Engineering) research career. There, Bradley saw firsthand the need for a reliable supply of medical oxygen in a low-resource country. For her PhD thesis, she is faced with an extremely complex challenge. To create technology that provides hospitals in developing countries with accessible and efficient medical oxygen, she must consider a country's unreliable power system and its ability – or lack thereof – to transport equipment and maintain supplies. She and her team are, in turn, developing a battery-powered version of an oxygen-generating machine, which can last up to 20 hours without power.
---
The team behind a patented and portable lab-on-a-chip. From left, back to front: Professor Stewart Aitchison (ECE), Vice-Dean, Research, James Dou, Rakesh Nayyar; and Lino DeFacendis and Kurtis Scissons of the Innovations & Partnerships Office (IPO).
When PhD candidate James Dou (ECE) was a Master's student, he couldn't have imagined that exploring lab-on-a-chip technology would lead him to addressing a dire need in developing countries. Under the guidance of Professor Stewart Aitchison (ECE), Vice-Dean, Research, he developed an affordable and efficient lab-on-a-chip for HIV monitoring in developing countries. Today's HIV blood-testing devices, called a flow cytometer, can cost up to $100,000. Dou's patented lab-on-a-chip costs $5,000 to $10,000, and provides results in mere minutes. ECE post-doctoral fellow Dr. Lu Chen, who is working with the team, was awarded a Grand Challenges Canada grant for the group's project.
---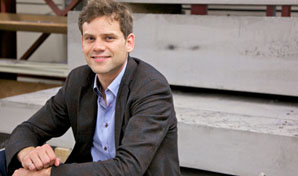 It was an earth-moving idea that won recent Civil Engineering graduate Michael Montgomery (CivE, PhD 1T1) the NSERC Innovation Challenge Award in October. Or rather, it was the novel approach to keeping buildings structurally sound after the earth moves that was key. Montgomery was recognized for his proposal to commercialize the research conducted during his graduate studies into a new product for the marketplace. Montgomery has established a new company — Kinetica Dynamics — along with his graduate supervisor, Professor Constantin Christopoulos. Tall buildings will naturally sway throughout the day because of wind or because of movements in the earth. However, taller buildings amplify these movements. This becomes all the more important in the event of an earthquake. The team's solution is to replace some of the building's coupling beams, which are common features that connect structural elements of the building, with their Wind-Earthquake Coupling Damper. "This is what we call game-changing technology," exclaims Professor Christopoulos, who notes that it is not just important for earthquake-prone zones, but is needed for any new high-rise construction.
---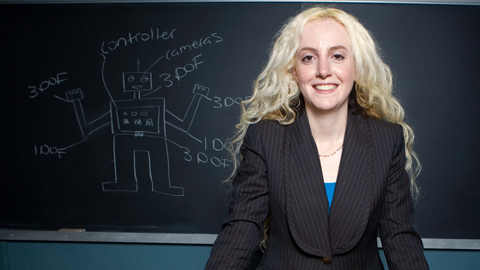 "We had to reverse-engineer a person, mentally as well as physically," said Professor Goldie Nejat of her socially interactive robot, Brian.
Professor Goldie Nejat of Mechanical & Industrial Engineering (MIE) specializes in autonomous systems, robotics and mechatronics, and her research has the potential to significantly alter senior care. Her prototype, Brian, a highly intelligent and interactive robot designed to assist the elderly in long-term care, is being developed in cooperation with the Baycrest Centre and the Toronto Rehabilitation Institute. She is also developing search-and-rescue robots for use in disaster areas.
---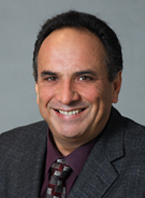 "By changing the internal structure of engines' materials, we can potentially increase performance and durability, and decrease overhaul and repair costs," Gino Palumbo has said of his company, Integran Technologies, which has won major research and development contracts from the US Air Force and NASA.
When it comes to nanotechnology research, Gino Palumbo (MMS 8T3, MASc 8T5, PhD 8T9) has a simple philosophy: the crazier the better. The President and co-founder of Integran Technologies Inc. has valuable experience to back his thinking; the self-described "pie-in-the-sky" research he completed during his PhD studies at U of T Engineering translated into several major R&D contracts with the United States Air Force and NASA. In 2007 his company, Integran, was recognized as Innovative Business of the Year by the Canadian Manufacturers & Exporters Association, an honour Palumbo credits in large part to his alma mater.
---
Less than a decade since his graduation from Lassonde Mineral Engineering in 2004, Donovan Pollitt is running a gold-mining company and mentoring mining engineering students.
Just a few years out from the Lassonde Mineral Engineering program, Donovan Pollitt (MIN 0T4) found his niche on the Board of Directors — as VP Corporate Development — at Wesdome, a Canadian gold-mining company. And following a successful campaign of mergers, financings and increased market visibility for the company, Pollitt grabbed the brass ring of the company, becoming President and CEO in early 2010. Donovan is one of the youngest winners of U of T's Arbor Awards, and has personally mentored several of Lassonde's competitors in last year's Canadian Mining Games.
---
U of T Engineering made history when the "Snowbird" ornithopter became the first human-powered aircraft with flapping wings to achieve sustained flight on August 2, 2010. Its team included UTIAS graduate students Todd Reichert (EngSci 0T5, PhD candidate), who was pilot, lead developer and project manager, and Cameron Robertson (MASc 0T9), the chief structural engineer. Professor Emeritus James D. DeLaurier (UTIAS), who himself developed an engine-powered ornithopter, served as faculty advisor. Reichert is also a member of  U of T's Human-Powered Vehicle Team, which placed third overall at the 2011 World Human-Powered Speed Challenge, held in Battle Mountain, Nevada, this Fall. The competition took place on a flat and almost perfectly straight eight-kilometre stretch of highway in the Nevada desert. The U of T team had a top speed of 117 km/h, which was a personal best for Reichert, who spent the last year cycling and speed skating, working with the Peak Centre for Human Performance, in Ottawa. He now boasts the title of ninth fastest human of all time.
---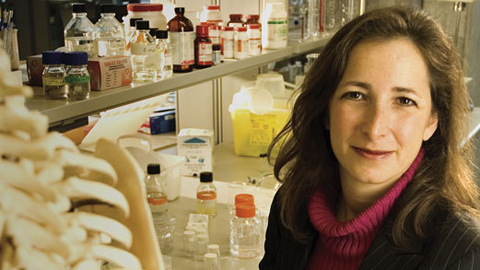 Chemical and Biomedical Engineering Professor Molly Shoichet designs strategies and materials to help the body heal itself after traumatic injury, in particular to the brain and spinal cord, and has founded two spin-off companies from research in her laboratory. Her research team recently developed a new method for creating 3D hydrogel scaffolds that will aid in the development of new tissue and organs grown in a lab. The discovery is outlined in the latest issue of Nature Materials. In recognition of her world-renowned research into regenerative medicine, she was inducted into the Order of Ontario – the province's highest honour. In January, she was honoured with the Clemson Award for Contributions to Literature from the Society for Biomaterials. Professor Shoichet was also elected a Fellow of the American Association for the Advancement of Science in 2011, and a Fellow of the Royal Society of Canada in 2008.
---
Yu Sun holds the Canada Research Chair in Micro- and Nano-Engineering Systems. His innovative work will change the way cells are physically manipulated and characterized in medical applications such as IVF and rare cell isolation.
In February, Professor Yu Sun (MIE), the Canada Research Chair in Micro- and Nano-Engineering Systems, was one of eight professors to receive NSERC's Strategic Project Grants (SPG). SPG is designed to enhance Canada's economy, society and environment in the next 10 years. Professor Sun's research looks at characterizing electrical and mechanical properties of nanomaterials to construct high-performance devices. Last March, he was among nine professors who were named "Inventor of the Year" by U of T.
---
The Virtual Music Instrument, a specialized software program Eric Wan (ECE 1T0) helped to develop, is among several projects the computer engineering graduate has been involved with that aims to help children with disabilities. Unlike many of his peers, Wan has a true understanding of the importance and need for such technologies to assist youngsters with disabilities. At age 18, he was diagnosed with transverse myelitis — a condition resulting from inflammation of the spinal cord — four days after getting a measles vaccination. During his studies at U of T Engineering, Wan met Professor Tom Chau (IBBME), Vice President of Research, and Director of the Bloorview Research Institute at the Holland Bloorview Kids Rehabilitation Hospital (effective April). Chau himself was named one of Canada's 25 Transformational Canadians by The Globe and Mail in 2010.
---
"The engineering background gave me the confidence to do it," Hana Zalzal has said of her undergraduate education and her company of best-selling cosmetics.
Hana Zalzal (CivE 8T8) started Cargo Cosmetics Corp. from her home in North York, Ont. in 1995. Since then her products have found their way into the official Oscar gift bag, and onto the red carpet on the faces of movie stars such as Helen Hunt and Drew Barrymore. Zalzal credits her civil engineering degree as laying the groundwork for her career and academic success, which includes an MBA from York University in Toronto.
---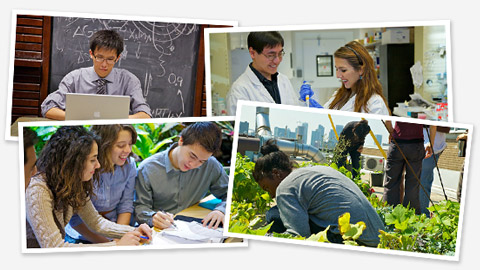 Our Programs
At U of T Engineering, we're constantly renewing our educational offerings. Creating new minors and certificates support our curriculum innovation, provides our students with choices and meets the needs of industry and the engineering profession.
This September, we launched an undergraduate minor in Robotics and Mechatronics, as well as a Clinical Engineering concentration in the IBBME PhD program.
Our innovative existing programs include our unique Engineering Business minor (directed by ECE professor and entrepreneur Jonathan Rose), along with our Engineering Business and Global Engineering certificate programs, as well as our Engineering Mathematics, Statistics and Finance major  for Engineering Science students. We also offer the more established Certificate in Entrepreneurship.
In addition to our four graduate degrees, the Faculty also offers certificates that can take graduate students even further. This includes ELITE, Engineering and Globalization, as well as Robotics and Mechatronics. What's more, U of T Engineering offers the Master of Engineering (MEng) degree, which is designed for working engineers looking to upgrade their skills for professional practice. The MEng continues to expand, and is a perfect mix of technical, leadership and business skills to give you an advantage for a leading-edge engineering career.
Our innovative Institutes and Centres include the new Institute for Multidisciplinary Design and Innovation (UT-IMDI), as well as BioZone, the Lassonde Institute of Mining and the Centre for Global Engineering, among many others.
The graphics banner at the top of this page has been designed using Shape Collage, the innovative digital media software developed by PhD candidate Vincent Cheung (ECE). Shape Collage is a digital media software company, whose products have now been downloaded more than five million times. Cheung has been recognized as Global Graduate Student Entrepreneur of the Year in the 2010 Global Student Entrepreneur Awards, and student entrepreneur champion at the 2010 Student Entrepreneur National Competition.