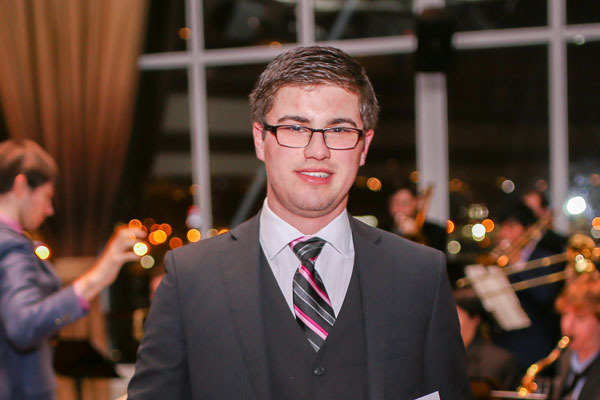 Women in leadership, the impact of engineering on the world and Skule™ spirit were the themes that took top prizes in the Godiva's Hymn contest held by U of T's Engineering Society. The winners were announced on Saturday at Cannonball, one of the annual semi-formal dinners hosted by Skule™ each year.
Tania Albarghouthi (Year 3 ECE) wrote the winning verse. She received a $500 prize and will see her lyrics inscribed on the walls of the Sandford Fleming Atrium, affectionately known as The Pit.
"One of the goals of the contest was to modernize Godiva's Hymn so it reflects the diversity, culture and values of the modern engineering community," said Albarghouthi. "I wanted to add a verse that touches upon the growing number of female engineering students at U of T and encourages women in engineering to take action and become leaders."
Godiva's Hymn is a tradition in most engineering schools in the English-speaking world. The contest aimed to create verses that better convey the diversity and vibrancy of engineering community in the 21st century.
"Traditions do not — and should not — stay frozen in time," said Professor Thomas Coyle, vice-dean of undergraduate studies at U of T engineering. "The best traditions are living things that are renewed and enriched each time they are observed. Our traditions should also tell the world who we are and who we aspire to be."
"Godiva's Hymn should showcase all the amazing aspects of the culture of engineering that make this a remarkable profession," said Engineering Society president Ernesto Diaz Lozano Patiño (Year 4 CivE). "Engineering is about leadership, innovation, entrepreneurship, social conscience, diversity and philanthropy. I am proud to be a part of this culture."
See below for the winning verse, as well as first and second runners-up:
Winner:
I came across a girl whose skin was glazed in purple hue,
Her aura proud, her spirit loud, her words were strong and true;
She led a group of hundreds who were chanting far and near,
And in my mind, I had no doubt – she led the engineers!
– Tania Albarghouthi, Year 3 ECE
First runner-up:
At U of T we have the best and brightest minds there are
We come from every walk of life, we come from near and far
To make the world a better place, that's why we all came here
We have the power to change the world, cause WE ARE ENGINEERS!
– Trevor Gauthier, Year 3 MechE
Second runner-up:
Students from around the world head to U of T,
to join the group of engineers at S K U L E;
They came for academics but soon learned there's so much more,
So come on down to U of T and hear the Cannon roar!
– Sandra Hektor, MinE 1T4 + PEY and Hollis Milroy, Year 4 EngSci