At Spring Convocation on June 13, 2017, more than 1,800 U of T Engineering students will mark both the end of one journey and the beginning of another. Having enriched the U of T Engineering community as undergraduate and graduate students, they will transition into our vibrant, global network of Skule™ Alumni, where they will continue to address pressing challenges around the world.
This year's 14 "Grads to Watch" embody the spirit of U of T Engineering. Selected by their home departments and institutes, they demonstrate the engineering values of creativity, innovation and global impact. Watch their next steps!
---

Keenan Burnett (EngSci 1T6 + PEY)
Satellite maker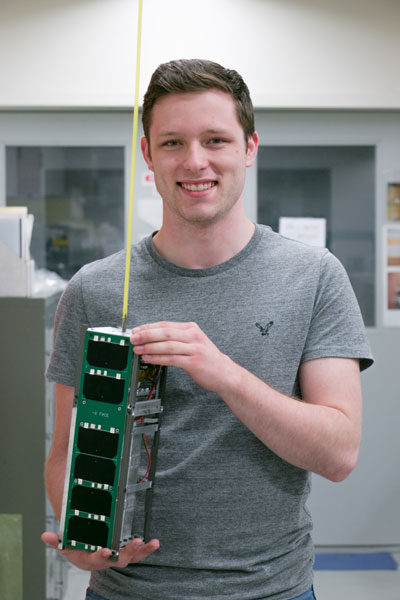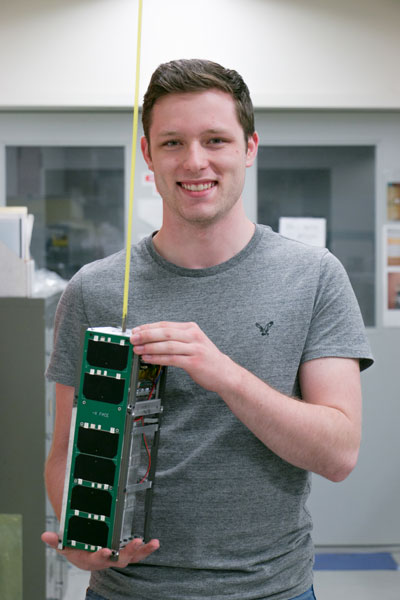 Burnett used his time at U of T Engineering to focus on his passion for space and robotics. He was a founding member of the Space Systems division of the University of Toronto Aerospace Team (UTAT) and designed key components of HERON, the team's entry in the Canadian Satellite Design Challenge. Last summer, UTAT travelled to the Canadian Space Agency's David Florida lab to test their device and its payload.
Burnett also completed an undergraduate thesis on attitude control in microsatellites and designed an autonomous robotic platform that can target objects based on light. The robot could be used in a number of applications, including warehouse monitoring, parking enforcement and security.
Earlier this month, Burnett began his Master's studies at UTIAS where he is working under professors Tim Barfoot and Angela Schoellig (both UTIAS) on a self-driving car project.
"EngSci has thrown a lot at me over these last few years, and what I've learned is that the only way to consistently overcome obstacles and succeed is to work hard be determined," he says.
Shout out: "I'd like to thank my friends in Engineering Science and especially my teammates in UTAT."
---

Edem Dovlo (MIE PhD 1T7)
Smarter medical imaging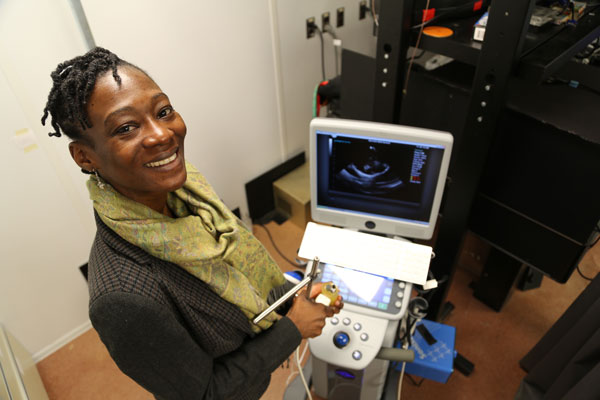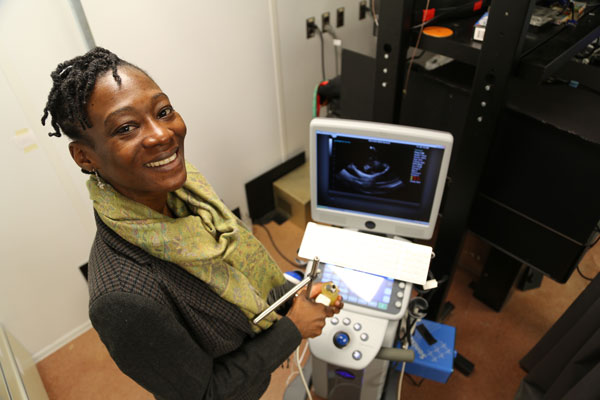 Studying under Professor Andreas Mandelis (MIE), Dovlo designed new medical imaging systems that combine photoacoustic radar with traditional ultrasound. The advanced technique can detect cancer tumours at a much earlier stage than current techniques, and can even provide information on how malignant the cancer is likely to be. This in turn could lead to earlier interventions and better survival rates.
"My experience in MIE has been greatly shaped by the people here," says Dovlo. "Having an experienced and knowledgeable supervisor who challenges his students and treats us with respect is a key part of that. The more I learn, the more I realize how much more there is to discover."
In addition to publishing several papers on her work, Dovlo served as a Project Manager for 1Room, a Kenya-based, community-focused project that leverages technology and evidence to make high-quality schooling affordable and accessible underserved populations. After graduation, she plans to work either in Canada or her native Ghana. "I am eager to incorporate the expertise acquired in my combined experiences to my future endeavours," she says. "I do not know what the future holds but I am optimistic."
Shout out: "I'd like to thank the Graduate office, Operations, External Relations & Communications support staff who have greatly enriched my experience at MIE (and UofT). Their dedication, insight and flexibility have been invaluable as they have worked to enhance services in response to the diverse needs of students."
---

Genevieve Foley (IBBME MASc 1T7)
Robots helping people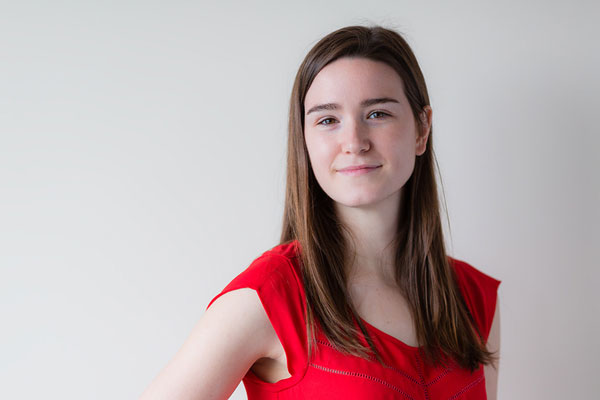 For her master's thesis, Foley designed the Parking Assistant Reasoning Copilot (PARC) system which assists powered-wheelchair users with the task of driving up to and underneath tables. PARC was designed to empower older adult powered-wheelchair users who may struggle with wheelchair operation and the table docking task due to cognitive, sensory or physical impairments.
Foley also led the Biomedical Engineering Students' Association, serving as its president. "One of my favourite things about U of T Engineering are the rich cultures that surround you," she says. "Whether it's about academics, technology or startups, there is always a talk, demo or session to attend, enabling you to learn more and network with people with shared interests."
After graduation, Foley will take up a position at Kinova Robotics, a Montreal-based company that creates robots both for industry and for people with disabilities. "I want to continue to work towards improving the quality of life of vulnerable individuals by empowering humans through technology."
Shout out: "I would like to thank Professor Alex Mihailidis for providing me with the opportunity to learn about and to conduct applied research to improve the quality of life of our end users. I also wish to express my gratitude to Dr. Pooja Viswanathan for taking me under her wing and showing me how to be an innovator." 
---

Stephanie Gaglione (ChemE 1T7)
From MIT to Oxford, via NASA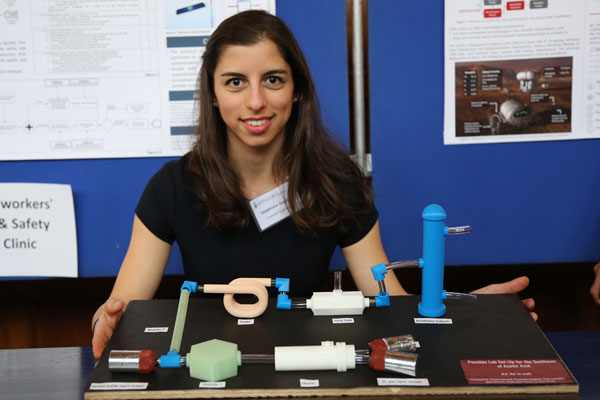 For Gaglione, U of T Engineering has been about reaching outside her comfort zone. "Every class, extracurricular activity and sport has required some degree of risk-taking, new perspective or challenge," she says.
Gaglione has completed internships in vaccine and drug development at Sanofi Pasteur and in business at Procter and Gamble, and spent a year on exchange at one of the world's largest and most prolific biomedical research groups, run by Professor Robert Langer at the Massachusetts Institute of Technology (MIT). She also worked for two years on a project with the World Health Organization — including three months in Geneva — analyzing data from immunization programs. In her final year, she worked with Professor Cathy Chin (ChemE) and mentors at NASA to design an innovative reactor system to convert gaseous carbon dioxide into higher-order chemical compounds for long-term space missions.
In between all of these projects, Gaglione found time to compete on the Varsity Figure Skating and Nordic Skiing teams, and to take on leadership positions with the You're Next Career Network, the Engineering Society and the university's Governing Council. Her next move will be to the University of Oxford, where she will pursue an MSc in integrated immunology on a Rhodes Scholarship. Following that, she will pursue a PhD in Chemical Engineering at MIT.
"I hope to help develop the potential of customizable platforms that use the body's own immune system to prevent and treat disease," says Gaglione. "Vaccines, cancer immunotherapies, personalized tissue engineering, wound healing — the possibilities are endless."
Shout out: "It has been an incredible privilege to study alongside my talented Chemical Engineering and TrackOne classmates. I'd like to thank Professor Cathy Chin for her capstone guidance and expertise, Professor Graeme Norval for his kind advice and support of the ChemE class, my wonderful and patient mentors at MIT, and my sister and fellow U of T student, Alexandra Gaglione, for sharing this adventure with me."
---

Jonathan Gammell (UTIAS MASc 1T0, UTIAS PhD 1T7)
Robot pathfinder
Gammell's PhD thesis focused developing algorithms that enable robots to find high-quality paths in the presence of obstacles. The challenge — called optimal path planning — is critical for autonomous robots, and Gammell's work has been applied to wheeled robots, drones and even full-sized helicopters.
"I cannot imagine a better foundation for a career in research than my graduate studies at UTIAS," says Gammell. "I learned how to think rigorously and analytically about challenging technical problems, and how to present these ideas clearly and make them accessible to a wide audience."
While at UTIAS, Gammell participated in field deployments for the Canadian Space Agency, in locations ranging from northern Ontario to Hawaii. He is currently a postdoctoral researcher at the University of Oxford, where he continues to work on solving fundamental challenges in the field of robotics. "Opportunities to do this kind of work exist in both industry and academia, and I am incredibly excited by what I'm doing," he says.
Shout out: "I owe all my successes at U of T Engineering to my master's and PhD supervisors, Professors Gabriele M.T. D'Eleuterio and Tim Barfoot, respectively. Professor Barfoot was especially generous in helping me develop my research ideas and finding ways to communicate them effectively."
---

William Graydon (CompE 1T6 +PEY)
From simulations to cybersecurity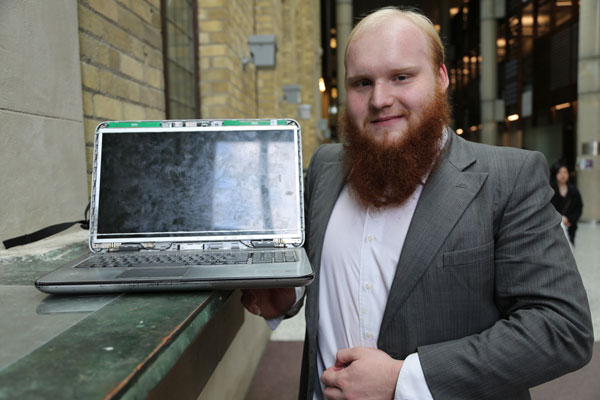 During his undergraduate degree, Graydon researched traffic simulations under the supervision of Professor Alberto Leon-Garcia (ECE). His goal was to produce results faster so that these simulations can be used for real-time data prediction, for example, estimating travel times based on current traffic conditions. Graydon presented his work at the IEEE 18th International Conference on Intelligent Transportation Systems as well as the Annual General Meeting of Intelligent Transportation Systems (ITS) Canada.
Graydon has a passion for inspiring the next generation of engineering talent, and taught courses in computer security and cloud computing through the Da Vinci Engineering Enrichment Program (DEEP) facilitated by Engineering Outreach. He also played trombone in the Lady Godiva Memorial Bnad [sic], competed on Varsity Mountain Biking team and served as the Speaker of the Board for the University of Toronto Students Union. "The opportunities for personal growth have been plentiful and diverse," he says. "I've tried my hand at so many different things here, and I feel ready to take on just about any challenge now."
Next fall, Graydon will begin his M.Eng studies at U of T, focusing on computer security. "In the short term, I hope to go into the computer security industry to help prevent breaches of personal data," he says. "In the long term, I hope to apply my engineering background to public policy to improve our legal and regulatory system to protect state secrets, and to make our critical infrastructure more resilient against terror attacks."
Shout out: "I owe a huge thank-you to the Skule Community for being so supportive throughout my degree program, for all of the opportunities it has provided me and for always having a spark of madness in its methods."
---

Matthew Hart (MinE 1T6 + PEY)
Mining champion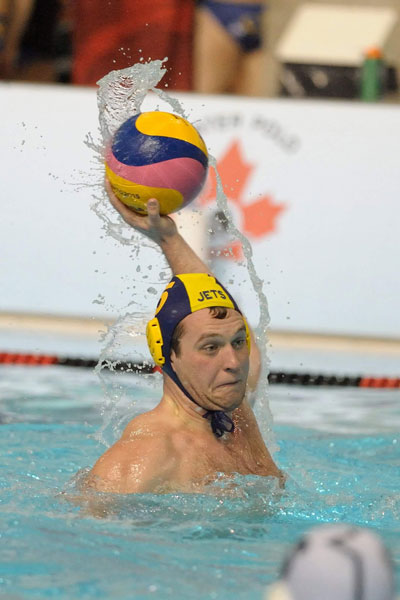 "Most people can find problems," says Hart. "The people you need are ones that can find solutions and want to constantly improve. U of T and my PEY experience helped me develop the solution-driven mindset I have today."
While at U of T Engineering, Hart pursued a rich variety of co-curricular activities. He played Varsity water polo for four years and was part of the team that won the 2016 Ontario University Athletics championships. Hart is also a member of the 2017 senior men's water polo national champions, the Toronto Golden Jets. He serves as Vice-president, Finance for the Mineral Engineering club and along with his teammates placed second at the 2017 Canadian Mining Games. "I found the activities outside the classroom to be the most influential in developing the emotional intelligence that is needed to be successful," he says.
Hart completed his PEY internship at Imperial Oil, working at the Kearl Oil Sands Project as part of the short-range mine planning team. The experience prepared him for the job he will take up upon graduation, in the Toronto office of Barrick Gold.
Shout out: "I want to thank all my fellow Mineral Engineering graduates. I couldn't have done it without you! Thanks for making these five years unforgettable, and the best of luck, wherever you end up!"
---

Angela Hu (CivE 1T7)
Bridge builder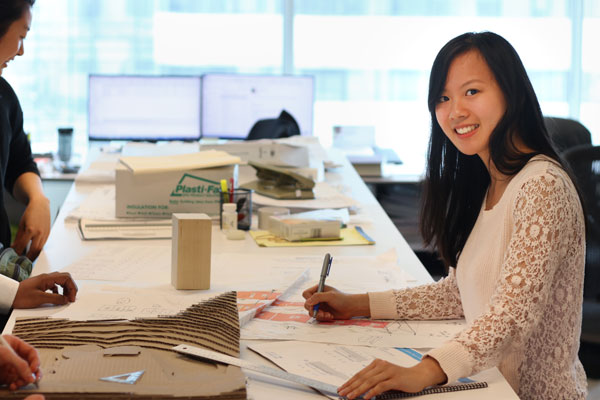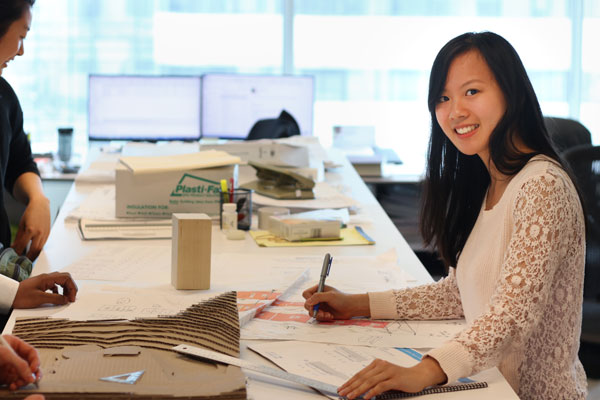 "Being at UofT for the last four years has allowed me to participate in an eclectic collection of activities," says Hu. "I love the fact that this school is not just a world class academic institution but also a place filled with so many inspiring and energetic students."
Many of Hu's projects have an international focus. In 2015 she organized a bridge-building competition for the U of T chapter of Bridges to Prosperity, an organization that assists students to design and construct footbridges for remote communities in developing nations. During an internship with consulting engineering firm Arup, Hu became involved in a project to design an elementary school in the village of Timo in Haiti, in partnership with the Haiti Health Initiative, which she will continue to work on after graduation.
Hu also conducted undergraduate research with Professor Frank Vecchio (CivE) on fibre-reinforced concrete, work that will be incorporated into the upcoming revision of the Canadian Highway Bridge Design Code (CSA S6). She was also an active member of the You're Next Career Network. In the fall, Hu will begin a Master of Science degree in structural engineering, mechanics and materials at the University of California, Berkeley.
"Having an engineering degree means that I am now able to play a more active role in initiating change," she says. "I want to employ new technologies and advances in materials research to make our buildings more resilient to large scale events such as earthquakes.  In addition, I want to continue my involvement with various projects in developing nations."
Shout out: "I'd like to thank Professor Vecchio and Stamatina Chasioti for their continued advice and support throughout my independent project last semester.  Thank you for taking me under your wing and entrusting me with a project of such importance."
---

Serena Mandla (EngSci 1T6 +PEY)
Biomedical innovator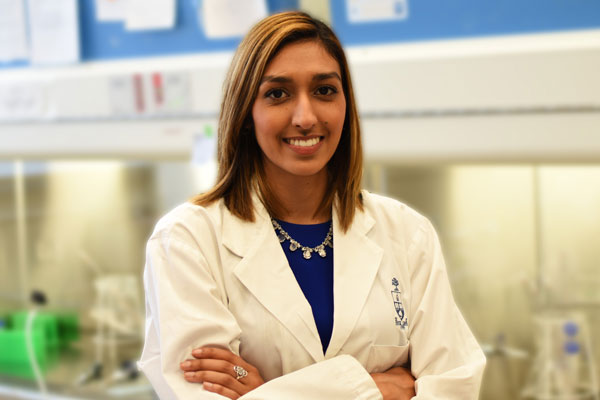 Mandla is already an established researcher, having published two papers — with two more in preparation — on work she did during her PEY internship in Ali Khademhosseini's lab at Harvard Medical School. One of her projects involved the creation of an electrically conductive bioink for 3D printers. This material could be used to make scaffolds for growing heart cells and tissues outside the body, and may one day lead to lab-grown cardiac patches to repair hearts damaged by disease or injury.
Mandla believes strongly in giving back to her community. For the past three years, she has been both a frosh leader and a mentor for NSight, a program that connects first-year students with upper-year students to assist in the transition from high school to university. Last year, Mandla co-directed the program.
After graduation, Mandla will pursue an MASc, studying under Professor Milica Radisic (IBBME, ChemE). "I hope to continue working in the field of biomedical engineering, and eventually move into a leadership position within industry," she says. "More importantly, I hope that I can inspire and motivate young women to pursue degrees and careers in the STEM fields."
Shout out: "I would like to thank my professors and supervisors for their continued support and guidance throughout my journey. They have all taught me many invaluable lessons, which have helped shape who I am today."
---

Jason Martins (ChemE 1T6 +PEY)
Renewable energy leader
Martins' desire to study renewable energy was reaffirmed after a scuba-diving trip through Southeast Asia. "I witnessed reefs affected by coral bleaching, the downstream consequence of rising carbon dioxide levels in the atmosphere," he says. "I was inspired to do something to help."
For his fourth-year capstone project, Martins collaborated with NASA's Ames Research Centre on a system for converting carbon dioxide into acetic acid, a chemical building block for a variety of useful molecules, from fuel to food. He also completed internships at Toronto Water, where he focused on conserving energy use, and the engineering consulting company Hatch, where he assessed the efficiency of catalytic reactors that can remove nitrogen oxide pollutants from metallurgical exhaust stacks. Martins also served as president of the University of Toronto Engineering Toastmasters club and Director of Business Development for the You're Next Career Network.
Starting in September, Martins will begin his Master of Science degree at the Massachusetts Institute of Technology. From there he will proceed to the University of Cambridge to take up a Gates Cambridge Scholarship, which recognizes his leadership potential, and commitment to improving the lives of others. He plans to use his expertise to build systems capable of capturing, storing or recycling carbon dioxide in order to convert it from a harmful greenhouse gas into a valuable raw material.
Shout out: "I would like to thank the Chemical Engineering community, both faculty and students, that have provided their inspiration, support, and guidance over all these years to create an unforgettable undergraduate experience."
---

Ivan Matijevic (MSE 1T3 + PEY, MASc 1T7)
Forensic engineering expert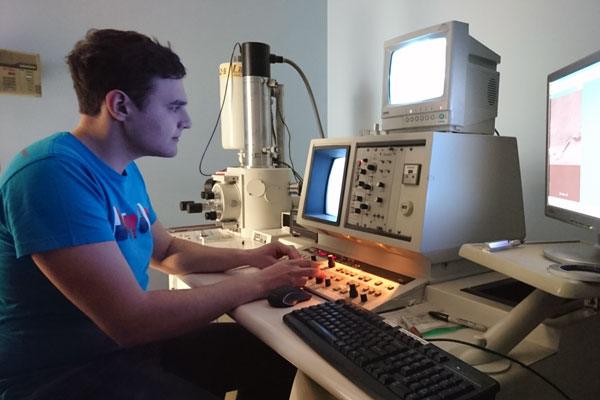 Matijevic's graduate work focused on solder materials used to bond various structural and electrical components in the aerospace and defense sectors. Through electron microscopy and mechanical tests, he characterized the changes these materials experience as they age in order to better understand how and when then fail.
The work is very applicable to his current job at Falconmet Engineering and Laboratories Inc., where he does forensic engineering and failure analysis for aerospace companies. By looking for the tell-tale signs of aging in broken components, Matijevic can help companies enhance their design and maintenance procedures to improve safety and save lives.
"Many of the courses I took as an undergrad are directly applicable to my work from a technical perspective," he says. "I also learned time management and a 'self starter' mentality that lends itself very well to the industry I am in."
Matijevic served as the head copy editor at the Toike Oike, U of T Engineering's humour newspaper, and he has some advice for future students. "Cultivate friendships and pursue your interests," he says. "Don't let this short opportunity pass by in a whirlwind."
Shout out: "I would like to thank everyone in the MSE department for all of their help and support over the past seven years. I would still be working on my project without the many individuals who selflessly offered their time and help."
---

Parisa Najafi (MSE 1T6 +PEY)
Virtual reality consultant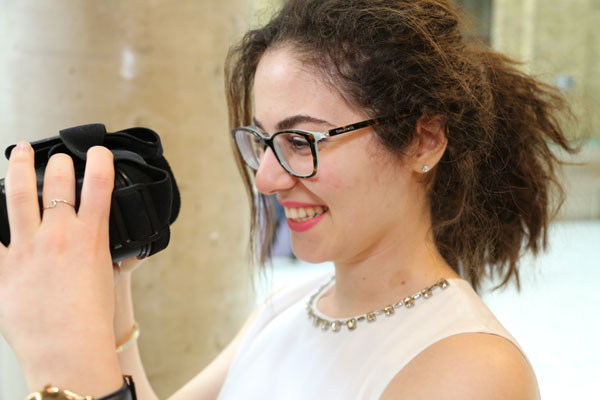 "I believe we come to U of T not to find ourselves, but to make ourselves," says Najafi. Over the course of her undergraduate degree, Najafi found many opportunities to put her philosophy to the test. She completed a PEY internship at Celestica, an electronics manufacturing services company, and spent a part of her summer working for Metavrse, a virtual reality startup. "Startups are generally a fast-paced environment, and this was on hyper drive," she says. "The field is so new that we were constantly learning about the VR industry and its future."
Najafi also believes in being a role model to others. She volunteered with the outreach organization nanoOntario to creating learning modules that can be used to teach nanotechnology concepts to high school students. She also served as a mentor at ZerotoStartup, a 13-week program that helps youth between the ages of 12 and 17 discover their personal strengths and ignite a passion for technology through hands-on learning.
After graduation, Najafi will begin working as an analyst at the technology consulting company Accenture. "I faced many challenges throughout university, but each time I overcame one, I came out a better person," she says. "This is a lesson I will take with me to my future endeavours."
Shout out: "I'd like to thank my classmates and friends in MSE, I could not have done this without your help and friendship. I'd also like to thank my mom for being my rock throughout the entire experience, I wouldn't be here without you."
---

Daksh Sikri (IndE 1T7)
From engineering to entrepreneurship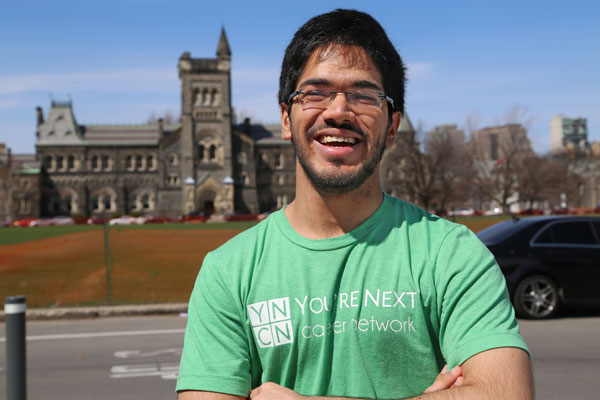 Born and raised in Mumbai, Sikri came to North America for the first time to join U of T Engineering. He found the perfect environment to pursue his passion for business and entrepreneurship. "The past four years have shaped my mindset, both personally and professionally," he says.
Sikri was a driving force within the You're Next Career Network, eventually serving as its president. In particular, he focused on growing its activities in the startup space, organizing new events and expanding the Startup Career Expo. He also completed internships in analytics and cloud computing at IBM, and business development at Pivotal Software. His undergraduate thesis, supervised by Professor Roy Kwon (MIE), involved building a piece of software that optimized asset liabilities for individual investors.
After graduation, Sikri plans to work on a startup venture he conceived during his undergraduate studies. He can't reveal much about the venture itself, but is receiving support from Next Canada as well as The NextAI program and the Creative Destruction Lab. "I hope I can take the problem-solving and entrepreneurial mindset I developed here out into the world to identify big challenges and develop solutions," he says.
Shout out: "I want to thank every friend, mentor, team and professor who made the past four years such an adventure and who convinced me that I'm up for all the different challenges. I'd also like to thank my parents and my sister for their unconditional love and support from halfway across the world."
---

Pirathayini Srikantha (ECE PhD 1T7)
Clean power innovator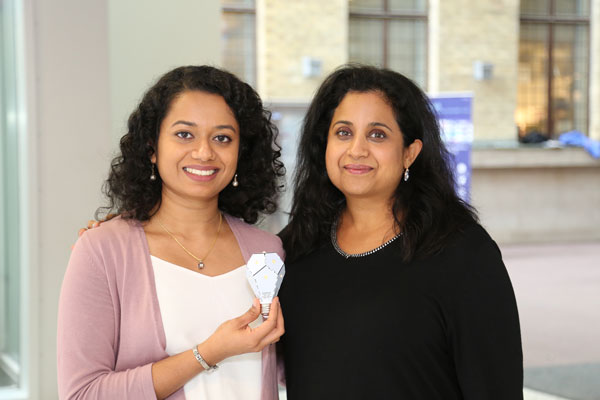 "U of T is a wonderfully diverse institute that provided me so many exciting opportunities to develop as a researcher and a teacher," says Srikantha. "I have learned tremendously during my time here and I consider myself extremely lucky to have been part of such a prestigious institution."
Srikantha studied how electrical grids can better accommodate renewable sources — such as wind and solar — that generate power intermittently and sometimes unpredictably. She also looked at how patterns in consumer power usage can be leveraged to make better use of "peak generation" sources, such as natural gas plants, which are only turned on when power demand is high. Through the Institute for Sustainable Energy (ISE), Srikantha collaborated with consulting engineers at Hatch to see how her solutions might be integrated into the existing power grid.
In addition to her thesis, Srikantha had many opportunities to mentor undergraduate students. She supervised summer research projects and taught first-year programming. Her participation in the Prospective Professors in Training (PPIT) program prepared her for her new position as an Assistant Professor in the Department of Electrical & Computer Engineering at Western University.
Shout out: "I want to thank my academic advisor, Professor Deepa Kundur. Her incredible patience, motivation and insights have allowed me to realize many of my academic and career goals. Thank you Professor Kundur, I will always cherish your mentorship, guidance and friendship!"