Jody Mou, a Grade 12 student at University of Toronto Schools, has designed a system to rapidly manufacture 3D tumour models used to study cancer in the lab. The innovation earned her first place in the Greater Toronto region for the Sanofi Biogenius Canada (SBC) competition.
Mou's project was conducted in the lab of Professor Alison McGuigan (ChemE) where she was supervised by PhD candidate Darren Rodenhizer (ChemE) and undergraduate student Nancy Li (Year 4 ChemE).
"This is the magic that can happen when you put someone with fresh ideas and perspectives together with good student mentorship," says McGuigan.
McGuigan and her team had previously developed a method of growing cancer cells in a rolled-up sheet that mimics the conditions in a 3D tumour more closely than a 2D petri dish. Because the sheet can be unrolled in seconds, it allows scientists to analyze the cells in ways that aren't possible with other 3D culture techniques.
But until now, each individual tumour model had to be created by hand, a time-consuming process. Mou was tasked with taking a 3D printer — one that can print living cells — and adapting it to automatically print larger numbers of tumour models.
"I am very interested in both visual art and biology," says Mou. "3D bioprinting is a great way to combine the two. To me, biomedical engineering is a way of using design to create something useful for the world."
Mou designed a custom print head to dispense the cells, as well as a temperature-controlled and humidity-controlled vessel to hold the finished product. She also wrote software to control the distribution of cells within the tissue. Her system can produce up to 36 three-layer rolls at once, which is much faster than a manual production process.
Read more about Jody's project on CBC.ca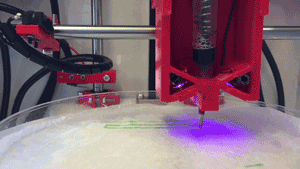 "This was an engineering problem that didn't need domain-specific knowledge, it needed creativity," says McGuigan. "I believe strongly in taking youth seriously, and I always try to create projects for undergrads or high school students that let them show their value."
Mou's first-place finish means she will be among nine finalists competing at the national SBC competition in Ottawa from May 8-10. She plans to spend the summer making improvements to her cell-printing software before beginning her undergraduate studies in biomedical engineering at Johns Hopkins University in the fall.
As for her long-term career goals, Mou is keeping her options open. "I'm considering medical school, but it's a lot of studying, and I'd rather be making things," she says. "I will definitely do a PhD somewhere, and I might become a professor or a doctor, but I'm not sure yet. We'll have to see."