Reigning national champions Iron Dragons are heading to Szeged, Hungary this summer to represent Canada on the world stage.
The U of T Engineering student dragon boating team is sending men's, women's, and mixed teams — 60 students in total — to compete in 200 metre, 500 metre and 2,000 metre events at the International Dragon Boat Federation Club Crew World Championships from July 17 to 22, 2018. The Iron Dragons practice out of the Iron River Racing club in west Toronto.
"It's incredibly exciting," says Alexandra Davidson (EngSci 1T7+PEY). "For the past three years we've been focused on defending our national title, and growing as a team and as athletes. We're looking forward to putting that to the test at Worlds."
Each standard dragon boat seats 20 paddlers, in 10 rows of two, plus a steersperson in the stern and a drummer in the bow to keep time and urge the paddlers on. The sport demands physical strength, careful planning, clear communication and mental toughness.
"We're really up against ourselves — both individually and as a team," says Elijah Wigmore (CompE 1T7+PEY). "We do intensive preparation and training, but in a race it really comes down to pushing yourself and trusting your crew."
This element of collaboration and coordination is something the team members say engineering students are particularly well prepared for.
"I had been a serious hockey player all my life, so when I started at U of T Engineering I was looking for a sport to help me stay competitive," says Claire Del Fatti (Year 3 ChemE). "Engineering is really intense, so we're all used to working together and managing our time effectively — I think having those skills helps us a lot."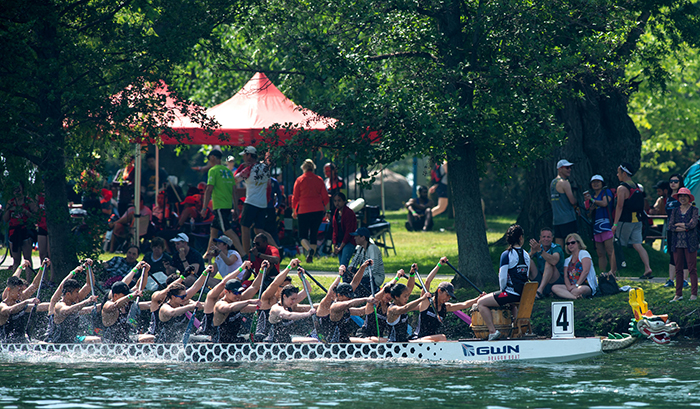 "This team is so great and everyone is passionate about the sport," says Bogdan Raspopin (ElecE 1T7+PEY). "When we're at school, we talk about engineering. When we're at practice, we talk about dragon boat — it provides us all with a different outlet, and it really helps that we know we're all going through the same things and have made time to be there."
The University of Toronto has long been a powerhouse in dragon boating: in addition to the Iron Dragons, the Rotman School of Management's team, Liquid Assets, and New College also placed among Canada's top five university teams this year.
At Worlds the Iron Dragons are anticipating fierce competition from their Canadian university peers, and from a strong roster of Hungarian teams. But they're confident that their training and commitment have prepared them well.
"It's the ultimate team sport," says Davidson. "We're ready."