Arthur Slutsky (EngSci 7T0, MASc MIE 7T2) chose to study engineering over medicine for a very practical reason.
"I have a terrible memory," he says. "When I saw those anatomy figures, and all the terms you'd have to memorize, I said 'Forget it. I'm good at math, and I like figuring things out. I'll be an engineer.'"
Slutsky completed both a bachelor's degree in Engineering Science and a Master's in industrial engineering at the University of Toronto. But his interest in health persisted, and throughout his studies, Slutsky chose research placements that focused on biomedical applications. Following a summer student placement in a hospital biomedical engineering department, he patented a method for automating the analysis of patient lab tests.
After graduation, he took a job at the Hamilton Civic Hospitals in Hamilton, Ont. It was there that he realized that his work would have more impact if he became a physician after all. He enrolled at McMaster's Medical School, where he met Dr. Tony Rebuck, a professor studying respirology.
"In medicine, there are certain areas where there is a greater emphasis on equations and quantifiable measurements," says Slutsky. "Respirology is one of those — there are pressures and flows and so on. As an engineer, that's what I was interested in."
Today, Slutsky is one of the world's most-cited researchers in the field of mechanical ventilation. His research contributions have led to important changes to how the technology is used to treat patients around the world.
Ventilators are used to treat millions of people each year, either while under anaesthesia during surgery or if they develop acute respiratory failure. And while they undoubtedly save lives, Slutsky's research showed that ventilators can also cause injury to the lungs in a number of ways.
"Over-inflation can rupture the lung, which is called barotrauma," he says. "My main discovery was that there is a more subtle form of injury, which we called biotrauma."
Slutsky and his collaborators showed that lung over-inflation causes the lungs to release molecules called mediators. These biochemical signals cause inflammation in the lungs, which can cause lung injury. Even worse, the mediators can get into the bloodstream and negatively impact other organs, such as the kidneys.
The solution that Slutsky and his team proposed was to reduce the amount of air — known as the tidal volume — being pumped into the lungs by the ventilator. Smaller tidal volumes would cause less stress, reduce the amount of inflammation, and lower the chance of damaging other organs.
As straightforward as the solution seemed, it took many years of research to confirm that the potential detrimental consequences of smaller tidal volumes would be more than balanced by the decrease in ventilator-induced lung injury.
"Thirty years ago, people thought that you needed to provide enough air to get the blood levels of oxygen and carbon dioxide within normal ranges," says Slutsky. "What we and others showed was that you could let the carbon dioxide levels go up a bit, and it would still be better than injuring the lungs by over-inflating them."
The new approach lowered the mortality rate for patients suffering from acute respiratory distress syndrome from 40 per cent to 31 per cent.
In 2000, Slutsky became the first vice-president of Research at Toronto's St. Michael's Hospital. Over the next 18 years, he oversaw an unprecedented expansion of the hospital's research activities, including an 18-fold increase in annual funding from the Canadian Institutes of Health Research and the creation of a new state-of-the-art facility, the Keenan Research Centre/Li Ka Shing Knowledge Institute.
"I wasn't sure I wanted to be what I considered an administrator, but it turned out to be a fantastic job," says Slutsky. "St. Michael's always had an amazing culture of caring, but now we have an amazing culture of innovation as well."
In creating this culture, Slutsky says he drew on his own experience of building bridges between the worlds of engineering and medicine, and in creating multidisciplinary teams that function effectively.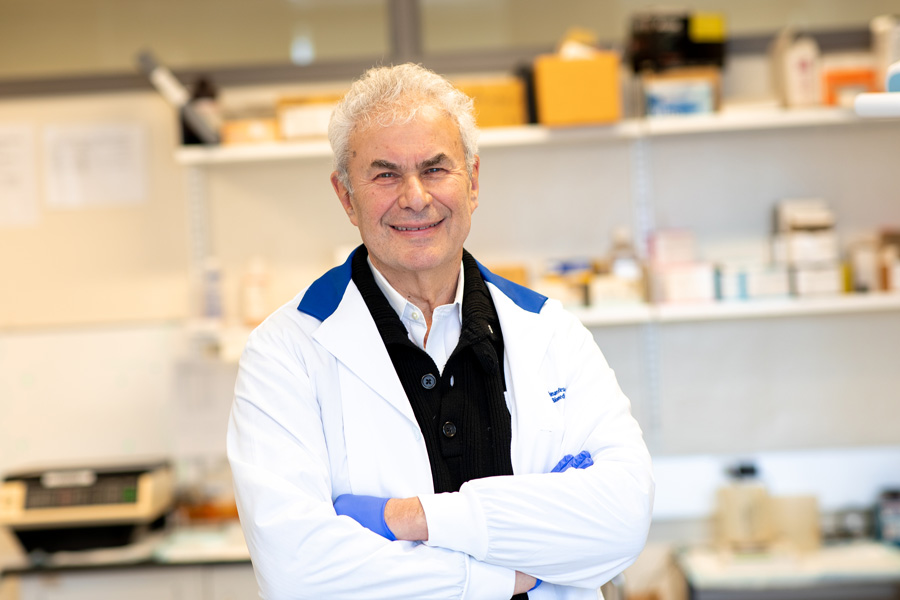 "My philosophy is: recruit for brains, but hire for personality," he says. "When you have people with emotional intelligence, who believe in your vision and who want to work with together, you can just set them free and watch great things happen."
Slutsky has continued his own research as well. One of his innovations, in collaboration with Dr. Noe Zamel a Professor of Medicine at the University of Toronto, is a method of delivering nicotine to patients via an inhaler. It may seem counterintuitive for a lung expert to be involved in such a project, but Slutsky doesn't see it that way.
"We know all about the harms of smoking, but it's actually very hard to get people to quit," he says. "And while nicotine is what addicts you, it's really the approximately 5,000 other constituents in cigarettes that cause most of the harm. So, if delivering 'clean' nicotine can help people to stop smoking, that could actually save a lot of lives."
In September, Slutsky stepped down from his leadership position at St. Michael's, and in December he was named a Member of the Order of Canada for his research on injury caused by mechanical ventilation and its prevention. He plans to continue on as a researcher at the hospital, in part because he simply enjoys the work, and working with such great colleagues.
"I think it's really important to try and make it fun," he says. "You spend more of your waking hours with your colleagues than even your family. So you'd better enjoy working with them. And there's always something new to investigate."