A team of U of T students is preparing to see their research take off next week. They are among just six university teams from across Canada selected to conduct a study in a microgravity environment aboard the National Research Council Canada's (NRC) Falcon-20 jet — the same plane used to train the Canadian Space Agency's astronauts. 
As part of the Canadian Reduced Gravity Experiment Design Challenge (CAN-RGX), the team, called TelOmG, has spent the past year designing and building a unique experiment to examine the impact of spaceflight on astronauts' genes. 
During the flight, scheduled for August 19, the students will investigate the effects of changes in gravity on the genetic regulation of human telomeres. Telomeres are protective caps at the ends of our chromosomes that are linked to genomic stability. Shortening of telomeres is associated with aging, while lengthening can be associated with cancer. 
The idea for the experiment came to team lead Erin Richardson (EngSci Year 4) while reading NASA's landmark Twins Study, an investigation of spaceflight's effects on the human body. The study examined astronaut Scott Kelly, who spent nearly a year in space, and his twin brother Mark who remained earthbound, and found Scott's telomeres unexpectedly grew longer during his space flight. They returned to normal shortly after his return to Earth. In contrast, his twin's telomeres remained stable during the same period.   
"Our experiment investigates whether this increase in telomere length was due to reduced gravity or some other factor, such as increased radiation or stress during the spaceflight," says Richardson. 
Flying parabolic manoeuvres on the NRC's Falcon 20 will allow the team to isolate microgravity from the other factors present on the International Space Station. However, while Scott Kelly spent months in space, the experiment will only undergo five periods of 20 seconds of microgravity each. 
The students had to devise a way to test whether telomeres are affected by microgravity in under 20 seconds. "Telomere length won't change that fast," says Richardson. "The key was to focus on the transcription of the genes that control them. Previous studies found transcriptomes changed significantly within 20 seconds of altered gravity." 
Richardson has built her team with students from EngSci's aerospace and biomedical systems majors and the life sciences: MacKenzie Campbell (EngSci 2T0 + PEY, ChemE MASc candidate), Dunja Matic, Taylor Peters (both EngSci Year 4), Emma Belhadfa, Luca Castelletto (both EngSci Year 3), physiology master's student Anthony Piro, Year 3 life sciences student Miranda Badovinac, and Grade 12 students Samantha Aberdein, Krish Joshi, and Nicole Richardson. 
The aerospace engineering team members focused on designing and building the physical apparatus while biomedical systems and life science students designed and tested the experiment's scientific methods. 
"The team brought together students with different areas of expertise, several age groups, and diverse mentors. One of the beautiful things that happens when you bring together people with so many different backgrounds is the ingenuity in the questions they ask each other," says Professor Rodrigo Fernandez-Gonzalez (BME), chair of EngSci's biomedical systems major. "Those questions often challenge dogmas and assumptions, and can ultimately lead to amazing discoveries." 
To test their hypothesis that microgravity contributes to changes in gene transcription related to telomeres, the students will "freeze cells in time" by preserving their nucleic acids before and after each short period of microgravity. They will analyze the nucleic acids after the flight for changes in the expression levels of genes that regulate telomeres.   
The experiment's apparatus consists of a syringe filled with a stabilization solution and connected to a series of chambers containing live cells. The electronic control system will inject the solution into the correct chamber when manually triggered by the students on board the flight just before and after each period of microgravity. Some samples are frozen before any periods of hypergravity or microgravity to control for environmental conditions on board the jet.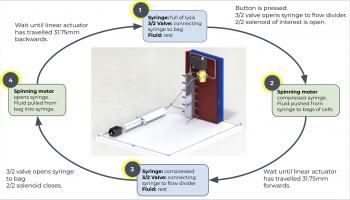 The entire experiment had to fit into a 50 cm cube and weigh no more than 45 kg, among other constraints. "Little things that you wouldn't normally consider are much more challenging in microgravity," says Castello, the team's mechanical lead. "For example, we had to ensure everything is absolutely leak-proof and secured so that there's no chance of small components or liquid floating around the plane's cabin. Since we are dealing with cells, we had to create a sterile system while also minimizing bubbles that could interfere with our fluid pathways." 
Team TelOmG presented their proposal at the Johnson Space Centre Astronomical Society in June and has been invited to share their findings at the International Aeronautical Congress in Dubai in October. 
 Working in the midst of a pandemic presented additional challenges. Access to wet labs and lab safety training was restricted. "We've been blown away by the support we received from professors, researchers and private companies during this time," says Belhadfa. "They helped us to get what we needed when public health restrictions created obstacles."  
Team members also had to work on components in isolation for many months. "Normally when we work in a team and something goes wrong during equipment testing, we have a good laugh together," says Castelletto. "It's a lot less funny when you're all alone in your house." 
Planning and testing a complex experiment from start to finish has been an eye-opening journey for the team. "From our experiences in design courses like Praxis, we knew to expect things not to go as planned," says Campbell. "We really learned to take a wide view of the project and lean on our project management skills." 
Team members Piro and Richardson will take part in the flight next week.