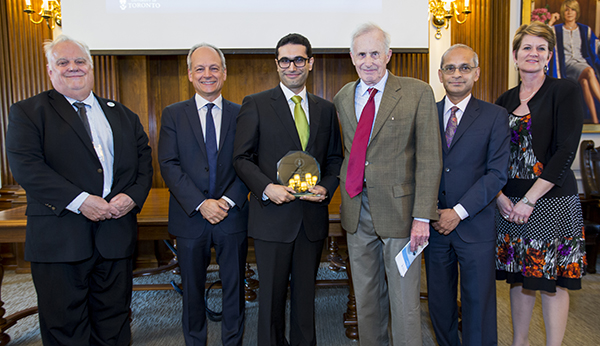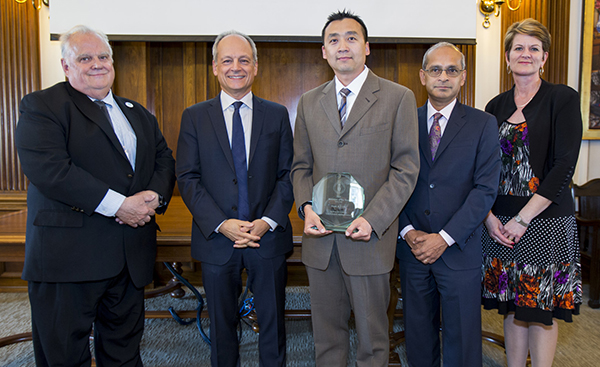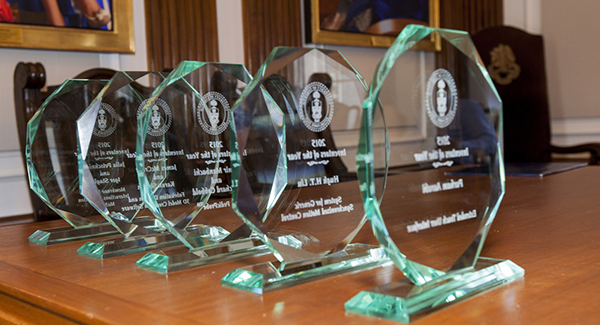 Engineering professors Parham Aarabi (ECE), Richard Cobbold (IBBME, ECE) and Hugh Liu (UTIAS) have been named Inventors of the Year by the University of Toronto. The honour recognizes exceptional researchers who are commercializing new technologies that can benefit society.
Three of the five winning inventions announced at the U of T Celebrates Innovation event on May 7, 2015 came from researchers at U of T Engineering.
Making any flat surface tap-sensitive
Aarabi, a professor in The Edward S. Rogers Sr. Department of Electrical & Computer Engineering, is the inventor of X-Touch, the only commercially available technology that can instantly transform any surface to become tap-sensitive without any hardware add-ons. The system uses unique acoustic signatures generated by taps at specific locations to turn any table, wall, or lab bench into an interface for the mobile device placed on it.
Ensuring spine screws are straight
Professor Emeritus Cobbold—from IBBME and ECE—and his student Amir Manbachi (EngSci oT8, MASc 1T0, PhD candidate) are the inventors and founders of PedicProbe™, a medical device that uses ultrasound technology to give surgeons a clearer picture during operations where screws are inserted into the spine. The technology could prevent navigational errors and significantly reduce the rate of revision surgeries, in addition to being more portable and affordable than what's available today.
Creating a drone fleet
Liu, a professor at UTIAS, is an expert in Flight Systems and Control. His invention is a system for synchronizing the motion of groups multiple flying agents. For example, a swarm of unmanned aerial vehicles (UAVs, sometimes called drones) could be synchronized to behave as one entity. Liu and some of his former students have formed Arrowonics Technologies Ltd. to commercialize the technology.
"Since 2010, no university has created more spin-offs and start-ups than University of Toronto and its partner hospitals, and for that we can credit the distinguished individuals who are in this room right now," said U of T President Meric Gertler. "Canada's prosperity rests increasingly on the kind of innovations that we are celebrating this afternoon."
Four other professors from across the University were also named Inventors of the Year, including: Professor Karan Singh and Dr. James McRae from the Department of Computer Science for FlatFab and True2Form; as well as Professor Igor Stagljar and Dr. Julia Petschnigg from the Donnelly Centre for their invention, Membrane Protein Interactions Detection (MaMTH).
The Celebrates Innovation event also recognized the 2014–15 recipients of Connaught Innovation Awards, designed to accelerate the development of promising technologies and promote commercialization and/or knowledge transfer of innovations arising at U of T. Eight of the nine recipients this year were from U of T Engineering. (Read more.)
With files from Marit Mitchell.