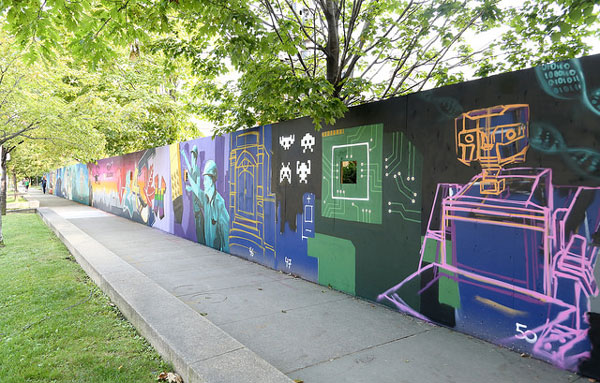 This story is Part 1 of a seven-part series, U of T Engineering in the City, running throughout fall 2015.
A bold, colourful and unconventional collaboration has taken shape at the University of Toronto's Faculty of Applied Science & Engineering. Street artist Jason Wing, also known as SKAM, has painted a massive 276-foot (84-metre) installation that spans the outer wall around the construction site of the Centre for Engineering Innovation & Entrepreneurship (CEIE). It is the longest single graffiti installation in Toronto.

"The vibrant imagery in this mural installation represents the rich history and tremendous impact that U of T engineers have around the world," said U of T Engineering Dean Cristina Amon. "At the same time, it looks toward the future, highlighting the pioneering research, transformative education and inspiring entrepreneurship that will take place within the CEIE."
Located at the heart of U of T's St. George campus, the CEIE will set a new standard for engineering education and research. The building will be a catalyst, enabling students, researchers, alumni and industry partners to work together across disciplines to solve some of the world's greatest challenges.
Illustrating engineering's impact
With a surface area that rivals that of a standard tennis court, the work contains more than 50 unique design elements. They depict innovations such as Horizon, the solar vehicle created by the Blue Sky Solar Racing team, and Nanoleaf, the world's most energy-efficient light bulb, invented by U of T Engineering alumni Gimmy Chu (ElecE 0T6), Tom Rodinger (IBBME PhD 0T7) and Christian Yan (ElecE 0T6).
Other images such as wind turbines, a streetcar, a satellite and a human heart illustrate the multidisciplinary and collaborative research and industry partnerships for which U of T Engineering is known around the world. The artwork also includes the Lady Godiva Memorial Bnad [sic], Skule Cannon and other examples of the Faculty's energetic student community and traditions.
A unique collaboration
Stretching along the east side of St. George Street north of College Street, the installation also highlights the connections between the University and the city. "Street art and other forms of popular culture are accessible to a wide audience," said David Roberts, a professor in the Urban Studies Program at U of T's Innis College who teaches a course on popular culture and the role of graffiti.
"I think this sort of project helps to break down barriers by making engineering more legible," he explained. "You can start to have a conversation about all of the different things that engineering is."
As one of the most established graffiti artists in the country, Jason Wing was the natural choice to create the installation. Wing's signature style of graffiti has covered streetscapes across North America for more than 25 years. He is one of the key figures responsible for Toronto's iconic Graffiti Alley and his clients have included Louis Vuitton, MuchMusic, Nike, Google, Adidas among many other global brands.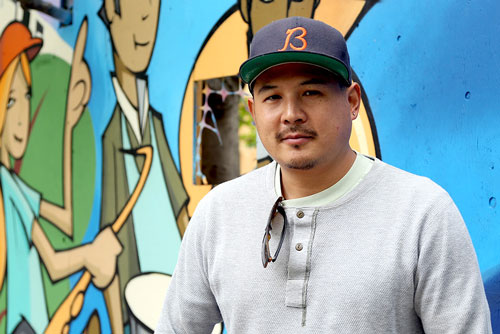 "I love painting, and to get a commission like this is awesome," said Wing, who is working with fellow artists Alex Lazich and Aleksandrs Popelavskis on the CEIE installation. "It's the biggest thing I've ever done in terms of scale."
Wing hopes that the piece, which will be on display until the CEIE's official opening in 2017, resonates with the public for its artistry. "I just hope it brightens people's days," he says. So far it seems to be working: as he paints, passersby often stop to compliment the project or to give a thumbs-up. "We hear all kinds of things: great job, amazing colours, I love what you guys are doing," says Wing. "I'm sure there are going to be people who visit the campus just to photograph our work. It's a public mural. It's for everyone."
Learn more about the stories behind the 30+ scenes on display.
 Join the conversation on social media using #CEIExSKAM and #UofTEngineering.