A multidisciplinary team that includes several U of T Engineering professors has been awarded the 2021 Brockhouse Prize for Interdisciplinary Research in Science and Engineering from the Natural Sciences and Engineering Research Council of Canada.
The award recognizes outstanding Canadian teams of researchers from different disciplines. In this case, the team combined their knowledge and skills to better understand and address the critical public health issue of air pollution.
"It is very gratifying to see how research ideas that were seeded almost two decades ago have grown into such a supportive and energising collaborative community," says Professor Greg Evans (ChemE, ISTEP), one of the recipients of the award.
"The research we have done together has led to real benefits. There's a lot to be proud of."
In addition to Evans, the award recipients include Professors Arthur Chan (ChemE), Marianne Hatzopoulou (CivMin) and Jim Wallace (MIE) as well as Senior Research Associate Dr. Cheol-Heon Jeong (ChemE).
They also include U of T Professors Miriam Diamond (Earth Sciences, School of the Environment, ChemE), Chung-Wai Chow (Temerty Medicine, UHN), Jeff Brook (Dalla Lana School of Public Health, ChemE) and Scott Weichenthal (Epidemiology, Biostatistics, and Occupational Health, McGill) as well as Dr. Robert Healy, Senior Scientist at the Ontario Ministry of the Environment Conservation and Parks.
"Those named on the award are just the tip of the iceberg," says Evans. "There many others at U of T, in government, in industry and in NGOs or communities across Canada, not to mention more than 100 graduate and undergraduate students. I feel very fortunate to have been able to work with such great people."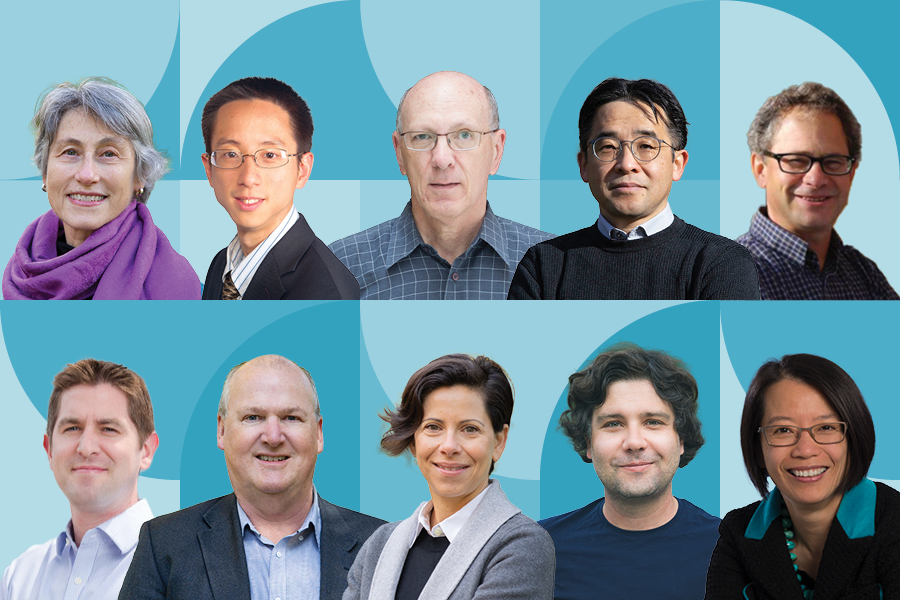 Working out of the Southern Ontario Centre for Atmospheric Aerosol Research (SOCAAR), the team has developed innovative new tools and strategies for studying air pollution and its effects. These include new experimental methods and state-of the art tools, some of which have even revealed pollutants which were previously unrecognized or undetectable.
Together, the team has published 85 papers that integrate expertise from a wide range of fields: atmospheric chemistry, exposure science, vehicle engines, epidemiology, public health, urban design and respirology.
One example is a report released by the team in 2019 that highlights the role of rush-hour traffic and diesel truck emissions as major areas of concern.
"Our research indicated that older 'heavy emitting' trucks are making a disproportionate contribution to the exposure of Canadians to traffic-related air pollution," says Evans.
"We were able to show that removing a small portion of vehicles off the road could offer a substantial benefit. It was very gratifying when the Province of Ontario cited this research as a reason for switching its vehicle emissions testing from cars to trucks."
Another study used house dust to assess exposure from the 2016 Alberta wildfires that affected residents of Fort McMurray and the nearby Fort McKay First Nation community.
"My group spent two summers vacuuming in homes and analyzing pollutants, while Professor Chow worked with participants and assessed lung health," says Chan. "We had a great time working together, especially when my engineering students had to learn how to measure lung function."
The published findings showed that the levels of toxic substances, such as polycyclic aromatic hydrocarbons, arsenic and heavy metals, were not any higher than in Canadian homes that had not been affected by the fire.
A critical component of the team's approach has been knowledge translation. Working with a wide range of stakeholders nationally and internationally, the team has made an effort to have their findings support policy development, increase public awareness of air pollution, and develop novel ways to mitigate its effects. One example was a study that examined air quality on commuter trains in the GTA, which highlighted the need for improved air filters.
Going forward, a key area of focus will be the interplay between air quality and greenhouse gas emissions.
"The associations between climate change and air pollution are complex, opening up new avenues for research," says Hatzopoulou. "The pressure on governments to meet climate commitments comes with the additional complexity of reducing air pollution and promoting equity. Solutions need to not only reduce emissions but also enable positive societal outcomes. This is a tremendous challenge for research and policy."
Despite the challenges ahead, the team members show no signs of losing momentum.
"We've seen the potential of this research to reduce preventable illness and mortality, and promote health and wellbeing," says Evans. "It's easy to stay motivated when it can benefit so many people in Canada and around the globe."
"This is a problem that is ever-evolving," says Chan. "The sources of pollution have changed over the years, from power plants and motor vehicles, to wildfires and even food cooking. People are always interested in what they are breathing in."