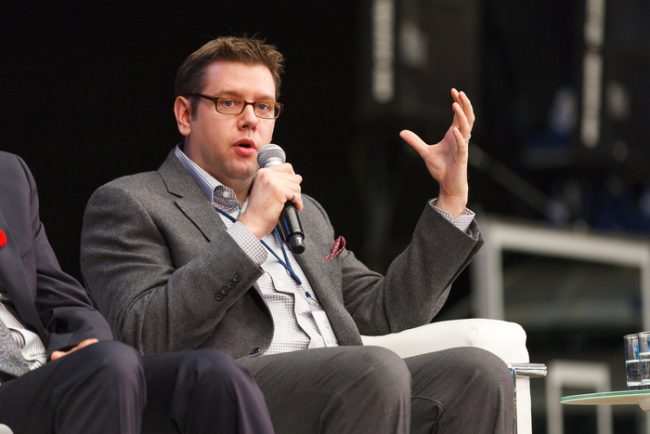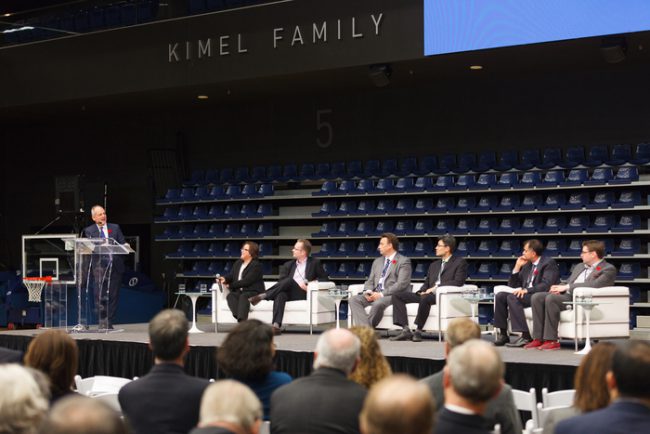 Alumni, students, faculty and friends from around the world continue to rally behind U of T Engineering's ambitious $200-million Boundless campaign goal, pushing the Faculty past the halfway mark and helping to achieve its most successful fundraising year yet.
U of T Engineering raised nearly $22 million dollars in 2013–14, with a record number of contributions by major donors (gifts of $25,000 and up). At the core of the campaign is the Centre for Engineering Innovation & Entrepreneurship (CEIE), a vibrant new hub for faculty, students, alumni and industry partners that is expected to break ground in the spring.
"Philanthropic support from our alumni and friends fuels our vision and inspires us to reach higher and further in our goals," said Dean Cristina Amon. "I am deeply grateful for the remarkable commitment from our alumni, faculty, staff and students—it is because of their efforts that the CEIE is becoming a reality."
This achievement was publicly acknowledged earlier this month at Celebrating Boundless Impact, a panel discussion on entrepreneurism, moderated by President Meric Gertler, to celebrate the University surpassing the $1.5-billion mark of its $2-billion campaign goal.
Held in the new Goldring Centre for High Performance Sport, the panel featured faculty members and alumni from U of T Engineering, including Professor Stewart Aitchison (ECE), James Dou (ECE PhD Candidate) and alumnus Karl Martin (EngSci 0T1, ECE MASc 0T3, PhD 1T0), as well as Professor Ajay Agrawal (Rotman School of Management), alumnus Darren Anderson and Professor M. Cynthia Goh (Department of Chemistry).
"As an engineering graduate and donor to the Centre for Engineering Innovation & Entrepreneurship, I was fascinated by the panel discussion with alumni, faculty and student entrepreneurs," said event co-host George Myhal (IndE 7T8). "Clearly the University is extending the boundaries of knowledge, while also serving as a crucible for creativity. This is why reaching our historic goal of $2 billion is not only possible but essential."
U of T Engineering gift highlights
The Faculty attracted several major gifts this past year to support innovative research, education and entrepreneurial activities:
Gerald Heffernan – $5 million
Half of Gerald Heffernan's (MMS 4T3) $5-million gift will fund Heffernan Commercialization Fellowships, which enable U of T graduate students to commercialize research outcomes and spark new technology companies. The other half will provide space for The Entrepreneurship Hatchery at its new home in the CEIE building.
Lee & Margaret Lau – $2.5 million
Lee (ECE 7T7, MASc 8T2) and Margaret Lau's $2.5-million gift will fund a unique, cutting-edge auditorium in the new CEIE building that aims to enable change to pedagogical practices and improve how the next generation of engineers will learn and create.
Bill & Kathleen Troost – $2 million
Bill (ChemE 6T7) and his wife Kathleen donated $2 million to support the Department of Chemical Engineering & Applied Chemistry's Unit Ops Lab, and the Faculty established new scholarships through the J. Edgar McAllister Foundation-Troost Family Award for Engineering. In 2012, Bill and Kathleen also made a $2-million gift towards a new space for the Institute for Leadership Education in Engineering (ILead) in the CEIE.  
Paul Cadario – $1 million
Paul Cadario's (CivE 7T3) generous $1-million commitment to strengthen the Centre for Global Engineering (CGEN) is a critical contribution to the education of generations of global engineers. His gift will support the creation of the new home for CGEN in the CEIE building.
The University of Toronto Engineering Undergraduate Society – $1 million
The Engineering Society (EngSoc) supported the Faculty's vision with a collective commitment of $1 million to fund student club spaces in the new CEIE building. Every undergraduate in Faculty is a member of EngSoc.
Francis Shen – $1 million
This past summer, Francis Shen (UTIAS MASc 8T3) donated $1 million to the University of Toronto Institute for Aerospace Studies to develop an entrepreneurship incubator, enabling future engineers with the competencies and opportunities he's learned over decades in business.