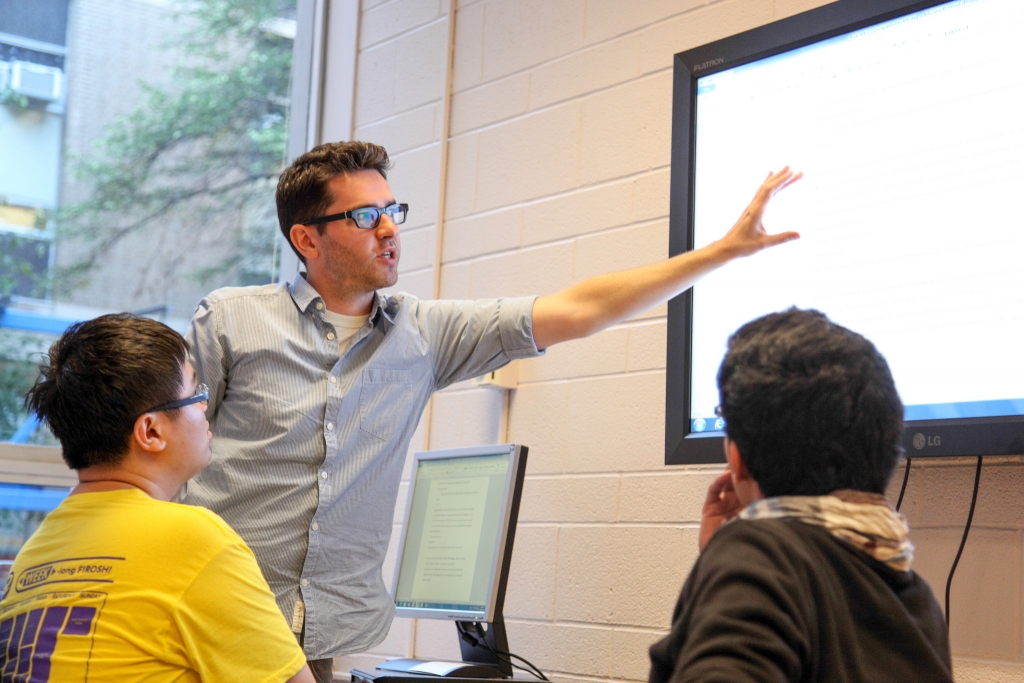 If the next generation of engineers is to continue solving the world's greatest challenges, they need both rich technical competencies and the ability to clearly communicate their ideas to others.
While U of T Engineering's many academic courses equip students with engineering fundamentals, the Faculty's Engineering Communication Program (ECP) enables them to learn the necessary writing, speaking and critical thinking skills to succeed in their careers.
This fall, ECP will offer the Faculty's first academic certificate in communication. Engineering students will have the ability to develop their expertise in particular communication areas of interest. (Criteria outlined below.)
Established 20 years ago by Senior Lecturer Robert Irish (ECP, EngSci), ECP includes a robust suite of educational offerings—from one-on-one student tutoring to curriculum design and consultation. They now have five full-time senior lecturers and three dedicated sessional lecturers in key roles, as well as 37 other sessional lecturers and teaching assistants.
U of T Engineering sat down with ECP Director Deborah Tihanyi (ECP) to learn more about the program and how it benefits engineering students:
1. What does the Engineering Communication Program offer the Faculty?
ECP's educational offerings are embedded throughout the Faculty and are available to all undergraduate students. We partner with our Engineering colleagues to develop instructional and assessment materials that will best serve students, fostering a culture of excellence that continues beyond the classroom.
Our program includes a number of curricular and co-curricular student supports, as well as guidance for faculty and teaching assistants. We lead stand-alone communication courses, co- instruct design and communication classes and assist most of the capstone design courses across the Faculty.
Outside of the core curriculum, we offer five electives designed specifically for engineering students, as well as creative writing workshops in the fall and summer. We have a Tutoring Centre that provides online and in-person sessions to assist students in their course work, graduate school and job applications and more.
2. How is the ECP improving engineering education?
There is an integral relationship between learning and communicating. We use language to teach, ask questions and express ideas. The ability to articulate ourselves aids—and even underpins—our understanding.
This is where ECP comes in. Our supports not only enable engineering students to develop as writers, speakers and thinkers, but also enhance their learning by making core engineering concepts easier to grasp. Students learn to formulate thoughtful questions and express ideas. This, in turn, lays the groundwork for success in the classroom and beyond.
3. Why are communication skills important to engineering students?
The volume of writing that is required during an engineering degree often surprises students, but effective communication is also vital for success in the real world.
Engineering is a multidisciplinary profession. A single project may involve teamwork with business specialists, psychologists and public health officials, to name a few. The ability to collaborate and communicate effectively with a diverse team, as well as express complex concepts to a non-technical audience, is an asset.
ECP helps students develop into proficient writers, speakers and communicators, both in print and online. More than ever, these skills are vital to engineering leaders.
4. How is ECP different from communication programs at other engineering schools?
We are one of a very few communication programs in North America fully integrated into the engineering curriculum. We have played a pivotal role in curriculum redesign, in developing learning outcomes for our students and in shaping the learning culture at the University to be one where communication can be a core component of engineering education.
A student who graduates from engineering at the University of Toronto has had more than just a writing course. They have learned to write, speak and communicate effectively as part of their engineering education over four years.
This interview has been condensed and edited.
---
About the Academic Certificate in Communication
To receive the new academic certificate in communication, undergraduate engineering students must complete any three of the following courses:
APS 281H1 – Language and Meaning
APS 320H1 – Representing Science on the Stage
APS 321H1 – Representing Science and Technology in Popular Media
APS 322H1 – Language and Power
APS 325H1 – Engineering and Science in the Arts
APS 445H1 – The Power of Story: Discovering Your Leadership Narrative
INI 304 H1 – Critical Thinking and Inquiry in Written Communication (Offered by the Faculty of Arts & Science)
INI 305H1 – Word and Image in Modern Writing (Offered by the Faculty of Arts & Science)
INI 310H1 – Editing (Offered by the Faculty of Arts & Science)