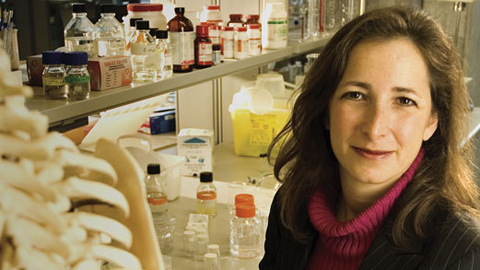 Professor Molly Shoichet (ChemE, IBBME), a world-renowned researcher of regenerative medicine, is among 30 new appointees to the Order of Ontario, the provincial government announced on Friday. The appointees to Ontario's highest honour were chosen for their contributions to the arts, justice, science, medicine, history, politics, philanthropy and the environment.
The Honourable David C. Onley, Lieutenant Governor of Ontario, will invest the appointees at a ceremony to be held on Thursday, January 27 at Queen's Park.
"We are extremely proud that the province of Ontario has recognized Professor Shoichet's outstanding contributions to regenerative medicine," said Cristina Amon, Dean, Faculty of Applied Science & Engineering. "This honour confirms the impact of the engineering research being conducted at the Faculty and the tremendous reputation that Professor Shoichet has earned in her field."
Professor Shoichet designs strategies and materials to help the body heal itself after traumatic injury, in particular to the brain and spinal cord. She holds the Tier 1 Canada Research Chair in Tissue Engineering and is Professor of Chemical Engineering & Applied Chemistry, Chemistry and Biomaterials & Biomedical Engineering at the University of Toronto. She is an expert in the study of polymers for drug delivery and  regeneration, which are materials that promote healing in the body.
Professor Shoichet has published close to 400 papers, patents and abstracts and has given over 250 lectures worldwide. She currently leads a laboratory of 25 researchers and has graduated 75 researchers over the past 15 years, and has founded two spin-off companies from research in her laboratory.
Professor Shoichet is the recipient of such prestigious distinctions as the Canada Council for the Arts' Killam Research Fellowship, NSERC's Steacie Fellowship, CIfAR's Young Explorer's Award (to the top 20 scientists under 40 in Canada), CSChE's Syncrude Innovation Award, Canada's Top 40 under 40 and the Royal Society of Canada's Rutherford Memorial Award. She was elected a Fellow of the American Association for the Advancement of Science in 2011, and a Fellow of the Royal Society of Canada in 2008, which is considered the highest distinction awarded to a Canadian scientist.
Before being recruited to the University of Toronto in 1995, Professor Shoichet worked at CytoTherapeutics Inc. on encapsulated cell therapy. The Toronto native received her S.B. in Chemistry from the Massachusetts Institute of Technology in 1987, and her PhD in Polymer Science and Engineering from the University of Massachusetts, Amherst in 1992.
Created in 1986, the Order of Ontario recognizes the highest level of individual excellence and achievement in any field. Nominations are made by members of the public. In 2012, the Order of Ontario will mark its 25th anniversary.