The Myhal Centre for Engineering Innovation & Entrepreneurship has been honoured with a 2019 Toronto Urban Design Award. The award, conferred by the City of Toronto, "acknowledges and celebrates those who are helping to improve communities by shaping the physical environment."
Opened in 2018, the newest building in the U of T Engineering precinct was honoured in the category of Public Buildings in Context, which recognizes "urban design and architectural excellence through a relationship to the public realm, pedestrian amenity, detailing and massing, the natural environment and sustainable design." The awards were announced Sept. 10, 2019 at a gala event at Toronto's Palais Royale.
Take a tour of the nine-level Myhal Centre during Doors Open 2019
"The Myhal Centre embodies core values of our Faculty: innovation, collaboration and creativity," said Cristina Amon, who spearheaded the creation of the Faculty's flagship facility during her transformative term as dean. "It is fitting to see our building recognized for its contributions to public life at the heart of our city, as this is where we are educating the next generation of engineering leaders who will go on to shape Toronto's future."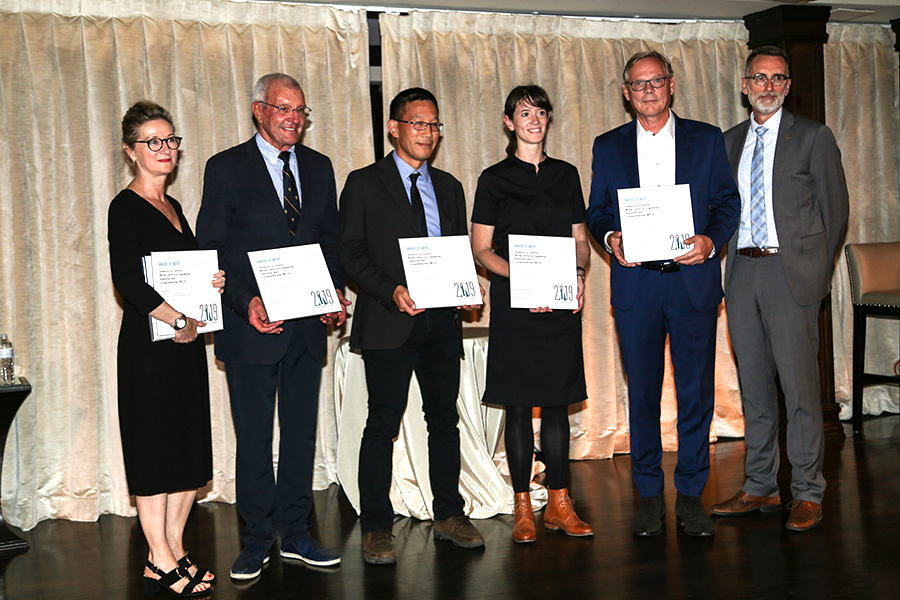 Read Canadian Architect's profile of the Myhal Centre
"This award speaks to our response to the Myhal Centre's unique site: it is surrounded on all sides by the U of T campus," said Shannon Wiley, an associate at Montgomery Sisam Architects and one of the architects on the project. "We carefully considered how people would flow through the building to other parts of the campus, and to the city beyond."
Located at 55 St. George Street, the nine-level building features unique spaces to advance multidisciplinary research, foster excellence in engineering education and enhance the student experience. It includes dedicated space for clubs and teams, flexible design/meet rooms to enable student projects, state-of-the-art fabrication facilities and a two-storey robotics laboratory. Its 468-seat technology-enabled Lee & Margaret Lau Auditorium is unique in North America.
Learn more about how the Myhal Centre is advancing experiential engineering education
"The Myhal Centre is a shining beacon of innovation in engineering education, and the site of collaborative research and learning," said Professor Emeritus Ron Venter, chair of the building's project planning committee. "This award is a wonderful acknowledgement of its key role in bringing together world-leading thinkers at the centre of Toronto's Discovery District."