With nearly a dozen startup incubators and accelerators spread across its three campuses, the University of Toronto is a thriving hotbed of entrepreneurial activity — even amid the pandemic.
U of T Engineering entrepreneurs and their startups are finding innovative solutions to pressing problems — all while creating jobs and strengthening Canada's innovation ecosystem.
As U of T's virtual Entrepreneurship Week kicks off, here are four exciting U of T Engineering startups to keep an eye on in 2021:
HOPE Pet Foods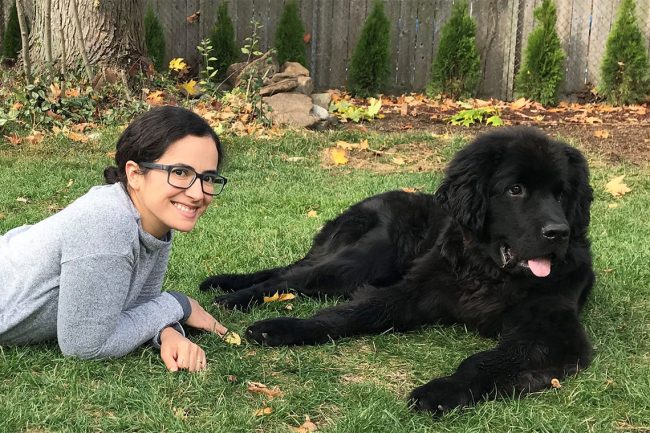 Bugs aren't on most dog and cat owners' pet food shopping lists, but U of T Mississauga's HOPE Pet Foods is looking to change that by using insects and other alternative sources of protein to produce pet foods that are both eco-friendly and nutritious.
Founded by post-doctoral researcher Sofia Bonilla (ChemE), HOPE Pet Foods is producing dog food made with insect proteins and cat food made with algae-based proteins.
Bonilla, the mother of two small children and owner of an enthusiastic insect-protein-eating dog named Snuffie, was recently a semi-finalist in Scotiabank's Total Mom Pitch Competition. HOPE Pet Foods also picked up the second place prize in the Adams Sustainability Innovation Prize and has received support from U of T's Lo Family Social Venture Fund.
"What we think we can bring to the market is an evidence-based, scientific approach, where we are really looking at the evidence behind dog nutrition and the best possible protein is the one with all the amino acids, but is also sustainable," Bonilla recently said, adding that HOPE Pet Foods' products will also appeal to consumers who care about their products being cruelty-free.
---
Xesto
The iPhone's TrueDepth camera may have been designed with facial recognition in mind, but U of T startup Xesto has developed a way to use the technology so you can find perfectly fitting footwear.
The UTEST startup, whose co-founders worked with researchers in The Edward S. Rogers Sr. Department of Electrical & Computer Engineering (ECE), offers a free app that allows users to take pictures of their feet in order to obtain an accurate shoe size. The Xesto Fit app then references the output with the sizing guidelines of over 150 shoe brands.
Xesto has been granted one patent for its process and has another pending, with CEO and co-founder Sophie Howe saying the startup's involvement in UTEST was a big step forward.
"It was our entry to the U of T startup community, which has provided us with an incredible amount of resources and a launchpad that enabled our growth," said Howe.
---
Themis
Themis, a startup whose co-founders include U of T Engineering students Cindy Chen (Year 4 EngSci) and Amardeep Singh (Year 3 ChemE), has developed an AI program that helps significantly reduce the time it takes to draft legal contracts.
The company's AI-powered Microsoft Word add-in automatically builds a library of clauses from a lawyer's precedents and makes those available within Word.
Last September, Themis took home the $20,000 top prize at Demo Day, the culmination of an intensive four-month entrepreneurship and mentorship program at the Entrepreneurship Hatchery at U of T Engineering.
"There are no competitors who provide this fully integrated solution out of the box," said Rishi Dhir, one of two lawyers — alongside Jey Kumarasamy — who co-founded the company with Chen and Singh.
Going forward, Themis is looking to continue to test its prototype and partner with small law firms across Canada to garner feedback.
---
Reeddi
Clean energy startup Reeddi has developed a portable tool that provides clean and affordable electricity to individuals, households and businesses in energy-poor regions of the world.
Founded by Olugbenga Olubanjo (CivE MASc 1T9), who has personal experience of growing up in energy-poor communities in Nigeria, the company provides portable energy via compact capsules that are charged at solar-powered stations located in communities. Customers rent the capsules at an affordable price and are incentivized to return them on time by earning credits that can go toward future rentals.
For Olubanjo, who earned a master of applied science in civil engineering at U of T, helping and giving back has always been central to his entrepreneurial outlook.
"At the end of the day, it's not only about making money. Anyone can make money, but it's about the happiness that you give people," says Olubanjo. "Just knowing that my innovation could have a positive impact on people's lives – oh my God, there's no feeling like that in life."
Reeddi received support from the Entrepreneurship Hatchery and the Lo Family Social Venture Fund.
---
This article was adapted for U of T Engineering News. Read the full list of startups to watch at U of T News.