On July 1, U of T's new School of Cities will begin operations. This multidisciplinary initiative brings together faculty members from a wide variety of disciplines to address the myriad challenges facing the world's urban areas, where more than half the population now lives.
Learn more about U of T's School of Cities
The United Nations Department of Economic and Social Affairs estimates that, by 2050, 66 per cent of the world's population will live in urban areas, up from 54 per cent in 2014. The number of people living in urban centres around the world continues to grow, creating a host of challenges when it comes to keeping urban centres livable, sustainable and equitable.
Three U of T Engineering professors are among the founding members of the School of Cities Working Group. Their work focuses on a variety of topics such as intelligent systems for energy conservation, life-cycle analysis of public transit, and the impact of the transportation mode — driving, walking, cycling — on sustainability.
These researchers are:
Professor Khandker Nurul Habib (CivMin)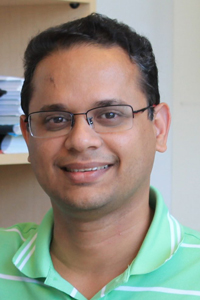 Will building more bike paths encourage more commuters to cycle? Will a proposed new transit line have enough ridership to support its cost? Habib and his team aim to answer these types of questions, building mathematical models that predict the various ways that people respond to urban infrastructure.
Part of the process involves ensuring that the models are based on high-quality data. Habib was recently part of a team that updated the Transportation Tomorrow Survey (TTS). Taking place every five years, the TTS is a comprehensive sampling of the travel habits of thousands of households in the Greater Toronto and Hamilton Area. Using web-based tools, door-to-door questionnaires and a mobile app known as City Logger, the team collected improved forms of data to inform their models and help city planners make better decisions.
Professor Mark Fox (MIE)
Fox is U of T Distinguished Professor in Urban Systems Engineering, and was among the pioneers who first applied artificial intelligence to industrial systems, optimizing the management of supply chains and logistics and reducing costs. Now, he is using these same techniques to design more sustainable cities.
He leads the Urban Genome Project, a multidisciplinary collaboration focused on understanding the factors that explain why cities grow the way they do. By gathering information on existing cities — population, transportation links, economic data — the team plans to build computer models that can predict how changes in one factor could influence various outcomes, such as sustainability. They also plan to use the model simulate hypothetical cities that could achieve various goals.
Another of Fox's projects is the Social Needs Marketplace, part of the Centre for Social Services Engineering. It aims to provide a more efficient means of redistributing new and used goods and services by enabling the "demand" side to make known their needs, and the "supply" side to make known what they have available. Fox and his team are working in partnership with a wide variety of community and volunteer organizations, with the goal of combining and focusing their resources to achieve better outcomes. A side benefit is a reduction in the amount of material that goes to landfill.
Professor Shoshanna Saxe (CivMin)
As a consulting engineer, Saxe worked on major projects such as the Eglinton Crosstown transit line and the Toronto-York Spadina subway extension and the Billy Bishop pedestrian tunnel. Now, she's using this expertise to provide engineers, planners and policymakers with a reliable way to calculate the net environmental benefit of investments in urban infrastructure.
While better transit can lower greenhouse gas (GHG) emissions by providing an alternative to driving, all large infrastructure projects generate significant GHG emissions during their construction. Saxe does the accounting on these projects, working out approximately how long it takes for the savings to outweigh the initial environmental costs — and figuring out how we can maximize the environmental benefits of future infrastructure investments. She's completed analyses of projects such as London's Jubilee Line extension, Toronto's Sheppard subway and the Spadina streetcar line.  She also recently partnered with several other professors from the Department of Civil and Mineral Engineering to design a new tool aimed at enabling the construction industry to reduce its environmental footprint.